Millie Bobby Brown's New Hairstyle Is Even More Shocking Than Eleven's Curls
The 13-year-old actress has officially grown out her buzzcut.
---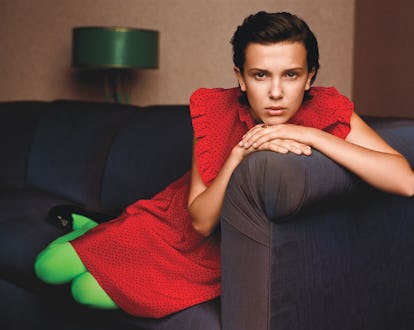 Photographs by Alasdair McLellan, Styled by Edward Enninful; Hair by Shay Ashual at Art Partner; makeup by Diane Kendal for Marc Jacobs Beauty at Julian Watson Agency; manicures by Casey Herman for Dior at the Wall Group. Set design by Stefan Beckman at Exposure NY.
Late last night—at 3:01 a.m. on the dot on the east coast—season two of Stranger Things finally premiered, and Millie Bobby Brown returned to the screens of all types as Eleven, having left behind both the Upside Down and, perhaps even more shockingly, her buzzcut, with season one.
As jarring as it was to see on-screen, Eleven's new hairstyle wasn't a total surprise: Her mop of unruly curls made waves when they showed up in the show's final trailer on Friday the 13th, even inspiring their own memes. In fact, the most shocking change in Brown's appearance came a few hours earlier on Thursday night, when she showed up to its premiere last night in Los Angeles looking at first completely unrecognizable, thanks to a very standard-looking head of shoulder-length brown hair, complete with a completely ordinary middle part.
Since shaving her head for the role—in case you've been living under a rock, Brown plays a tween who was raised in a lab as a secret government experience, hence her supernatural powers, shaved head, and frequent nosebleeds—the actress has kept her hair just long enough for some mini French braids, but definitely short enough to consistently slick back on the red carpet. Now, it looks like the latter has been to hide the fact that she's apparently been growing it out ever since filming wrapped in Atlanta in June.
The style harkens back to Brown's pre-Eleven days, making it quite an understandable move: Brown has always wanted to be an actress, but much to her surprise, filming what she thought would be "just a little show in Atlanta, Georgia" ended up changing her "whole life" within just a few days, as she told W this summer about the cult phenomenon surrounding her character. The buzzcut may have gotten her "called 'John' a lot" before the show released, but these days, it's definitely more likely to get her called Eleven—especially now that the role has won her an Emmy Award. (Though if she keeps up the curls, she may soon start getting called "Finn," seeing as her costar has also taken to letting his locks graze his shoulders.)
Millie Bobby Brown Is Already One Of Hollywood's Most Stylish Starlets at 13 Years Old
Millie Bobby Brown arrives at the BAFTA Los Angeles TV Tea presented by BBC and Jaguar at SLS Hotel on August 23, 2014 in Beverly Hills, California.

Getty
Millie Brown attends the Premiere of Netflix's Stranger Things at Mack Sennett Studios on July 11, 2016 in Los Angeles, California.

Getty
Millie Bobby Brown visits "The Tonight Show Starring Jimmy Fallon" at Rockefeller Center on August 31, 2016 in New York City.

Getty
Millie Bobby Brown enters "The Late Show With Stephen Colbert" taping at the Ed Sullivan Theater on September 13, 2016 in New York City.

Getty
Millie Bobby Brown at the ICM Partners Pre-Emmy Brunch on September 17, 2016 in Santa Monica, California.

Getty
Millie Bobby Brown attends the BBC America BAFTA Los Angeles TV Tea Party 2016 at The London Hotel on September 17, 2016 in West Hollywood, California.

Getty
Millie Bobby Brown attends the 68th Annual Primetime Emmy Awards Governors Ball at Microsoft Theater on September 18, 2016 in Los Angeles, California.

Getty
Millie Bobby Brown attends UNICEF's 70th Anniversary Event at United Nations Headquarters on December 12, 2016 in New York City.

Getty
Millie Bobby Brown attends The BAFTA Tea Party at Four Seasons Hotel Los Angeles at Beverly Hills on January 7, 2017 in Los Angeles, California.

Getty
Millie Bobby Brown arrives to the 74th Annual Golden Globe Awards held at the Beverly Hilton Hotel on January 8, 2017.

Getty
Millie Bobby Brown attends the 23rd Annual Screen Actors Guild Awards at The Shrine Expo Hall on January 29, 2017 in Los Angeles, California.

Getty
Millie Bobby Brown attends the Calvin Klein Collection Front Row during New York Fashion Week on February 10, 2017 in New York City.

Getty
Millie Bobby Brown poses in the press room at the 2017 MTV Movie and TV Awards at The Shrine Auditorium on May 7, 2017 in Los Angeles, California.

Getty
Millie Bobby Brown attends the SAG-AFTRA Foundation Conversations: "Stranger Things" at SAG-AFTRA Foundation Robin Williams Center on June 5, 2017 in New York City.

Getty
Millie Bobby Brown attends Netflix's "Stranger Things" For Your Consideration event at Netflix FYSee Space on June 6, 2017 in Beverly Hills, California.

Getty
Related: Unraveling the Mystery of Sadie Sink, Stranger Things' Infatuating Skater Girl Max In Season 2
Millie Bobby Brown Does Her Best Karaoke Version of Bruno Mars' "Just the Way You Are":