Stranger Things' David Harbour Predicts Premiere Date for Season 3
There was a year-plus gap between the first two seasons, too.
---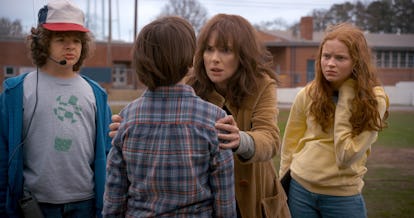 Netflix
Here's some good news and bad news, Stranger Things fans: The good news is that Season 3 is definitely happening, and it's likely going to be a fantastic installment because co-creators the Duffer brothers are taking their time to make it. The bad news? Because they're taking a long time, we probably won't see the third installment of the Netflix hit until 2019.
David Harbour, aka Hawkins's Sheriff Hopper, told Variety that he predicts the third season would probably drop sometime in 2019, based on how long it took the team to make the second season after the first premiered. If you remember, Stranger Things first hit the Internet in the summer of 2016 and it took until October 2017 to for the next season to arrive. If that pattern keeps up, we're looking at early 2019 for the continued adventures of Joyce and the gang. (Netflix has yet to confirm this date.)
What that means for the structure of the show is actually pretty interesting. The young cast is growing up too quickly to reasonably pretend that Stranger Things can seamlessly pick up where it left off. To deal with that hurdle, the Duffer Brothers are working on a time jump for the series. "Our kids are aging. We can only write and produce the show so fast," Matt Duffer previously told The Hollywood Reporter. "They're going to be almost a year older by the time we start shooting season three… It forces you to do a time jump. But what I like is that it makes you evolve the show. It forces the show to evolve and change… It's cool, though. The audience is going to be able to watch these kids come of age every year. The closest example is Harry Potter. Watching those kids and actors grow up in front of the camera was, to me, very powerful. I mean, I wasn't a kid when I experienced that, and I can only imagine if you were a kid and you were their age, it would have been even more powerful."
Related: Stranger Things Season 3 Predictions: Everything We Know, and Want to Know