After Biden Wins, Street Celebrations Erupt All Over The Country
Ghost towns? Enthusiasm gaps? Never heard of 'em.
---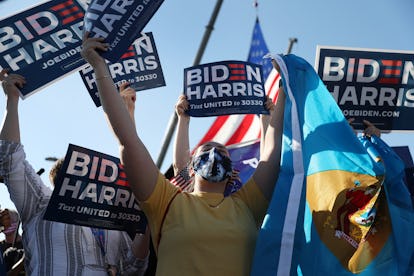 Ghost towns? Enthusiasm gaps? On a Saturday morning that was unseasonably (perhaps worryingly so) warm and sunny in large swaths of the country, it wasn't an uncommon occurrence for Americans to find out the Presidential race had been called not by the words of some cable news anchor but rather from the impromptu eruption of cheers on the streets. The silver lining of the count going on until the weekend: the perfect conditions for sights not seen in some time.
From New York City to Atlanta and Philadelphia to Portland, supporters went outside to celebrate the election of Joe Biden and his history-making running mate Kamala Harris (the first woman on a successful Presidential ticket ever).
Here, a look at some of those celebrations as shared on social media.
Philadelphia
Northampton, MA
Atlanta
Austin, TX
Portland
Chicago
Miami
Boston
Washington, DC
San Francisco
And, Of Course, The Biggest "Ghost Town" of Them All, New York City