The Best of Men's Street Style
See the top trends from London and Florence here.
---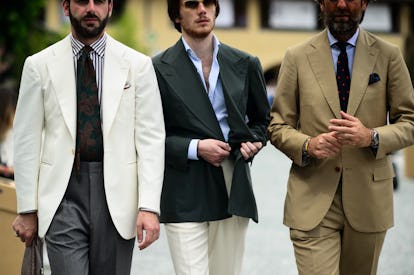 London Men's Fashion Week Spring 2016 Streetwear-inspired shapes, clashing prints, and bright colors rule the streets outside of the first day of the London Men's Fashion Week Spring 2016 shows. See all the best looks here.
Denim on Denim on Denim Though the bomber is hanging on to its moment, the denim jacket refuses to give up its place at the top of the London Men's Fashion Week street style food chain. This year, it's back in a big way, with patchwork giving the classic staple a new twist.
Passive Aggression Is In At London Men's Fashion Week Spring 2016, street style stars are letting their outfits do the talking, and loudly. Caps-lock (and light passive-aggression) is trending, it seems. Statements like, "Anarchy is the Key" by Supreme x Undercover and "No Hassle" via VFiles make it so that your Instagrams need no caption. See the looks here.
Thrasher Takes London While skating from show to show is still guaranteed to get you snapped by a photographer, these days a good Thrasher t-shirt is really all you need to rock the look. Merchandise from this skate magazine, with its flaming logo, was a street style favorite this year—and even a wardrobe staple for Rihanna. See the looks here.
Pitti Uomo Spring 2016 It was all about the blazer on the first day of Pitti Uomo. See the best looks from the annual men's wear trade show here.
Cuff Love in Florence While cuffed pants are nothing new, the street style set at Pitti Uomo took the trend to the next level with bold colors and multiple folds. Here, a closer look.
Isn't it Bromantic? At Pitti Uomo this year, the street style crowd fully embraced male bonding—from fixing each other's ties to sharing feelings over gelato. Here, a closer look at the guys of Florence.
No Sleeves, No Problem It's not an easy to make a vest look totally modern, but the street style stars of Pitti Uomo this year were up to the challenge. Here, the best takes on the vest from Florence.
Pitti Uomo Spring 2016, Day 3
Pitti Uomo Spring 2016 Day 3
Pitti Uomo Spring 2016 Day 3
Pitti Uomo Spring 2016 Day 3
Pitti Uomo Spring 2016 Day 3
Pitti Uomo Spring 2016 Day 3
Pitti Uomo Spring 2016 Day 3
Pitti Uomo Spring 2016 Day 3
Pitti Uomo Spring 2016 Day 3
Pitti Uomo Spring 2016 Day 3
Pitti Uomo Spring 2016 Day 3
Pitti Uomo Spring 2016 Day 3
Pitti Uomo Spring 2016 Day 3
Pitti Uomo Spring 2016 Day 3
Pitti Uomo Spring 2016 Day 3
Pitti Uomo Spring 2016 Day 3
Pitti Uomo Spring 2016 Day 3
Pitti Uomo Spring 2016 Day 3
Pitti Uomo Spring 2016 Day 3
Pitti Uomo Spring 2016 Day 3
Pitti Uomo Spring 2016 Day 3
Pitti Uomo Spring 2016 Day 3
Pitti Uomo Spring 2016 Day 3
Pitti Uomo Spring 2016 Day 3
Pitti Uomo Spring 2016 Day 3
Pitti Uomo Spring 2016 Day 3
Pitti Uomo Spring 2016 Day 3
Pitti Uomo Spring 2016 Day 3
Pitti Uomo Spring 2016 Day 3
Pitti Uomo Spring 2016 Day 3
Pitti Uomo Spring 2016 Day 3