Lili St. Cyr: Naked Angel
She bathed onstage and made stars swoon. Leslie Zemeckis pays tribute to the great stripteuse.
---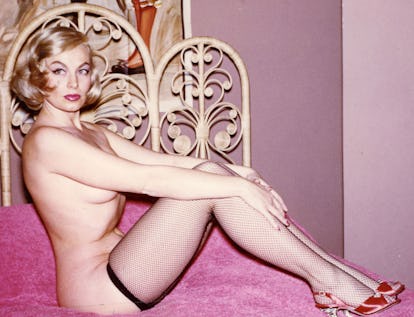 In heels, she stood nearly6feet tall. With platinum ____hair and green catlike eyes, she had a cold Nordic beauty that made men brawl over her. Her body was strong yet slim—the physique of a ballerina, not zaftig like most in her profession. For decades, she was America's highest-paid burlesque star.
Lili St. Cyr was a woman of contradictions—a stripper who wore Dior, Balmain, and Cartier onstage. She bared her body for a living but refused to reveal her soul. She claimed to be lazy but worked nonstop for 30 years. She swore she lived only for love but consistently sacrificed relationships for her career. Lili was an enigma "whose uninhibited dancing [was] matched only by her uninhibited attitudes toward marriage, alimony, religion, and politics," Mike Wallace declared, in 1957, on his eponymous TV show.
Throughout her days on the stage, which stretched from the early 1940s through the late '60s, Lili saw and did it all. More popular than Gypsy Rose Lee, she starred in movies by Roger Corman and Howard Hughes. Robert Altman directed her in two Scopitones (pre-MTV music videos), in which, at almost 50, she still looked magnificent. She was the first exotic to perform in Las Vegas when the city was just emerging. Her lovers were as numerous as the pearls around her swanlike neck: She dallied with Orson Welles, Artie Shaw, and Yul Brynner before, during, and after her six tumultuous marriages. There were headline-making suicide attempts, arrests, great wealth, and heartache.
The journalist James Bacon, who saw Lili perform numerous times, wrote that "her sexy beauty surpassed anything Hollywood had to offer." But Hollywood had little to offer Lili, who much preferred the control she held over her lavish act in theaters and nightclubs. She chose the music, costumes, and props, and created her own masterpieces, which were very profitable: She once figured she worked a total of 17 minutes for a couple of thousand dollars. Men and women flocked to her shows.
Her performances usually centered around a plausible reason to shed her clothes, such as preparing for a date. She ignored the audience as she walked onto the stage hauling shopping bags and hat boxes. With the help of a uniformed maid, she undressed, bathed, and tried on designer gowns and ankle-length furs. She was as well known for her bathtubs as Liberace was for his candelabra. In front of enthralled audiences, she cavorted in everything from oversize champagne glasses to bubble-spewing silver vessels and tanks made of wood and Lucite.
Lili was also the first burlesque artist to conquer the swanky nightclub scene, where she soaped and caressed herself in frontof stars like Bette Davis (who copied her poodle hairdo), Humphrey Bogart, and Clark Gable. That act got her arrested, in 1951, at Ciro's on the Sunset Strip. She hired Jerry "Get Me" Giesler, the high-priced attorney whose clients included Charlie Chaplin, Errol Flynn, and Lana Turner's knife-wielding daughter. The resulting uproar catapulted Lili from famous to infamous, and lines soon formed down the street to "see what the cops saw." Lili was a star. But despite the thousands she pulled in, somehow it all just went. At the time of her death, in 1999, she was penniless.
After seeingbehind the burly q,my documentaryabout the history of burlesque, Lili's surviving sister, Dardy, came to me with boxes of previously unpublished photos and documents and declared, "You have to write her story." I resisted for almost a year, thinking I already knew everything about Lili: the famous trial, the many marriages, her addiction to drugs, and, in the end, destitution. But as I dug through the boxes, I began to see another Lili.»
She was born Marie Frances Van Schaack in Minnesota on June 3, 1917. Hers was a family of secrets: Her mother and grandmother, storytellers both, lied to Lili, erasing her father and saying that her grandmother was her mother. What began to emerge was the portrait of a painfully shy girl who loved ballet classes, a small luxury in a childhood of chaos and poverty. The boxes contained more than just the chronicle of Lili—they held the tale of three gorgeous sisters who danced and performed during the height of the celebrity-filled nightclub era: Dardy would marry a major burlesque impresario, Harold Minsky; Barbara would wed a millionaire toymaker. The story was larger than I had imagined.
Lili began her show business career relatively late. She was 23 when she walked into Hollywood's Florentine Gardens, accompanying her younger sisters as they auditioned to be showgirls. The proprietor took one look at Lili and her destiny was set. She tried on various stage names for several years, finally settling on Lili St. Cyr (pronounced sincere), borrowing the last name of a Texas millionaire who frequented the Florentine. At first, Lili danced in the chorus, but she soon realized nudity would earn her a headlining spot. With two other dancers, she performed a number about Adam and Eve and the serpent. Her version of Eve wore a knee-length blonde wig and a G-string. The act was a smashing success.
In 1944, Lili received an offer to work in the thriving Montreal scene. Dancing in front of a giant Buddha, she wowed audiences with her scenario of a slave wearing an oversize heart-shape chastity belt. She continued to perform in Canada for years but was more often found in the clubs on New York's 52nd Street and in the burlesque houses of downtown Los Angeles.
This child of penury was ruthless when it came to earning money. If a man wanted to sit with her between shows, her maid was sent to tell the lonely wolf that Miss St. Cyr was available only if champagne was purchased. Bottles would be lined up, and as Lili made her way through the audience, some would be knocked over "accidentally" and replacements hastily ordered. Lili split the profits with the club owners and also charged men for dates—breakfast appointments were the most expensive, because she wasn't a morning person—but she wasn't really for sale. She never married a millionaire (though she had offers) and, in fact, financially supported most of her spouses. A handsome face and a striking physique always turned her head. There was a motorcycle racer, a waiter, a dancer, an engineer, an actor, and a special effects man. Husband No. 4, Armando Orsini, was still an incorrigible flirt at 87, when I interviewed him. We chatted in Italian, and I could hear the frustration in his voice. Why had Lili lied to him about everything? Among other things, she'd claimed her family was dead. Still, he was her prince until the end, sending her rent money after she'd lost her fortune. She always regretted letting him get away.
But even in love, Lili was fiercely protective of her freedom and independence. She made her way in the world wearing a custom-made garter belt into which she slipped hundred-dollar bills. She paid to have a limousine idle at her curb 24/7. Several husbands complained about her expenses—she was careless with money and always tipped big. Her sisters begged her to save.
Sometime in the 1960s, Lili lent her name to a lingerie business from which, eventually, the cast of The Rocky Horror Show obtained some of their costumes. Today, Susan Sarandon continues to sing "God Bless Lili St. Cyr" in midnight showings of the film version to audiences that have long forgotten the "Contessa," the "Ample Anatomy," the "Anatomic Bomb," and "La Belle Lili." But as burlesque began to die, Lili's world changed drastically. Her act was tame compared with the new, wild breed of big–bosomed strippers who were willing to show more. Still, Lili hung on, performing her last act in 1970, in Las Vegas. Then she closeted herself. Her last relationship had led her deep into heroin addiction. "She wouldn't open the door for me," said Dardy, who left groceries on her doorstep.
Growing old was hard for Lili. When she could no longer attract the kind of attention she was used to, she refused to be seen. By the time she died, she'd lost her family, her fortune, and her home. She grieved none of it more, it seemed, than the loss of her ability to captivate. Despite the furs and diamonds and champagne, Lili said that the only thing important to her was to matter—dancing made her feel as if she did. Her art, her act, was everything to her. "I try to give it dignity," she once said. Perhaps it is time we return the favor by remembering her.
Goddess of Love Incarnate: the Life of Stripteuse Lili St. Cyr will be released by Counterpoint Press on September 8.
Photos: Lili St. Cyr: Naked Angel
Lili St. Cyr, performing in Los Angeles in 1955, in a translucent tub that reportedly cost $50,000. Courtesy of Bruno Bernard.
Lili at home. Courtesy of Leslie Zemeckis.
Lili and her attorney, Jerry Giesler, examine Lili's underwear during her indecent-exposure trial, 1951. Courtesy of Getty Images.
Lili weds Ted Jordan, her fifth husband, Las Vegas, 1955. Courtesy of Leslie Zemeckis.
In Capri with Armando Orsini, her fourth husband, 1952. Courtesy of Leslie Zemeckis.
The poster for Son of Sinbad, 1955.
Onstage at Ciro's nightclub, Los Angeles, 1955. Courtesy of Bruno Bernard.