Five Minutes with Suki Waterhouse
The model and face of Burberry reveals her beauty secrets.
---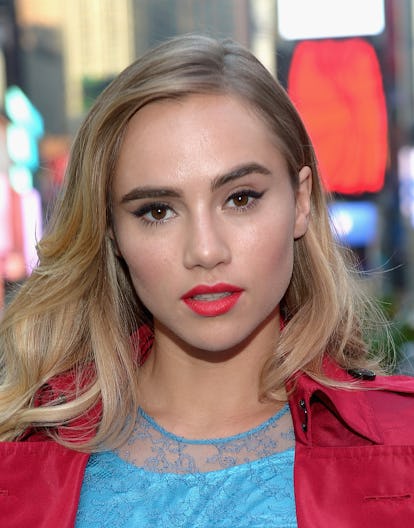 What is your favorite off-label use of a beauty product? I use HealGel on my face. It's my dad's product. He's made it for years. Sometimes people will have it on set and I get so excited. You can use it at night and in the morning. It really kicks the redness out.
What's your five-minute beauty routine? Shower. Wash my face. Run a brush through my hair. Mix a bit of moisturizer with some Burberry Fresh Glow, and put a bit of Burberry lipstick in Tulip Pink on my lips and cheeks. Then I run out the door.
What would you do if you had ten more minutes in the morning? It's always spent trying on clothes—redoing and accessorizing.
What is your earliest beauty memory? Deciding to shave my legs when I was 11. My mom was so mad.
What beauty product do you just not like? Brow powder. I tried and thought it was a bit dodgy.
Speaking of brows, any tips? I love Kristie Streicher. She has these sick eyebrows and she's all about the shape and the bushiness. She does them well.
Are there any other beauty professionals that you can't live without? Vincent Oquendo. Wendy Rowe. Charlotte Tilbury. You kind of feel like you're in the hands of an artist with these people. They will look at your face and look at which eye is smaller, and go into all of these intricate details like; we're going to make an illusion, which is what we want. Find out how to dress like Suki Waterhouse here.
The Secret to Model Perfect Hair