Bright Future
As warm weather approaches, W reports the latest news in sun protection.
---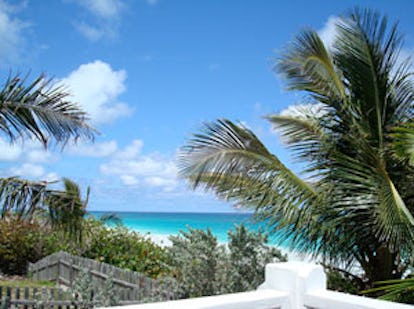 When it comes to skincare, we live in an age of quick fixes, from serums that promise to plump wrinkles on contact to injections that can erase a pimple within 24 hours. But there are some things that still take time. Officially defining, once and for all, how U.S. sunscreen makers must test and label their products is, apparently, one of those things. The FDA has been attempting to finalize a monograph, or set of rules, governing UVA and UVB sunscreens since 1978. Over three decades, there have been countless hearings, scores of papers and more than a few tentative final agreements. (A monograph was published in 1999, but it failed to cover the issue of UVA.) The obstacles: everything from disagreements over how to measure sunscreen efficacy to plain old red tape. In recent years, however, dermatologists, lawmakers and even skincare companies have come to the conclusion that current sunscreen labeling is inadequate, putting the public at risk. "My patients are not as protected as they think they are," says Washington, D.C., dermatologist Sandra Read, "and they really don't have the information they need to make choices regarding safe products." Happily, says FDA press officer Rita Chappelle, there's finally "a light at the end of the tunnel." Chappelle says the agency is planning to finalize a monograph by May, which means that reformulated, repackaged sunscreens should be on shelves in time for summer 2011. Here, a look at what to expect.
STAR SYSTEM Currently the only way U.S. manufacturers measure sun protection is with sun protection factor (SPF), a number that represents how well a product defends against UVB light, rays that can cause sunburn and lead to skin cancer. Under the new rules, protection from UVA—rays that cause wrinkles and, like UVB, can lead to skin cancer—will also be taken into account. While many sunscreens on the market contain UVA blockers, consumers have no way of knowing how much UVA protection any given product provides. "We are the only major industrialized nation that does not have UVA rating on our sunscreen," points out Detroit physician Henry Lim, chairman of the American Academy of Dermatology's Council on Science and Research. "It's important to see."
Perhaps taking its cue from restaurant critics, the FDA will adopt a system that rates the level of UVA protection a product offers by assigning it one to four stars. "The star system is a compromise to show a quantitative gradation without confusing people with another number," says Darrell S. Rigel, clinical professor of dermatology at New York University Medical Center.
NUMBERS GAME As consumers have become, well, consumed with worry over the damage inflicted by sunlight, sun-care companies have offered products with higher and higher SPF. The result for beachgoers—not to mention some dermatologists—has been confusion. Do we really need SPF 70 when just a few years ago SPF 30 was considered the gold standard? "You can look at it either way," says Rigel. "You can say SPF 70 is three times better than SPF 30 because it's letting in one percent instead of 3 percent [of UVB rays], or you can say it's only slightly better because the difference between 99 percent and 97 percent is not much."
To end the quibbling, the new FDA rules would cap SPF at 50+, which blocks 98 percent of UVB rays. The SPF limit is hardly a done deal, though. Brands that market sunscreens with extremely high SPFs are, predictably, against imposing any sort of maximum. "We really believe that capping SPF [at 50] is unfair to the population," says Yohini Appa, senior director of scientific affairs at Johnson & Johnson, which owns Neutrogena, a brand that recently introduced an SPF 90+. Appa insists that, no matter how small the advantage, every little bit counts. "I always say, 'Skin never forgets a photon.'"
Rigel, too, thinks that there's a viable argument for encouraging manufacturers to create higher and higher SPFs. Almost no one, he claims, wears the recommended amount of sunscreen, which is two milligrams per square centimeter. "Anyone who actually put that much on would look like Casper the Friendly Ghost," he says. "Typically, people wear 20 to 40 percent of that amount. If [a product] is being underapplied, you'd more likely be getting close to the recommended protection with a higher SPF."
IN OTHER WORDS In addition to stars and changing numbers, expect to see some tweaks to the wording on sunscreen labels. For years most dermatologists have agreed that there's no such thing as waterproof sunscreen. "Those of us in clinical practice are very reluctant to trust that labeling because of the way patients actually use the product," explains Read, who points out that swimmers generally towel dry after getting out of the ocean or pool, rubbing off much of their sunscreen. To reflect this reality, the FDA monograph will replace "waterproof" with "water resistant" or "very water resistant," depending on a product's ability to be effective after 40 or 80 minutes of splashing around in H2O.
Another change in terminology: SPF will be defined as "sunburn protection factor" rather than "sun protection factor," to reflect the fact that SPF measures only protection against sunburn-­inducing UVB rays. To make the point even clearer, SPF will be known on labels as UVB SPF.
Finally, like everything from Tylenol to Pinot Grigio, sunscreen will bear a warning label. Consumers will be advised that—no matter how much lotion they slather on—they should limit sun exposure, wear protective clothing and consistently reapply product. "What you really want to do is wear a tightly woven black wool sweater in the sun," Rigel says with a laugh. "But nobody's going to do that, so we know this triad of behaviors works."
IN THE MIX New ingredients in the FDA pipeline promise better protection.
In addition to the FDA monograph, sunscreen manufacturers are buzzing about Tinosorb, a new, highly regarded ultraviolet light–blocking ingredient currently under FDA review. It has the rare ability to protect against both UVA and UVB rays and also to act as both a chemical and a physical shield, meaning that it absorbs and reflects UV light. In the U.S., Tinosorb is not yet FDA-cleared for use on the skin, but a version of the product has already been added to certain laundry detergents to protect clothing from the sun.
"Tinosorb is interesting because it blocks a very broad spectrum," says Lionel De Benetti, head of research and development for Clarins, which, like several other brands, uses Tinosorb in its European sun-care products. Because of Tinosorb's ability to shield against such a wide range of the light spectrum, says De Benetti, products that contain it "need to use less of the more targeted filters." Fewer ingredients, he says, result in a more pleasant texture.
Another sunscreen ingredient still making news is the L'Oréal-patented molecule Mexoryl, which protects skin from short-range UVA. In 2006 the company was able to get one product containing Mexoryl greenlighted by the FDA, and in the years since, nine more have been given the go-ahead. But L'Oréal is still waiting for the FDA to approve Mexoryl as a stand-alone sunscreen agent, which would allow the company to more quickly bring a wider range of products containing the ingredient to the market.
Still, De Benetti says, neither Tinosorb nor Mexoryl is a silver bullet. At this time there is no single chemical that guards against the full spectrum of UV light. "We really have no ideal at this moment," he says wistfully. "It's a dream."