Sunny Leone: Star of India
What's a former porn actress doing in the oh-so-prudish Bollywood film industry?
---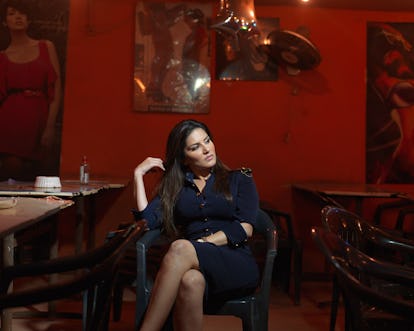 It's monsoon season in Goa, but intermittent showers have not prevented a crowd of hundreds from gathering on a promenade along the Mandovi River in the capital city of Panjim, where the Bollywood director Kaizad Gustad is shooting his next movie, a noirish heist story called Jackpot. Within a roped-off area are a set for an outdoor-café scene, a camera dolly and stretch of track, and a small press section, where some two dozen journalists wait on red plastic chairs. Beyond the ropes, the crowd spills into the street. A row of women in jewel-tone saris strain to get a better look, fanning out like the tail feathers of an exotic bird. Many, if not all, of the people are here to get a glimpse of the film's heroine, Sunny Leone, a Canadian-born American actress who, in what has to be one of the more improbable crossovers in entertainment history, recently transitioned into Bollywood stardom from the world of hard-core porn.
Almost three years ago, Leone, then 29 and a major star with the Los Angeles adult-film juggernaut Vivid Entertainment, was invited to be on the reality-TV show Bigg Boss, India's answer to Big Brother. The daughter of Sikh immigrants from Punjab whose marriage was arranged, she was well aware that porn was illegal in India and that the producers were simply courting ratings, so she initially declined. But the show's parent company, Viacom India, countered with an offer that was too good to turn down. In 2012, a year following her Bigg Boss debut, "Sunny Leone" was the most Googled name in India.
Given her day job, there was a good chance that Leone could have become an instant pariah. Instead, she was offered roles in Bollywood films, an industry so prim by Western standards that for decades it discouraged onscreen kissing. Leone was baffled by this mainstream media embrace, but she went with it. She has since wrapped two feature movies and, with the exception of the occasional adult film she produces in Southern California, has left her porn stardom behind.
Today, sitting in a van parked amid the crowd, her makeup artist retouching her red lips and feline eyes, Leone is all cool confidence, unfazed by the rather stark contrast between the kind of acting she did in Southern California and the kind she is doing in Bollywood—by the fact that she now delivers lines with her clothes on, and in Hindi. "For me, it's all just entertainment," she says.
Leone swings open the van door and steps out into the rain. She is wearing four-inch stilettos, a tight white minidress, and a black hooded sweatshirt with a rhinestone skull and crossbones on the back. Crew members part the crowd, which is now closing in on Leone, and escort her to the other side of the rope. She is soon exchanging dialogue with her costar Naseeruddin Shah, an esteemed character actor variously described as the Dustin Hoffman of India, the Peter O'Toole of India, the Laurence Olivier of India, and the James Earl Jones of India.
I stand behind the director's monitor with Leone's business partner and husband of two and a half years, Daniel Weber, 35, a tall, handsome musician, whose arms are sleeved with tattoos. I ask Weber whether this was all a little surreal to him. "I'm getting used it, but I still have moments," he tells me. "Like now, seeing her in a scene with Naseer." He motions toward Shah. "Everyone said this wouldn't be possible." Moments later, the film's budget manager, a thickset man who has just arrived from Poland, walks up and introduces himself to Weber. They shake hands. "So you have chosen Bollywood over Hollywood?" the man asks. "Well—" Weber starts to say, slightly cocking his head. "Bollywood has chosen you," the man tries. "That's more like it," Weber replies.
After a while, filming pauses and a handler brings Leone over to the journalists. One of them asks her to describe her experience in Bollywood. "It has been absolutely amazing," she says. "I've been here for two years now, and I thank God that I've been given this opportunity. I've been working very hard to be here." Another asks her to describe her character. "She's just a girl trying to make a buck, trying to work. She's a con artist. We're all con artists in this movie." A third asks why she was drawn to her character, who is the mastermind of the heist. "You don't know what side of the fence she's playing," Leone says. "The audience never really gets to know who I really am. You'll have to see who you think I am."
When the interview is over, three fans—a man and two women—approach Leone and ask to take a picture with her. She obliges. As she returns to the set, I ask them how Leone won them over with her part on Bigg Boss. "I found her cute, actually," one of the women says. "She was really down-to-earth," the other adds. The man chimes in: "She is one bold Indian," he says. "One bold Indian." Leone, whose real name is Karenjit Kaur Vohra, spent her early years in Ontario. When she was 14, her parents moved the family to Michigan and then to Orange County, California. Not exactly a melting pot, Orange County was a less than ideal place for an adolescent Indian girl. "It was devastating at the time, but now I see it as gearing me up to the world I live in today, which is really isolated," Leone tells me one afternoon in her trailer. "I was the outcast from the very beginning. I adapted my whole life on the idea that it was just me."
After graduating high school, she worked in a bakery and at a Jiffy Lube before submitting a photo to an agent connected to the adult-film industry. With her sultry good looks, Leone was soon cast for a Penthouse shoot and then a B movie, pulling in more money in one week than she had made all year. Emboldened, she cold-called Vivid Entertainment, one of the world's largest producers of pornography. She managed to negotiate a contract to make multiple movies (unusual), to receive a royalty on the sale of each DVD (also unusual), and, somehow, to make only girl-on-girl films (very unusual). In 2008, she founded her own production company, Sunlust, which produces adult films, but she no longer acts in them. "People always want me to have had a traumatic experience in the adult industry," she says. "And I didn't."
When a producer from Bigg Boss contacted her, "I thought, There's no way I'm going to a country where what I do is illegal," Leone tells me over dinner at her hotel. "They are going to tar and feather me and hang me on a post." Sure enough, controversy erupted before she even set foot in India. The night before Leone was to fly from Los Angeles to Mumbai, the show's producers informed her that a bomb threat had been called in, and they instructed her not to get on the plane.
But if it was scandal the producers were looking for, it's not exactly what they got. Instead, Leone played the good girl. She struggled to speak with her housemates in Hindi—a detail Indian fans often cite as having endeared her to them—and would wake up early to mop the floor. "They saw immediately that I wasn't what they were expecting," she says. "Not even a little bit. And all of a sudden they saw a different story." Viewers repeatedly voted to keep her on the show. "It's really weird because it's almost like I was judging India, and India was judging me," she says. "And people were surprised by how normal I was, and I was surprised by how open the culture was."
Nevertheless, Leone became a poster girl there for the porn industry. Anurag Thakur, a member of India's parliament and the head of the Bharatiya Janata Party's youth wing, was one of many people who filed complaints with the country's Information and Broadcasting Ministry about her being on the show. When Leone's first feature film, Jism 2, an erotic thriller, was released in 2012, film posters were burned in streets and objectors threatened to throw eggs at her if she showed up at the premiere. And when protests erupted all over India following a spate of gruesome sexual assaults on women and children, Leone was held accountable by anti-porn campaigners. She agreed to participate in a panel debate on national television, where she argued that blaming porn for rape is "complete nonsense."
Figuring out how to market Leone in India has required a heady dose of cultural psychology. The release of her second feature, Ragini MMS 2, a horror film, has been delayed, allowing time for the firestorm around Jism 2 to die down. And though she is frequently asked, Leone refuses to do endorsements for lingerie companies. She did, however, agree to promote a condom company, because, she says, "the way they shot it was classy, and I like the idea of promoting safe sex. It's good. There are 1 billion people here. Everyone should be safe."
Leone and Weber have learned that they must keep Southern California and Bollywood separate. "The two don't touch," Leone says of her double career. "They don't intermingle." Weber puts it this way: "It's like the magician with the two spinning plates. If they touch, they fall." Still, there is some gray area that even Leone and Weber don't always understand. The curiosity about her is animated by a different kind of tension, she says. The question seems not to be "What is she like with her clothes off?"—the answer to that is all over the Internet—but rather "What is she like with her clothes on?" So inconceivable is the idea that someone would make porn for a living and also be Indian. "Did you hear what that guy said at lunch?" Leone asks Weber one afternoon, referring to an admirer who had asked her to be in a photograph with him and his friend. "He said, 'We're fans of your work in America.' Then he giggled."
Leone is bracing herself for a busy fall and winter. She will soon begin shooting her fourth feature, Tina and Lolo, which she describes as "a cross between Thelma and Louise and Kill Bill." "We were warned it would be risky," Weber says. "It is risky," Leone confirms, adding that women-centric films don't sell. In November, preproduction starts on It's Always Sunny in Mumbai, a documentary about her that is slated for HBO. At the moment, though, she is heading to a wrap party thrown by the chief producer of Jackpot. A large cake is covered with sparklers, which people pluck from the frosting and wave around. Leone lowers her sparkler to her fly and holds it there, so that sparks shoot out from her crotch. The director smiles and shakes his head. "Only you can do that," he says.
The actress Sunny Leone in Goa.
Portrait by Bharat Sikka
Sunny Leone getting ready to go out in Panjim. Portrait by Bharat Sikka
Leone in Jism 2.
Photo courtesy of Fisheye Productions
Leone with her husband. Portrait by Bharat Sikka
The DVD cover for her adult film Sunny & Cher.
Leone at Vagatore Beach in Panjim after a day of shooting. Portrait by Bharat Sikka
Leone playing the good roommate on the reality show Bigg Boss. Photo courtesy of Endemol UK
Leone on set in Goa, awaiting her next scene. Portrait by Bharat Sikka