Which Celebrity Had the Most Extra Time at the Super Bowl?
The wildest and weirdest celebrity interactions at Super Bowl LIV.
---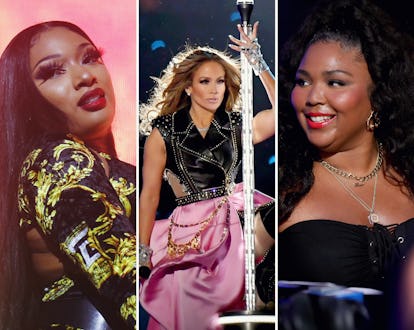 Getty Images
This year's Super Bowl was a wild one. First, there were the pre-show shenanigans (some of which were canceled this year because of the weather, much to the chagrin of many Harry Styles fans). Then, there was the actual game, which was certainly not without its controversies this year, the absurd commercials, and the halftime show, in which Jennifer Lopez and Shakira managed to make you realize just how out of shape you probably are compared to either of them.
Celebrities attending the Super Bowl also tend to see this event as an opportunity to just turn up and be the most extra they could possibly be while half-watching a football game on a Sunday night. And a quick rundown of who was spotted with whom will make anyone realize that we live in the most absurd times.
As for Styles, instead of performing, he was spotted hanging out with Kaia Gerber's dad, Rande Gerber. (The supermodel was not at the dinner with her dad and the musician.)
There was also Lizzo, who agreed to take a selfie with billionaire Amazon CEO Jeff Bezos, who, of course, couldn't resist embarrassingly using the singer's "Truth Hurts" lyrics to let everyone know that he's her "biggest fan."
And Lizzo wasn't the only musician seen hanging out with a middle aged bald man who is sort of a celebrity, but also not really. Lady Gaga spent time with comedian Jeff Ross, for some reason.
Blue Ivy Carter also attended her first Super Bowl, and reminded us all, against our wills, that the passage of time is inevitable and she really is growing right before our eyes (yes, that eight-year-old appears to have her own iPhone).
And while the Super Bowl halftime performance from J.Lo and Shakira may seem like it would be the only moment from the show that would remain on everyone's minds long after the field was cleaned up, there's another duo that linked up in Miami and left Twitter in a tizzy when their union was discovered this morning: Megan Thee Stallion and G-Eazy.
It seems, according to G-Eazy's social media, that he and fellow rapper Megan Thee Stallion might be more than just friends. First, he re-posted a thirst trap of Megan Thee Stallion on his own main feed, causing fans and followers to keep a close eye on what he was sharing, and he followed up with a video posted to his Instagram Story of the two of them cuddled up together on the couch while he kisses her face.
Elsewhere in Miami, the mere mention of G-Eazy's name caused Halsey to halt her pre-Super Bowl performance when a heckler kept shouting the name of her ex at her. "If you say G-Eazy one more f–king time, I will kick you out this building," she said. "You're not going to disrespect me like that at my own show."
If you still don't believe the words about G-Eazy's potential new relationship with Megan Thee Stallion—and if you were to check Twitter right now, it seems that the visual evidence is required to believe those words—take a look for yourself.
To be fair, no one can resist Hot Girl Meg. That's kind of her entire platform.
Related: The Hustlers Legal Drama, Explained