How Supermodels Do the Super Bowl
For Alessandra Ambrosio, it's all about guac and wine. Hold the beer.
---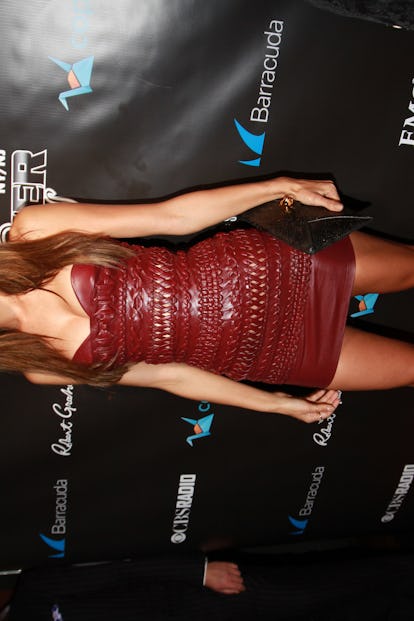 The biggest Super Bowl party in town is before the game even starts. This year, the annual "Leather & Laces" fête presented by MGM Grand is hosted in San Francisco by Entourage stars Jeremy Piven and Emmanuelle Chriqui as well as supermodels Alessandra Ambrosio and Emily Ratajkowski. Tickets cost from $495 to $950, but if you want to mimic the experience from your couch, here's Ambrosio's play-by-play of how to enjoy the game.
Is this your first Super Bowl? This is my third time going to the Super Bowl. I went two years ago in New York when I hosted Leather and Laces, and also last year in Phoenix.
How well do you know the rules? Who explained them to you? I am not the expert on the rules by any means, but I do know the basics. Every time I go to the game I learn a bit more from friends that go with me.
Which team are you rooting for? The Panthers as they are having an amazing season. I heard that they only lost once the whole year.
Who is your favorite athlete? That is tough. If I had to pick one it would probably be Neymar as I am Brazilian and we are crazy about soccer.
If you could play a sport professionally, which one would it be? I would either play volleyball or surf.
Favorite Super Bowl snack? I love guacamole.
What do you do during half time? I usually watch the half-time show with my friends. I am so excited about this year's show and I can't wait to see Coldplay and Beyoncé. I think it is going to be great.
What's your beer of choice? I prefer wine