Supreme Is Now Selling a Paperweight Made of $100 Bills
Because of course they are.
---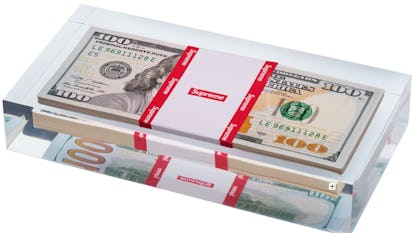 If you like to keep your money right where you can see it—namely in the form of a stack of fresh, crisp $100 bills—Supreme has an idea for you: Use it as a paperweight.
The iconic (and frequently ironic) streetwear brand recently posted a preview of its Fall/Winter 2017 collection, and the most quizzical item is a Lucite paperweight filled with what appears to be a stack of real $100 bills, Buzzfeed reports. Supreme's website describes the aptly named "Cash Paperweight" as "U.S. banknotes encased in Lucite."
Most people would probably prefer to put a stack of $100 bills toward a vacation, shopping spree, or charity, but considering Supreme is responsible for this ridiculous fanny-pack trend, "practicality" isn't exactly one of the cornerstones of what the company is all about. Last year's version of the "designer paperweight" was an actual brick that retailed for $35. It sold out quickly on the company's website, and people were reselling it for up to $1,000 on eBay. Supreme also recently created a branded New York City MetroCard, which had people getting into actual fights in subway stations. Oh, right, there was that recent Louis Vuitton collaboration as well. So really, a paperweight made of straight-up cash money isn't even that surprising.
The paperweight isn't the only money-themed item in the brand's Fall/Winter 2017 collection. There's also a $100-bill-shaped pendant, a $100-print trucker jacket, and a velcro-and-nylon wallet that reads, "Money Is Always Most Important." Despite the fact that the items are covered in the bills, it's probably safe to assume they may actually cost more.
The collection drops tomorrow on Supreme's website. And if the past collaborations were any indication, expect to see many pictures of a swagged out desk on your favorite fashion bro's Instagram feed soon thereafter.
Related: The Supreme Money Gun Is Spring's Most Instagrammable Accessory
See What's Trending in W Video: