Sybilla Strikes Back
After a 10-year hiatus, Spain's biggest designer is once again in fashion.
---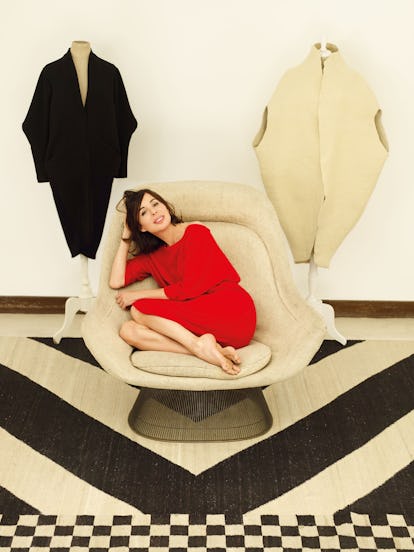 "I usually just design what I want to have," Sybilla says, almost apologetically, as she flicks through an iPad slide show of origami-like coats and hand-felted dresses and skirts in brushstrokes of crimson, black, and white. Judging from the way she twists her arms in a painful gesture of shyness, one would be forgiven for thinking this was the designer's first interview. But Sybilla Sorondo Myelzwinska is hardly a newcomer. The 52-year-old has been the face of Spanish fashion for more than 30 years. "After Balenciaga, Sybilla is the only Spanish designer who really matters," says Luis Venegas, the Madrid-based creative director behind magazines like Candy and Fanzine137. "Her work made me fall in love with fashion—not just the clothes, but also the amazing ads she conceived with the creative director Juan Gatti and the photographer Javier Vallhonrat." Indeed, ever since she made her debut in Madrid, in 1983, Sybilla has pushed fashion forward, often morphing heavy materials like felt into seamless concoctions that have been as much a success with the fashion cog­noscenti as with the average woman in the calle.
Born in New York and raised in Madrid, Sybilla came of age during la movida, the counterculture movement that rocked the post-Franco nation in the late 1970s and early '80s (its most high-profile representative is the filmmaker Pedro Almodóvar). In only a few years, Sybilla's popularity spread like wildfire and she started showing her collections in Paris, adding evening wear and cosmetics to her repertoire. But in 2005, after selling a stake in her company to investors, Sybilla distanced herself from the fashion world and moved to the Spanish island of Majorca, where she got involved in farming. "That's my other passion: I design farms and agricultural projects," she says, beaming with enthusiasm. "I'm also working with a school in Majorca to bring back artisanal craftsmanship, whether it's woodwork, weaving, tiles, glass, embroidery, or pottery. In Madrid, we are helping develop initiatives to bring back different skills in dressmaking, creating a crafts school around fashion."
Helping craftsmen rediscover traditional skills wasn't Sybilla's first venture into making objects for the home. In the 1990s, she designed a line of candles—and, later, a collection of rugs for the Spanish manufacturer Nanimarquina. "Her Mosaico is still one of our best sellers," says Nani Marquina, the company's founder. In early 2001, the two women had started to work on another collaboration, producing kilims with Afghan refugees in Pakistan, but the venture was shut down in the wake of September 11. In 2014, Marquina approached her again, right when Sybilla, after years of legal battles, had regained control of her company. "It was ­really strange," Sybilla remembers. "I got back the brand, and a week later Nani called and said that she had found a factory that could do the kilims! I did the rugs first and then the clothes." It's easy to see the common thread between her Mélange Color 2 rug and the new dresses, coats, and capes that wrap around a woman's figure with ease, like wearable sculptures. So, after all those years, is the Sybilla woman different? "The world has changed a lot, but I think women are still the same," Sybilla says with a grin. "They're still mysterious creatures that get turned on by clothes and can shine when they wear them."
Photos: Sybilla Strikes Back
Sybilla, in her studio in Madrid, with pieces from her fall collection and a rug of her own design. Portrait by Juan Gatti.
A look from fall 1988. Photo by Javier Vallhonrat.
A coat from fall 2015. Photo by Felix Valiente.
Dresses from spring 1991. Photo by Juan de la Fuente.
Hair and makeup by Ana Prado for MAC and GHD at Piti Pastor; photography assistant: Juan Martinez Fondon.