Sydney Lucas Lives Her Life-Long Dream
The 11-year-old actress talks about her starring role on Broadway in Fun Home.
---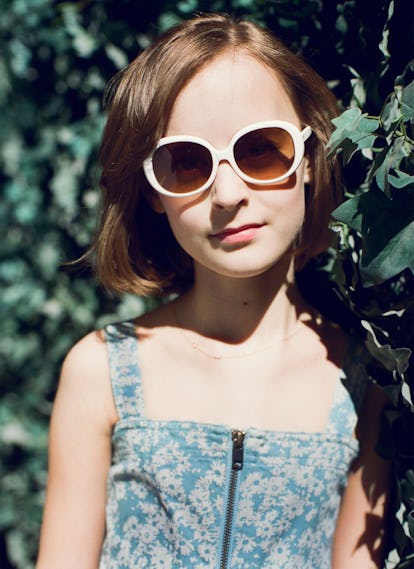 Photography by Frank Sun Styled by Sam Walker
"I've always wanted to be on Broadway ever since I was little," declares Sydney Lucas, who stars in Fun Home at the Circle in the Square Theater. "And it's such an amazing show and I'm originating the part on Broadway? It's all I could ever ask for!"
Lucas is 11 years old. And when she says, "since [she] was little" she means two years old, which, do the math, was practically yesterday. But despite her age-appropriate appearance, dressed as she is in aqua jeans, a purple long-sleeve shirt layered under a white T-shirt covered with illustrations of dogs, metallic rainbow swirl combat boots on her tiny feet, it can be easy to forget that Lucas is barely a tween, so unnerving is her intelligence and poise.
It was clearly such qualities that helped her land the role of Small Alison in the first production of Fun Home at the Public Theater, before it moved to Broadway under the direction of Sam Gold (it opens April 19th). The musical, based on the autobiographical graphic novel by Alison Blechdel and with a book and lyrics by Lisa Kron and a score by Jeanine Tesori, follows Alison (a self-described lesbian cartoonist) as she unravels the dark secrets of her Pennsylvania childhood. More specifically, it charts her journey to connect with her father, a closeted homosexual who committed suicide when she was in college. Lucas plays elementary school Alison (Emily Skeggs and Beth Malone are college-aged and adult Alison, respectfully).
Though the musical has many joyful moments, you would think the more challenging material would have been a tough sell to a nine year-old—and her parents. But Lucas insists it was an easy decision to audition. "I was a pretty mature 9 year-old, so I didn't need any explaining. But I read the book, of course, with the inappropriate pictures covered by my mom," she explains, adding of her interpretation of Alison, "All my life, I've really been exposed to gay people. I didn't think anything of it. Oh cool, she has a different sexual preference. Like me, she has two brothers. My brothers made me sort of tough, so I'm definitely not a girly-girl. I'm a mix. And I love to draw and write, so Alison is sort of like me."
Lucas's brothers are part of the reason she got into acting. Born in Atlanta, Georgia, she moved to New York when she was two and was entranced by her oldest brother Brock's community theater performances (he is now 17 and soon off to college to study song-writing). She was also incensed at being excluded from the aforementioned program while her second older brother, Jake (now 12 and starring as Kelli O'Hara's son in The King and I on Broadway), made the cut. But by age six she had a manager and has appeared in an episode of Law & Order: SVU and played Kristen Wiig's younger counterpart in both Skeleton Twins and Girl Most Likely.
Last year, she made waves in theater circles when she picked up the Obie for Distinguished Performance by an Actress for the Public Theater production of Fun Home, becoming the youngest person in history to nab such an honor (she was ten). Her eyes still light up at its mention, but in typical fashion, her reaction is laced with preternatural wisdom.
"It reassures me that I'm staying on track and doing a good job at acting. And I really do appreciate that. But my goal is just to do Alison," says Lucas, who unsurprisingly has no plans to stop. "I cannot envision myself doing anything else but this."