The Bard of Beverly Hills
He may have written for stage, screen and TV, but Sidney Sheldon is happiest on the best-seller list.
---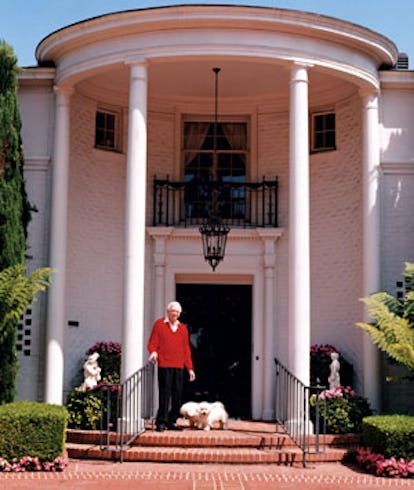 Sidney Sheldon, the happily married, 87-year-old novelist, has a thing for younger women. Especially strong-willed, independent, dazzlingly beautiful women with brilliant minds and extraordinary skills in the bedroom. Among his favorites over the years have been Noelle Paige, a ruthlessly conniving French temptress; Elizabeth Roffe, a tough-talking heiress to a billion-dollar fortune; and most recently, a statuesque young widow named Kelly Harris, who overcame an abusive childhood to become a top model.
Sheldon, 87, still spends most days in his office.
Granted, none of these women exist in real life; they're among the characters created by Sheldon for The Other Side of Midnight and his 17 other best-selling novels. But few authors develop as close a bond with their protagonists as Sheldon, who has been known to cry while writing scenes that bring any of them to untimely deaths. Readers, too, have found plenty to relate to in Sheldon's work; he has sold more than 300 million books so far and is, according to the Guinness Book of World Records, the world's most widely translated author, with editions in 51 languages. (The books have also spawned multiple TV miniseries, more than one starring Jaclyn Smith.)
"People say to me, 'You know, I never read novels before—but someone gave me one of yours, and I read it, and now I've read them all,'" Sheldon says.
His latest, Are You Afraid of the Dark? (William Morrow), his first novel in four years, is spiked with the same addictive ingredients that have always kept his readers hooked: sex, suspense, money, murder and high-concept intercontinental intrigue (in this case, the head of a gigantic think tank is using its top-secret research to adhere to his own evil agenda). As with his previous efforts, Sheldon arose early every morning to dictate the novel—straight from his head, chapter by chapter—to an assistant, then spent months tweaking the manuscript.
These days, Sheldon's name is so synonymous with bedside-table thrillers that it's easy to forget that he didn't publish a book until he was 52. By then he'd already won a screenwriting Oscar in 1948 for The Bachelor and the Bobby-Soxer (starring Cary Grant and Shirley Temple) and a Tony in 1959 for the Broadway musical Redhead (starring Gwen Verdon), and he'd created and produced several hit TV series, including The Patty Duke Show and I Dream of Jeannie. Sitting in the office of his hilltop Sunset Boulevard manse, dressed in dark wool slacks and a red cashmere sweater despite the 75-degree heat, Sheldon is sprightly and swift, tossing off one-liners with the impish zeal of a Catskills comic. His next book? A memoir, he says, "about my sex life. It's one page long." His opinion of the current crop of Hollywood films? "I think most of the movies that came out last year should have been put on television—and canceled!"
Part of the problem with the industry today, he adds seriously, is that studio chiefs don't understand what makes a good movie. "They're not as qualified," he says. "The most important qualification for someone running a studio is knowing good stories. Darryl Zanuck had that, and David Selznick. They were two of the best producers that I knew."
Sheldon, a native of Chicago, got his first break from Selznick in 1938 while living in a cheap boardinghouse near the Hollywood Bowl with a dozen other aspiring screenwriters, actors and directors. "There was one phone, and every time it rang, everyone would rush for it, thinking it was a job for them," Sheldon remembers. "So one day, the phone rang and someone grabbed it and looked at me and said, 'David Selznick for you.'" Actually it was Selznick's secretary, asking Sheldon to synopsize a novel for the producer by six o'clock that evening. He met the deadline and soon got a job as a script reader at Universal Studios. After a brief detour during World War II to train as a fighter pilot, Sheldon sold his Bachelor script to Selznick, then wrote screenplays for Annie Get Your Gun, Anything Goes and Easter Parade, among others. In 1963, when asked to create a series around Patty Duke, Sheldon declined, unwilling to work in television. But his agents persuaded him to meet with the actress, who'd just won an Oscar for The Miracle Worker at 16.
"So I sat down to lunch at the Brown Derby with about 1,800 William Morris agents," Sheldon recalls. "Patty sat next to me. She held my hand during the whole lunch, she was so hungry for love. That night, my wife and I had her to the house for dinner. And we were talking, and suddenly we realized that Patty was missing. She was in the kitchen doing the dishes. And I fell in love with her. I said, 'I'll do her show.'"
Many of Sheldon's stories of Old Hollywood make plain the loneliness and insecurity that so often haunted the era's greatest talents. He remembers being on the set of Easter Parade, chatting with Judy Garland as she was called to shoot her first scene, when he noticed that she was stalling for time. "I said, 'Don't you want to do this scene?' and she said, 'No.' And I said, 'Why?' And she said, 'Because in this scene I kiss Mr. Astaire, and I've never met him.' Everyone had assumed that these two superstars already knew each other! So I led her by the hand over to Fred and introduced them, and the show went on."
In his personal life, Sheldon has been drawn not to fragile, uncertain creatures but to smart, indomitable women, not unlike the heroines of his novels. There was his first wife, actress Jorja Curtright, whom he met in the MGM commissary in 1950. Sheldon, a producer at the time, spotted a beautiful lady lunching with his friend Zsa Zsa Gabor, and went over to say hello.
"I said to Jorja, 'Why don't you give me your phone number?' She said, 'No. I just can't,'" he recalls. Later, Zsa Zsa told me it was because Jorja had heard that I had dated a lot of girls in town. But Zsa Zsa said to her, 'Don't be a fool, darling, he's a producer!' So I finally got her phone number and called her and we started going out, and then we fell in love and got married." They later had a daughter, Mary Sheldon, now also a novelist.
Jorja died of a heart attack in 1985. Four years later Sheldon married Alexandra Kostoff, whom he describes as another "extraordinarily intelligent, strong, beautiful and loving" former actress. Today they divide their time between their sprawling Los Angeles house—in which gilded furniture and Childe Hassam paintings compete for space with Alexandra's dollhouse collection—and a seven-building compound in Palm Springs. Most of his old friends (Steve Allen, Milton Berle) are now gone, so Sheldon, an admitted workaholic, spends most of his days at his desk writing—that is, dictating.
Having worked successfully in just about every literary genre, Sheldon has settled on fiction as his favorite, in part because it allows him absolute creative control. With screenplays, he says, "if you write that a character is tall and lanky, and Clint Eastwood turns it down and they give it to Dustin Hoffman, you're in trouble, you know? And when you write a novel, you not only have to describe what the character looks like and is wearing, but what he's thinking and what the rooms look like. It's more satisfying." (Sheldon takes pride in his meticulous research. For example, many of the details about Constantin Demiris, the ruthless Greek billionaire in The Other Side of Midnight, were based on conversations with Aristotle Onassis' private pilot.)
Though he hasn't written a script in decades, Sheldon's novels—and his manner of speaking—still owe an obvious debt to the quick, terse style he honed during his TV days, when a writer's goal was, above all, to make sure viewers didn't touch that dial. Does he make a point of ending each chapter with a little cliff-hanger?
"Take out the word 'little,'" he says.
Literary critics, of course, have not been universally enthusiastic about Sheldon's potboilers, but the author doesn't seem to mind. "Here's the range of my reviews," he says. "Once, a critic said, 'You simply cannot put down a Sidney Sheldon book.' And when my publisher used that quote on my next book, another reviewer wrote, 'If you can't put down a Sidney Sheldon book, it's because the publisher has put glue on the cover!' Reviewers who are very intellectual are interested in other kinds of writers."
Sheldon's longtime agent, Mort Janklow (whose clients range from Jackie Collins to David McCullough), says that Sheldon's rare ability to spin stories that appeal to both men and women, including readers "everywhere from Taiwan to Albania," has kept him in the top tier of commercial writers commanding multimillion-dollar advances. "Amazingly, he's still right up there," Janklow says, adding that Sheldon isn't likely to retire any day soon. "He's not a golfer, he's not a boatsman. But he loves writing. I think that's his way of staying young, with it, involved in the world."
For his part, Sheldon says he writes mainly to entertain the "housewives, doctors, waiters, bus drivers and professors" who make up his audience. Hundreds of them have stopped him in the street or written him letters—often because, like Sheldon himself, they got a little too close to his characters.
"When I wrote Rage of Angels," Sheldon says, "I let a little boy die, and I started getting hate mail. 'How could you let him die? What's the matter with you? That's so cruel!' One woman wrote to me and gave me her phone number in New York. She said, 'I can't sleep—call me.'"
Eventually, the appeals won him over.
"When I wrote the miniseries," Sheldon says, "I let the boy live."