Sylvie Johnson Is the Textile Designer Top Architects Trust
With her exquisite one-of-a-kind textiles, Sylvie Johnson has become the starchitect's couturier.
---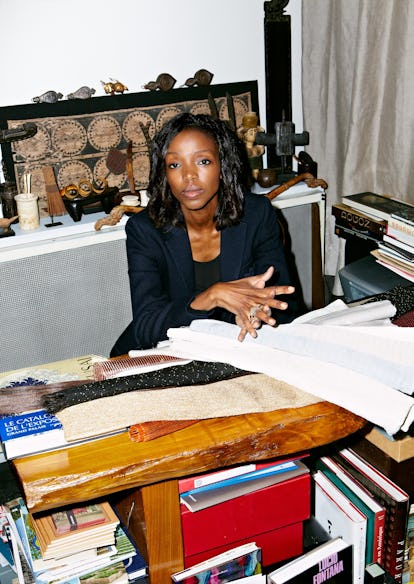 Photograph by Hugues Laurent
For a certain cadre of elite architects and decorators, even the finest textiles in production are not good enough. They need something bespoke, a fabric imagined and then woven exclusively for the project at hand. For this, they travel to Paris to meet Sylvie Johnson, a self-taught weaver who has created a new metier: the starchitect's couturier.
Born in Dakar to a Senegalese mother and a Ghanaian father, Johnson grew up in West Africa and Marseille but says she feels most at home in Paris, among the prim, ancient passageways of Saint-Germain-des-Près. There, inside a narrow apartment building, across a courtyard, she keeps a tiny studio to receive clients. If not for her reams of textile ­samples—gorgeous tufts of raffia, horsehair, and raw silk—you might suspect you've wandered into the office of one of the neighboring antiquarians.
The dusky room teems with primitive art: an ancient comb from Vanuatu, a 17th-century Chinese flyswatter, a spool of 200-year-old Japanese silk yarn that looks like copper wiring (it was used to make kimonos). Unspeakably beautiful, these objects are also mysterious; learning about their rarity and provenance is an important part of appreciating them. So, too, with Johnson's textiles. Straightforward in terms of pattern, they combine the ­minimalist rigor of abstract art and the painstaking, handmade construction of haute couture. It is this mix that has given Johnson, despite her low profile, a very impressive client list that includes the architects Annabelle Selldorf and Peter Marino, and the interior designer Axel Vervoordt. "She's a genius," says Jacques Grange, another design-world heavyweight. "What she does is very rare and difficult to explain. It's like she puts her soul onto the fabric."
You don't have to spend much time with Johnson to understand what Grange is talking about. After we browse through her collection of antique curios, she asks me to take a seat (on a Le Corbusier stool), and we flip through her fabric samples. Johnson, 41, is petite and reedlike in a black silk tunic, and there's something disarmingly ingenuous about the way she overflows with excitement over all the things that inspire her: the Asian art at the Musée ­Guimet, Nabis painters like Pierre Bonnard and Edouard Vuillard, the shadowbox assemblages of Joseph Cornell. "It was art that taught me what textiles could be," she says.
And it was art, specifically modern art, that taught her to be wary of ornamentation. "It's like with Matisse. He started by doing complicated things, and finally it was just a line. If you have a complicated panel, you're going to lose all the poetry of the material." Johnson then takes up a sample she recently made, composed of horizontal bars of Mongolian horsehair—gleaming, metallic, almost ­futuristic—held together with thin vertical strips of brown leather. "This is simple but really captivating. You can almost see the horse running or picture yourself on the tundra. It's like looking at a Malevich. Is it just a white square? Or is it your entire life?" Johnson can get a little carried away when talking about her yarns. "I know for some people this is just a warp and weft—it's nothing," she says, smiling widely. "But for me, that nothing is everything."
At present, there are only a few (semi-) public spaces in the world where you can see Johnson's handiwork up close, including the Royal Mansour, King Mohammed VI's Ozymandian hotel, in Marrakech, for which Johnson wove custom silk curtains. The vast majority of her work, perhaps because of its cost, is in private homes. As part of her ongoing collaboration with Selldorf, she has made floor coverings out of wool and angora and created a high-relief headboard of silk and linen. A fabric woven from strips of cotton and cork, meanwhile, ended up being used for a sofa. "There's a subtle quality to her colors and weaves that at first glance seems very understated," Selldorf says. "But the quality and inventiveness of bringing different textures together is really quite brilliant."
Johnson studied economics in Paris at Sciences Po, one of France's grandes écoles, a gateway to prestigious bureaucratic jobs. She got one of those—at a population-research organization—but soon left to work in the art world, developing business plans for the design collector Eric Touchaleaume's Galerie 54, which was mounting a major exhibition on Jean Prouvé. In her spare time, she took art-history courses at a school attached to the Jeu de Paume museum. While she embraced her creative career later than most, thinking about art and design had always been essential and natural to her. This she credits to her maternal grandmother, Marie-Augustine, who passed away in February. She taught Johnson not just about painting and literature but also about the careful consideration of life's simple pleasures, what the French call l'art de vivre. "She was so poetic," Johnson says. "We used to spend hours just talking about red wine or how to set a table or why beauty was important. She used to say, 'Water is not always just water. If you put it in a beautiful glass, it becomes something else.' "
Johnson fell in love with textiles at an exhibition she saw while on vacation in Brittany, and decided to take a year off to learn how to weave. She found a couturier who had worked for Christian Lacroix and Chanel and asked to become her apprentice. In 2003, she launched her own company with just 30 samples. That number has since grown to 500, but even those are just suggestions, starting points, since every textile is made to order. With some designs, eight hours of weaving will yield just under eight inches of fabric. The turnaround time is usually two to three months.
The idea of living with such extraordinary and expensive textiles might make some people uncomfortable, although Johnson claims that few of her clients have ever had a problem that dry-cleaning couldn't solve. "Obviously," she concedes, "it's a problem if you have a cat."
Watch W's most popular videos here: