Solange Directed SZA's Powerful and Poetic New Music Video
Two powerhouse female artists join forces for one hell of a music video.
---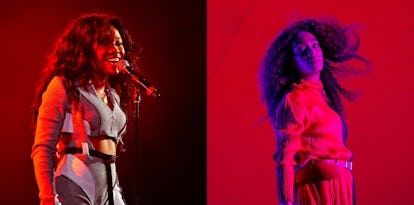 Getty Images
The subtitles that open Grammy-nominated artist SZA's new music video for her song "The Weekend" read: "one opted out / an imbalance of power, shifted the whole tide / it waved / and waved."
The text is powerful and poetic—and also undoubtedly the result of an aesthetic belonging to the short film's directorial mastermind: Solange Knowles. In fact, the entire video shows signs of Solange's signature artistry: a visually pared-down adaptation of SZA's R&B hit that allows the music to truly speak for itself.
A standout from SZA's acclaimed 2017 album CTRL, "The Weekend" follows a woman who's come to the realization that she's sharing a man with someone else—but is too desperately in love to do anything about it. Throughout the video, SZA dances alone in a sea of empty spaces: from parking garages to concrete balconies—backdrops that, while seemingly different, all share a similar emptiness—giving the already affecting song an extra punch to the gut by reinforcing the feeling of loneliness the lyrics so cleverly set into place.
It's a creative move that is a departure for the artist, whose music videos have historically taken on a more thematic shape, with more storyline or, at the very least, other characters. But it's these subtleties that underscore the music video's specialness. From the lyrics themselves to the way they're conceptualized, the music video is, to put it simply, epic—but then again, when you pair two powerhouse female artists like SZA and Solange, what else do you expect?
Related: Despite Her Album CTRL's Success, SZA Still Hasn't Forgiven Susan Miller For Throwing Her Vibe Off