A Rare, Exclusive Interview with Taemin, K-Pop's Justin Bieber
"He's incredibly famous."
---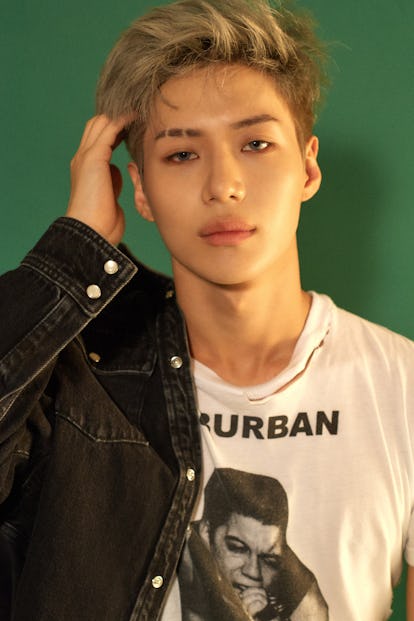 Photo by KIMCHAMSTUDIO, courtesy of S.M. Entertainment.
Korean pop stars are notoriously private, but few are both as omnipresent and mysterious as Taemin.
For the last decade, Taemin has been a member of SHINee, one of the biggest K-pop boybands in the world. He has performed in cloyingly sweet pop singles, technicolor music videos and carefully orchestrated photoshoots. But while SHINee has become a significant, widely-known band, no one knows very much about Taemin himself–except what he, and his record label S.M. Entertainment, which represents both SHINee collectively and Taemin individually, want you to know, of course.
In contrast to American celebrities who relentlessly share so much of their personal lives especially on social media, Taemin chooses to retain a degree of privacy. Although he will post through his group's Instagram page, he is one of the only major K-pop acts who does not have his own personal account. So when Taemin appeared last week at Seoul Fashion Week to close the SUPERCOMMA B show, the crowd was shocked.
"He's incredibly famous," explained one American editor familiar with the K-pop world. "With his new album out, it's like when Justin Timberlake released 'Justified' or Justin Bieber released 'Purpose.' He's almost too famous to be playing fashion shows right now."
Luckily for those in attendance, he did, in fact, perform. Flanked by dancers, Taemin emerged from a cloud of dry ice and gave a sensual performance of the new single "Move" off his latest solo album by the same name, both of which were released last week. It was instantly iconic, and became the standout moment of this season of Seoul Fashion Week.
With the blessing of his management — and a list of pre-approved questions, only — we were able to ask Taemin a few questions about his new album, his new direction, and the musical influences behind his mysterious public persona.
You have been with SHINee for almost a decade, and have intermittently experimented with solo projects. How is it different working with your group versus working on your own?
I feel proud to be a member of SHINee. It is a great team with a unique identity. There are some hardships I went through as a solo artist, but those experiences became a stepping stone for me to grow and learn. I also have fans who give me unlimited support and love which gets me going at all times.
Your single "MOVE" is already off to a big start, in part because you made three distinct music videos for it. Why did you make three videos for the one single?
I have always wanted to show various things, and I wanted to highlight the many charms 'MOVE' has. So I made three music video versions with different styles and to especially display the performance in various angles. I performed with female backup dancers this time, because I thought it will be sexier to dance with them than male dancers, and suit very well with the overall concept and mood of the song.
"Move" is a very mature and sensual release. How is it different from your previous music?
You may find the more mature side of Taemin in the title song, 'MOVE.' The song has more of a wild side compared to previous works which depicted a more dreamy feeling. I would like to say that you will be able to feel deep inner strength through the song than just a physical sense of power.
Do you think your fans will like your new direction?
I can try new genres because I know there are fans who will always be there to support what I would like to pursue. It is at times overwhelming to be experimental but I always try to challenge myself.
Are there any American musicians/artists that inspire you?
I have always admired Michael Jackson, and he's the one I get most inspiration from. I hope to become an artist like him as he won so many people's hearts and gave that love back to them through his music.
Tell me about your personal style. What kind of clothes do you like to wear?
Just as your attitude changes depending on where you are, I choose my clothes according a situation I'll be placed in. However, I usually like to wear casual and comfortable outfits for the most part.
Related: Meet Lee Sung-Kyung, South Korea's Answer to Gigi Hadid
The Best Street Style at Seoul Fashion Week Includes Chanel Tweeds and Bold Primary Colors
Street style in Seoul during Seoul Fashion Week Spring/Summer 2018. Photo by Adam Katz Sinding for W Magazine.

2017 Adam Katz Sinding
Street style in Seoul during Seoul Fashion Week Spring/Summer 2018. Photo by Adam Katz Sinding for W Magazine.

2017 Adam Katz Sinding
Street style in Seoul during Seoul Fashion Week Spring/Summer 2018. Photo by Adam Katz Sinding for W Magazine.

2017 Adam Katz Sinding
Street style in Seoul during Seoul Fashion Week Spring/Summer 2018. Photo by Adam Katz Sinding for W Magazine.

2017 Adam Katz Sinding
Street style in Seoul during Seoul Fashion Week Spring/Summer 2018. Photo by Adam Katz Sinding for W Magazine.

2017 Adam Katz Sinding
Street style in Seoul during Seoul Fashion Week Spring/Summer 2018. Photo by Adam Katz Sinding for W Magazine.

2017 Adam Katz Sinding
Street style in Seoul during Seoul Fashion Week Spring/Summer 2018. Photo by Adam Katz Sinding for W Magazine.

2017 Adam Katz Sinding
Street style in Seoul during Seoul Fashion Week Spring/Summer 2018. Photo by Adam Katz Sinding for W Magazine.

2017 Adam Katz Sinding
Street style in Seoul during Seoul Fashion Week Spring/Summer 2018. Photo by Adam Katz Sinding for W Magazine.

2017 Adam Katz Sinding
Street style in Seoul during Seoul Fashion Week Spring/Summer 2018. Photo by Adam Katz Sinding for W Magazine.

2017 Adam Katz Sinding
Street style in Seoul during Seoul Fashion Week Spring/Summer 2018. Photo by Adam Katz Sinding for W Magazine.

2017 Adam Katz Sinding
Street style in Seoul during Seoul Fashion Week Spring/Summer 2018. Photo by Adam Katz Sinding for W Magazine.

2017 Adam Katz Sinding
Street style in Seoul during Seoul Fashion Week Spring/Summer 2018. Photo by Adam Katz Sinding for W Magazine.

2017 Adam Katz Sinding
Street style in Seoul during Seoul Fashion Week Spring/Summer 2018. Photo by Adam Katz Sinding for W Magazine.

2017 Adam Katz Sinding
Street style in Seoul during Seoul Fashion Week Spring/Summer 2018. Photo by Adam Katz Sinding for W Magazine.

2017 Adam Katz Sinding
Street style in Seoul during Seoul Fashion Week Spring/Summer 2018. Photo by Adam Katz Sinding for W Magazine.

2017 Adam Katz Sinding
Street style in Seoul during Seoul Fashion Week Spring/Summer 2018. Photo by Adam Katz Sinding for W Magazine.

2017 Adam Katz Sinding
Street style in Seoul during Seoul Fashion Week Spring/Summer 2018. Photo by Adam Katz Sinding for W Magazine.

2017 Adam Katz Sinding
Street style in Seoul during Seoul Fashion Week Spring/Summer 2018. Photo by Adam Katz Sinding for W Magazine.

2017 Adam Katz Sinding
Street style in Seoul during Seoul Fashion Week Spring/Summer 2018. Photo by Adam Katz Sinding for W Magazine.

2017 Adam Katz Sinding
Street style in Seoul during Seoul Fashion Week Spring/Summer 2018. Photo by Adam Katz Sinding for W Magazine.

2017 Adam Katz Sinding
Street style in Seoul during Seoul Fashion Week Spring/Summer 2018. Photo by Adam Katz Sinding for W Magazine.

2017 Adam Katz Sinding
Street style in Seoul during Seoul Fashion Week Spring/Summer 2018. Photo by Adam Katz Sinding for W Magazine.

2017 Adam Katz Sinding
Street style in Seoul during Seoul Fashion Week Spring/Summer 2018. Photo by Adam Katz Sinding for W Magazine.

2017 Adam Katz Sinding
Street style in Seoul during Seoul Fashion Week Spring/Summer 2018. Photo by Adam Katz Sinding for W Magazine.

2017 Adam Katz Sinding
Street style in Seoul during Seoul Fashion Week Spring/Summer 2018. Photo by Adam Katz Sinding for W Magazine.

2017 Adam Katz Sinding
Street style in Seoul during Seoul Fashion Week Spring/Summer 2018. Photo by Adam Katz Sinding for W Magazine.

2017 Adam Katz Sinding
Street style in Seoul during Seoul Fashion Week Spring/Summer 2018. Photo by Adam Katz Sinding for W Magazine.

2017 Adam Katz Sinding
Street style in Seoul during Seoul Fashion Week Spring/Summer 2018. Photo by Adam Katz Sinding for W Magazine.

2017 Adam Katz Sinding
Street style in Seoul during Seoul Fashion Week Spring/Summer 2018. Photo by Adam Katz Sinding for W Magazine.

2017 Adam Katz Sinding