Tallulah Willis Has 28 Tattoos, Only Regrets One of Them
The youngest daughter of Demi Moore and Bruce Willis on her new line of illustrated merch, body ink, and her sartorial inclinations.
---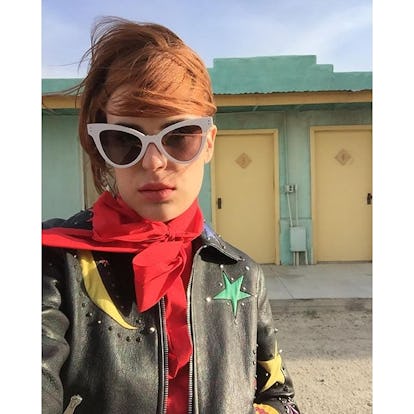 Tallulah Willis, the youngest daughter of Demi Moore and Bruce Willis, released the first two pieces of her clothing label this month under her family nickname, Buuski. Featuring her own illustrations, the two sweatshirts for sale online are called "Youth" and "Sorry…I thought you know," which are apt descriptions of the 22-year-old's world.
"The first two crewnecks I've released observe the two styles I tend to oscillate between: a more realism-driven depiction of the human body and the gremlin-breed from my imagination," said Willis.
Around two years ago, Willis emerged from what she describes as a "cocoon of self judgement" and started looking at her doodles as art, citing Shel Silverstein and Egon Schiele as influences. After also receiving positive feedback for her illustrations on her Instagram account, which has almost 140K followers, she then decided to make them available for a mass audience, and hopes to design more in the future.
Spotted most recently in the front-row at the Saint Laurent show in Los Angeles with her mother and two sisters, Willis has grown up around high fashion, but prefers to mix designers with vintage finds, maybe some Mango, and a pair of wacky socks. She's also following in the footsteps of her sister Scout, who launched her label Scout's General at New York Fashion Week Fall 2016. Clearly, style is in her genes, but Buuski's look is entirely of her own imagination.
Occupation: Illustrator.
What was the inspiration for both illustrations? 'Youth' came from a bout of exploring my interpretation of anatomical parts, as well as my fascination and tendency to romanticize adolescence. 'Sorry…thought you knew' was birthed during a challenging infatuation I had with a friend/person who was not single, although sometimes acted as such. I was reduced to a puddle by the indifference casted in my direction and was frantically trying to draw anything that could be a vessel to hold some of the sad.
Three words that describe your style: Fluid, inclusive, and nostalgic.
Style icons: John F. Kennedy, Jr. and Carolyn Bessette-Kennedy during their marriage, 8-year-old boys, Tyra from Friday Night Lights, Annie Lennox, Beetlejuice, Fairuza Balk's red carpet looks from late 90s to early 2000s, the Wolfpack boys, Tilda Swinton, Matt Smith's Doctor Who, the costumes from Peaky Blinders (both male and female), Marty Mcfly, Vegas Showgirls from the 1950s to the 1970s, Wanda Woodward, Chuckie Finster, and Miss Pamela De Barres.
Favorite stores in Los Angeles (new and vintage): Hidden Treasures Up Topanga Canyon, Wacko, The Painted Bird.
Best runway shows you saw this season: Alessandro Michele's Gucci collection and although it wasn't a runway show, my sister Scout held a presentation for the second season of her line, Scout's General.
Most inspiring designers: Miuccia Prada is a deity forever and always. Also, my dear friend Matt Williams, who is the designer behind Alyx.
Best recent discovery: The Mango online store and the movie memorabilia section on Ebay.
Favorite vintage pieces you own: A power blue fox fur Gucci jacket, burnt orange satin bell bottoms, an ANTZ baseball hat, my Pagemaster T-shirt, and Chanel bag with Saturn embroidered on it.
Style pet peeve: People who don't think they can "pull something off," thus creating self-fulfilling prophecies hindering their style growth and evolution.
Last purchase: I got a rad pair of Carhartt pants from the clothing section of Orchard Supply Hardware.
Lusting after: This vintage T-shirt I saw that says "Good Girls Go To Heaven, Bad Girls Go Backstage," and the Margiela Tabi boots in my size.
Favorite shoes: Carel Mary Janes, my falling apart Gucci loafers, and my black-on-black lace-up Vans.
Favorite accessory: Socks, ideally with a funky pattern or in a metallic color range.
Nighttime look: A high-waisted, exaggerated flare pant with a groovy pair of boots, see-through long sleeve shirt and a short jacket.
Fitness gear: Calvin Klein cotton bras and Nike Dri-FIT flare pants.
Preferred swimwear brand: Marysia swimwear
What's always in your bag: A peanut butter Clif Bar and my favorite shade of Manic Panic lipstick, Devil Doll Red.
Instagram muses: @Just.Baby, which is literally just photos of babies, @ArtGarments, an account that zooms in on the details of outfits from paintings throughout history, and @TheCorsetedBeauty.
Red carpet greatest hit: When the saint Gillian Anderson wore rose-colored micro glasses and a backless dress with a visible thong to the 2001 Vanity Fair Oscar party.
Something you would never wear: Any article of clothing that says "But First, Let Me Take A #Selfie."
Most prized possession in your closet: A very rare, tissue-thin band T-shirt from my dad's 1980's tour, Respect Yourself. It has been lost forever and resurrected too many times to remember, so now I am almost nervous to wear it outside the house.
What you can't wait to wear this summer: My new floral Topshop wrap dress and a Buuski T-shirt with cut-offs.
Sunglasses you're wearing right now: Saint Laurent SL 1 and Push Button X Gentle Monster Angry shades.
Can you describe your tattoos? I have 28 and only regret one. Only a few of them have some deeper meaning for me, most of them just feel like little decor on the bod. I can't stop getting them, much to Mama's chagrin. My favorite one is on my right arm and it's the head of a creature Scouter and I collaborated on when we were bored on an airplane. In my impulsive way, I decreed that I had to get it the moment we landed, which I did and thankfully it turned out pretty good.
Watch W's most popular videos here:
Photos: Tallulah Willis Has 28 Tattoos, Only Regrets One of Them