Tallulah Willis Fills Her First Solo Gallery Show With Genderless Creatures
The 22-year-old Los Angeles native channeled what she describes as the gnawing gremlin of self-doubt to stage the first solo exhibit of the doodles she's been making since childhood.
---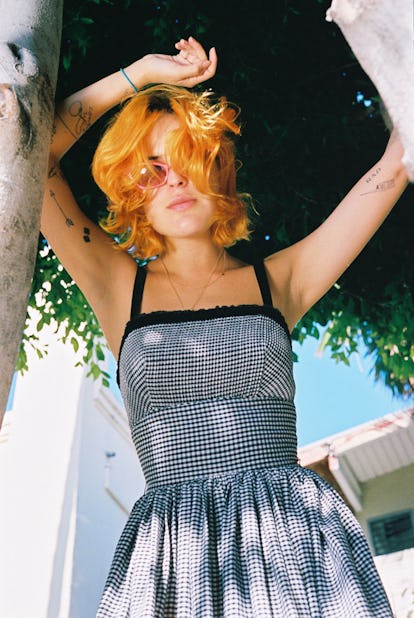 Grace Pickering
Tallulah Willis, the daughter of Demi Moore and Bruce Willis, has gotten up to a lot this year. When we first spoke to the 22-year-old Los Angeles native back in March, she'd just launched a limited-edition line of t-shirts and sweatshirts featuring her adorable doodles under her family nickname, Buuski.
And then in September, leading up to the election, she and her photographer friend Natalia Mantini teamed up for a charitable graphic t-shirt project titled, "Ours Not Yours," which featured personal stories from women like Adwoa Aboah, Grace Miceli, and Alexandra Marzella regarding the importance of Planned Parenthood.
On January 6, Willis will take a giant step forward with her first solo gallery show at Eric Buterbaugh Gallery in Los Angeles, where her charming, genderless creatures, which she's been sketching since childhood, will be prominently featured.
"To see the figures that have been swimming in my head for months exhibited on the white walls of a gallery is unlike anything I've felt before," she said. "It feels like they're coming out to the party and people finally get to meet them."
Do you remember any particular doodles you did as a child? Did they say anything about who you would become as an adult? I remember always loving exaggerated proportions: huge eyes atop tiny pencil-thin necks or spindly fingers. The concept of a figure is so ugly that it's charm took shape as my aesthetic from an early age.
What was the turning point that made you decide to pursue illustration as a career? Uncertainty of my plans after high school combined with my early sobriety left me with the sensation of being a 5'5" 120-pound newborn. I felt displaced, uncomfortable, and wickedly unsure of where my life stood. This feeling of nagging self-deprecation felt glued to my shoulder, like a little goblin peering down on me. The goblin immediately decided that these "doodles" I made to pass the time were nothing more than what "smart people" did on the margins of their important work. It was a defeating cycle: I was growing to truly enjoy and seek pride in creating art, but goblin wouldn't squash the small victories chanting endlessly that anything I did was trash, and I was trash for feeling bad about being trash. I kept trying to find other interests; more practical career paths because even though I was starting to love doing this more than anything else, I didn't feel I measured up to my vision of a real deal artist. There was an anxiety there: If I ever made it into the club I was positive they would discover my status as phony baloney. During a moment of exasperation (and after endless encouragement from loving friends and family) I came to the conclusion that allowing the goblins' cruel accusations to retire me before I had even begun was madness. I allowed myself the possibility, slowly at first, to call myself an artist — I gave myself the opportunity to make this my career.
Is this your first gallery show? How does it make you feel to see your work on a white wall? I have participated in a number of group exhibitions, but this is my first time doing a solo show. To see the figures that have been swimming in my head for months exhibited on the white walls of a gallery is unlike anything I've felt before. I get excited for them, and excited for me! It feels like they're coming out to the party and people finally get to meet them.
Can you describe the title, "Please Be Gentle," and what it means to you? The title is a request I regularly communicate to the critic inside myself, particularly when it comes to my status as "artist." It's a message of generosity I try to hold onto, as well as one I offer to those who encounter my work.
How would you describe the characters you draw? How do they relate to the body? And why is it important to you that they're genderless? My figures are genderless insofar as they are do not follow the preconceived markers or visual signifiers of what indicates gender in our society. While there are accents to some of the characters that are identifiable anatomically, other parts of their physical appearance may not correlate. They are not pretty or delicate or masculine or handsome. They just exist. I didn't like feeling trapped by the norms that confined each gender.
How does your work exemplify a "certain millennial ennui"? I am certain the floaty, lonely, ungrounded orchestra of emotions that I realize through my creatures is not specific to my own experience. There is solidarity in knowing that it is a shared feeling with others my age, and for me it is important to create visual reminders of being gentle to oneself.
Are there any stories behind any particular characters, or circumstances that inspired them? Each image that I realize possesses certain threads of myself, and thus my experience and story. There are some that were forged from a depth of pain I had been feeling, a circling self-doubt, and particular ache of loneliness. When I could put the feelings into the little friend I drew, it didn't feel so heavy inside my heart anymore.
Artists whose work you admire: I respect and admire a vast and diverse constellation of artists all working through different mediums, but for my own creations I draw strong inspiration from Egon Schiele, Miguel Villalobos, and Shel Silverstein.
Gallery or museum shows you've been to recently and loved: I recently got to see the Guillermo Del Toro exhibit at the LACMA and was mesmerized.
Where you hope to see yourself as an artist in the future: It has been a passion and dream of mine since I began this path to eventually create a children's book. I would love to birth a character that is recognizable and loved by little ones and adults alike.
Shop Tallulah Willis' look below.
Get Tallulah Willis' Free-Flowing Los Angeles Look