Tangier Time
A renaissance is under way in Tangier, Morocco's famously shabby port city. Some hope the sprucing up won't go too far.
---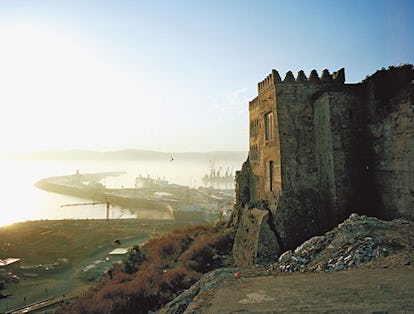 Plenty of places have been mythologized over the years as glamorous bastions of ill repute, but Tangier in the Forties and Fifties was one of the few that actually lived up to its bad name. Part of an international zone on the North African coast that was officially ruled by nine nations, the city was effectively governed by none of them—so its habitués could get away with things they'd never attempt back home. Spies and arms dealers gathered in seedy cafés; aging Englishmen entertained offers from Arab boys; American heiress Barbara Hutton hosted drug-fueled parties at her house in the casbah. But after the city was incorporated into Morocco in 1956, the expats started to drift away, taking much of the excitement with them, and Tangier became known as a shabby port town, a place you hurried through on your way to Fez or Ouarzazate.
Now, however, the city is on the upswing again, luring a new crowd of in-the-know Europeans as well as a massive influx of government spending, courtesy of Morocco's young king, Mohammed VI (his conservative father, Hassan II, hated Tangier for its decadent reputation and neglected it for decades). And although the talk among expats these days is more likely to be about scoring good hydrangeas than good hashish, the town still retains much of its gritty, idiosyncratic appeal. Longtime locals are hopeful that Tangier will never be like Morocco's reigning tourist mecca, Marrakesh, which has lately begun to suffer from its own success, as foreign buyers transform every available corner of the souk into neo-Moorish boutique hotels and British partyers arrive en masse via low-cost fares from London. For many Europeans, Tangier is an ideal under-the-radar alternative, straddling the line between boomtown and ghost town.
"Tangier is one of those cities you either love or despise. I, of course, love it," says Paris social doyenne Betty Lagardère, who has been renting a summer place here for several years and recently decided to buy. Seated in the back of her chauffeur-driven SUV and dressed in a custom linen djellaba, Lagardère explains that she was drawn to Tangier by the same North African light that captivated Matisse and the same cross-cultural mix that drew composer and writer Paul Bowles, who lived here from 1947 until his death in 1999. "It's such a mysterious place," she says. "To understand it, you have to look behind its doors."
Indeed, Tangier's charms might not be instantly obvious to first-time visitors: Touring its main public areas, which the city is feverishly renovating in a bid to host the 2012 International Exposition, is a bit like meeting an octogenarian who's just had her first facelift. But the changes completed in the past year alone have made a dramatic difference. "See those gardens? New," says Lagardère as we speed past a freshly planted town square. "That fountain? New. A year ago this street was covered in garbage."
Bruno Frisoni, the designer for Roger Vivier, has just begun renovating a house in the casbah, after looking at property in his native Italy. Like most expats here, Frisoni sees distinct risks in Tangier's rebirth, despite obvious benefits to residents in the form of jobs and cash. "There's a lot of new building that's not so beautiful," Frisoni says. "Then again, Tangier has never been about beautiful buildings. It's more about the mix of cultures and the strange, miragelike quality that nobody can really define." (An added attraction, stemming from the city's lack of world-class restaurants: "It's a great place to lose weight," Frisoni jokes.)
Visitors craving an atmospheric dose of old Tangier would do well to start at Galerie Tindouf, a cluttered antiques shop outside the city's mazelike but compact medina. Owner Boubker Temli, a third-generation dealer favored by locals like Yves Saint Laurent, runs the place with a nod to the city's international history, stocking everything from 18th-century Moroccan peasant crockery to drawings by Beat artist Brion Gysin. Another antiques landmark, deep inside the medina, is Boutique Majid, three stories of well-chosen antique rugs, fabrics, jewelry, linens and 18th-century marriage caftans.
But the adjacent neighborhood known as Ville Nouvelle, or New Town, is getting noticeably sleeker: In June French decorator Régis Milcent opened the city's first high-end European interiors shop, where locals can get their fix of Pierre Frey fabrics. "There's something happening here in Tangier, obviously," says Milcent. "But I'm not sure it will ever be like Marrakesh. The people coming here are always going to be slightly, uh, different." That's putting it mildly. A longtime haven for marginal types and eccentrics, Tangier still attracts the kind of people who do their food shopping wearing Russian czar outfits, and everyone knows of the man who lives here with a staff of dwarves (who sometimes dance for dinner guests) and a pet rooster named Birdie.
When the Tangier elite—eccentric and otherwise—venture out, they'll often gather for a poolside lunch at El Minzah, built by Lord Bute in 1930 and now the hotel of choice for fans of faded grandeur. From the hotel it's a quick walk to the hectic main square, Grand Socco, or a five-minute drive up into the lush hills of Old Mountain, where you'll feel as if you've ascended the coastal bluffs of Majorca. It's here that foreign homeowners such as Madison Cox tend their magnificent gardens, validating Tangier's reputation as a landscaper's paradise where just about any plant will thrive. For the past few years, Christopher Gibbs, the retired London antiques dealer, has been merging several plots of land into a gorgeous cliffside compound, complete with a century-old water garden. (Gibbs notes that renovations go much more quickly here than in his native England, where "if you want to build something that is going to disturb a single butterfly, you need to get 10 signatures. Here you just do it.") The area has only one hotel, the opulent 10-room Villa Joséphine, an early 20th-century colonial-style mansion at the end of a driveway that cuts through a long row of yuccas. From the verandas and the poolside terrace, there's a spectacular view over Tangier's jumble of concrete rooftops and, beyond, of the ferries crisscrossing the Strait of Gibraltar.
On the cliffs closer to town, near the casbah, lies the Marchan district, where French philosopher Bernard-Henri Lévy and his bombshell actress wife, Arielle Dombasle, have a new summer home. In an odd juxtaposition that's increasingly typical of Tangier, their starkly contemporary, Andrée Putman–designed house shares a wall with Café Hafa, a hangout where stoners have been coming to smoke kif (marijuana blended with tobacco) ever since the Rolling Stones were regulars in the Seventies. Somehow, the plastic chairs and occasional swarms of bees only add to the allure of the café, where the price of a mint tea (60 cents) buys a seat on one of eight shaded terraces overlooking the strait at the exact point where the Mediterranean meets the Atlantic.
For young Tangier converts such as Paris-based Jamie Creel and Marco Scarani—who together recently bought decorator Charles Sevigny's Dar Zero, a house often called the most beautiful in the casbah—the city's main advantage over Marrakesh is its proximity to dozens of fine beaches, most of which are now cleaner than they've been in years (though increasingly threatened by Marbella-style overbuilding). The wildest and most beautiful are on the Atlantic side, west of town, near the modern resort Le Mirage. Favored by the Moroccan rich and Europeans such as Catherine Deneuve, Le Mirage features spacious bungalows that are carved into a rocky promontory overhanging the surf. From there the wide, often empty beach stretches all the way to Rabat, 110 miles down the coast. Sometimes the offshore winds are so strong that waves of sand rise up along the dunes, sweeping into the ocean's breakers at the shoreline.
Not far from Le Mirage, in the whitewashed village of Asilah—once a Portuguese colonial stronghold, now an easygoing summer retreat—is every Tangerine's favorite fish restaurant, Casa Garcia, where local boatmen drop off their fresh catches throughout the day. Back in Tangier, near the port, is the best place for a stiff cocktail: the divey Tanger Inn, lined with red Naugahyde banquettes. One of the few surviving bars from the international zone days—William Burroughs wrote Naked Lunch in a room upstairs—the place still has a rowdy, underground feel, and it fills with young artsy types on weekends.
Whether the bar will still be here next year is anyone's guess. Tangier's rebuilding campaign is reaching into all parts of the city—including the old port, which is slated to become a luxury marina, catering to yachts instead of oil tankers. The man in charge of it all is the new regional prefect, Mohamed Hassad, recently transferred from—where else?—Marrakesh. "He turned Marrakesh into Disney World," scoffs one expat homeowner. "And now he wants to turn Tangier into Dubai."
But most agree it would take years to dampen the rebel spirit of Tangier. Tessa Wheeler and her daughter, model Jacquetta Wheeler, are two of the many regulars who hope it won't happen any time soon. Tessa, who spends several months a year at her grandfather's old villa, Dar Sinclair, where the garden brims with purple agapanthus blossoms, is working on a photo book about Tangier that questions its rush toward so-called progress. An old friend of Paul Bowles's, she remembers the city in the Seventies, "when this place was in the doldrums and everyone was smoking far too much dope. Nobody chic was coming anymore, until recently," she says. "Now I wish they'd stop."