Taron Egerton "Loved Every Second" of His Sex Scene in Rocketman With Richard Madden
"I'm not someone who is remotely perturbed by male intimacy."
---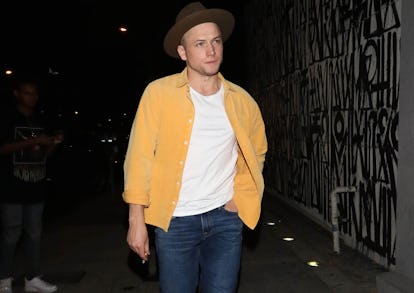 Hollywood To You/Star Max/GC Images
Rocketman isn't out until next year, May 31, but star Taron Egerton has been drumming up lots of excitement for the film. That includes talking about a pivotal moment in the film where the actor had his first-ever sex scene; and, being that the film is about the life of Elton John, a proudly open gay man, that scene was with another guy—and Egerton had a blast with it.
The star, who recently clarified that he is not gay but is able to appreciate other men's looks, says he "loved" doing the sex scene in Rocketman with his costar Richard Madden of Game of Thrones and Bodyguard fame, who plays Elton's former boyfriend and manager John Reid. "I think the film feels like something that the gay community especially can take ownership of," he recently told MTV. "I really threw myself into it. I filmed my first sex scene for this film and it's with quite a well-known man. I do feel the movie we shot is absolutely a celebration of everything that Elton John is and part of that is his sexuality."
In Egerton's opinion, the film celebrates the LGBTQ community. "When it comes out, I actually think the gay community will be quite surprised by quite how gay it feels," he says. "I loved every second if it," he added. "I'm not someone who is remotely perturbed by male intimacy and I am quite proud of what we've done with it. We really went some places with it." You can definitely see that in the trailer for the film, which is being billed as a "fantasy musical" rather than a biopic.
As for how he gets in shape for topless scenes, Egerton had a similarly casual answer. "I've never had an issue with getting my clothes off, regardless of how I look," he said. "I've always been like that. I think there have been times in my life where I've had body confidence issues. But generally I quite relish the liberation of it… One of the important bits of wisdom I've got in my 20s is that quite often when people are looking at you, they're worrying about themselves. I think it's quite a good one to remember." If only every other male in Hollywood was as secure in themselves and as welcoming of other sexual orientations.