Taron Egerton Clarifies His Sexuality in the Wake of Speculation That He's Gay
"We are all secure in who we are."
---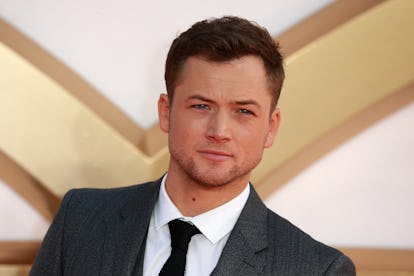 Fred Duval/FilmMagic
Taron Egerton, the star of the upcoming Elton John biopic Rocketman, has been the subject of some speculation over the past month. Specifically, questions about his sexuality, despite the fact that someone's sexuality is a topic best left discussed by the person in question. Egerton has officially clarified his romantic interests, though, which will hopefully put further conversations to rest.
After the actor posted a photo of another man with the caption "Cutie. My boy ❤️"—and liked a comment that read "does that mean he's got a boyfriend now?"—fans didn't know whether or not he was being sincere or just joking. Egerton has now given an official answer, telling Radio Times per Metro, "One of the lads was at my London flat and I Instagrammed a picture of him and said 'Look at this cutie', and a million outlets reported I was coming out as gay…I'm not gay but two of my mates came out when I was 15 and it was a joy to support them because, as a group, we are all secure in who we are."
His comment about his friend being a "cutie" wasn't a joke, though, as he explained. "I'm certainly not going to stop calling my mates cuties and gorgeous, because they are cuties and they are gorgeous," he said.
As for his portrayal of Elton John in Rocketman, Egerton has also given some clarifications about what to expect. "We are making a movie called Rocketman about Elton John's formative years," he told Collider of the Dexter Fletcher-helmed film back in May. "Everyone thinks it's a bio-pic. It isn't. It's a fantasy musical so it's actually his songs used to express important beats in his life at emotional moments. He's not the only character that sings. It's going to be fun."
Egerton also opened up about how he worked up to mimicking John's iconic vocals in the film, which comes out May 24 of next year. "I've recorded some songs. I've been doing singing lessons," he said. 'The next step is I need to think about choreography and trying to create some semblance of a performance that is at least reminiscent of him." Judging by the trailer he's already got that down.