Taylor Hill's Advice: Embrace Your Inner Girl
The Victoria's Secret Angel talks Selena Gomez, squats and squads and her advice for aspiring Angels.
---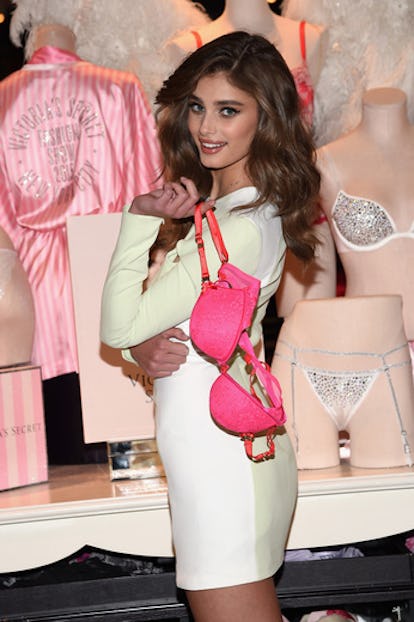 As a Victoria's Secret Angel, Taylor Hill is one of the world's most famous faces. But that doesn't mean she can't get starstruck, too. Just ahead of the show's big reveal on Tuesday night, the 19-year-old reminisces about meeting Selena Gomez for the very first time and exactly what was going on through her head while she was strutting down the runway.
What was your favorite part of doing the show? It's my dream and dreams come true there! And it's fabulous!
Were you nervous at all? Of course! I mean, I get nervous over everything—I have the worst stage fright! I'm nervous right now! I mean, it's more of an adrenaline rush, you're shaking and you're like, Oh my god! But when it's over, you're like, let's do it again!
What's your secret for overcoming your nerves? I would say just try not to think about everybody else because there's a lot going on: people screaming, people touching you, pulling you every direction, like, 'Do this, come here,' you know? But if you just think about yourself and what you're doing and why you're there, then it makes everything kind of melt away and you're just in your own moment.
What was going through your mind while you were walking? Don't fall! [Laughs] Please don't fall!
How did you prepare? I trained every single day for an hour—I mostly do weight training with heavy weights and like a million squats.
What do you think is the most important workout you did to get ready? I would say squatting or anything that you hate to do and is very difficult, just do it. And do it at the highest intensity because it makes you a better person and it makes your drive and your stamina just that much higher because you're doing something that you hate and you're doing it anyway!
How did you celebrate when it was over? Well, we went to the after party and we all hung out and watched the first taping of the show on the big screen. It's just fun, you get to see [the show] kind of roughly for the first time with all of your friends. So that's what the afterparty is, you know, we celebrate, we have a good time.
What items are on your wish list from the show? These pants [points to the black lace and fringe pants she wore in the show]. I was like, can I have these? Can I wear them to Coachella?!
Are they for sale? I don't know actually. Maybe? I don't think so. I think there's only one pair.
What are your tips for someone who wants to be a Victoria's Secret Angel one day? Well, I think there's a VS Angel inside everybody! It's just about being confident and embracing your inner girl and, you know, being fun and nice. All the Angels are so kind and they're so nice to everybody. When we were all introduced like they were so welcoming to all of us, they were like, "Welcome to the family!"
Is there anyone in particular you look up to? Adriana Lima, of course, like she's an incredible woman. She's been here forever and I grew up with her. And also Behati [Prinsloo]. She's such a goofball. We have a really fun time together, so I love her.
What was your favorite backstage moment? My favorite was when I met Selena Gomez for the first time—she came up to me and gave me a hug and I was like, "Ahhhh, it's you!" That was my favorite!
What's is it you appreciate about her? She's just so nice! You know, she's accomplished so much and she's so successful at a young age and she's still so kind to everybody. She's such a sweetheart and I think that was the most important thing to me. You know, you meet famous people sometimes and they're not who you think they are, like in the movies or on TV, but she is who she is and she's also gentle and kind and I love that.