In Her Most Vulnerable Move Yet, Taylor Swift Cries Over a Banana
Thanks to "some pretty hardcore" post-surgery pills.
---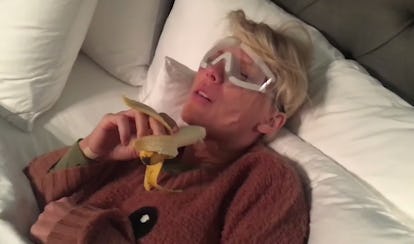 Over the past couple of months, in the lead-up to the release of her latest album, Lover, Taylor Swift has opened up more than ever before. She finally got specific about politics, denouncing Donald Trump. She finally acknowledged her alt-right fanbase, asserting that "white supremacy is repulsive." She finally spoke with clarity about her feud with Kanye West, not to mention Scooter Braun. And yet, the extent to which she pulled back the curtains on Thursday night, when she appeared on the Tonight Show with Jimmy Fallon, took even Swift by surprise.
Apparently, Swift recently had laser eye surgery, a procedure that she's never publicly discussed. When Fallon raised the subject, then, Swift was surprised—especially when he asked if they'd given her anything like laughing gas. "They definitely give you some pretty hardcore pills after you have a laser in your eye," she said, confused by the question. In response to her indignant "What is going on?," Fallon filled her in: They were about to witness the "world premiere" of a video that Swift's mom took of the singer post-surgery, which she supposedly passed on to Fallon without informing her daughter.
The footage begins with Swift wearing goggles, which are taped to her head, and distressing over the fact that, in search of a snack, she'd pulled the wrong banana from the bunch. Eventually, the situation reduces her to tears. Her mom fetches her a different banana, leading to the grand finale: Swift eating the banana in bed, insisting that she'll stay conscious: "I'm not asleep—my mind is alive." Watch her reach unprecedented levels of vulnerability, here.
Related: Did John Travolta Mistake Taylor Swift for Her Drag Döppelganger Jade Jolie at the VMAs?
Taylor Swift's Style Evolution, From Cowboy Boots and Prom Dresses to Lover
Taylor Swift during 2006 CMT Music Awards red carpet at Curb Events Center at Belmont University in Nashville, Tennessee, United States. Photo courtesy of Getty Images.

Jeff Kravitz
Taylor Swift arrives at the 2007 CMT Music Awards. Photo courtesy of Getty Images.

Kevin Mazur
Taylor Swift arrives at the 41st Annual CMA Awards at the Sommet Center on November 7, 2007 in Nashville, Tennessee. Photo courtesy of Getty Images.

Bryan Bedder
Singer Taylor Swift arrives on the red carpet during the 50th Annual GRAMMY Awards on February 10, 2008 at the Staples Center, in Los Angeles. Photo courtesy of Getty Images.

Frank Trapper
Taylor Swift attends the 42nd Annual CMA Awards at the Sommet Center on November 12, 2008 in Nashville, Tennessee. Photo courtesy of Getty Images.

Bryan Bedder
Taylor Swift arrives at the 2009 MTV Video Music Awards at Radio City Music Hall on September 13, 2009 in New York City. Photo courtesy of Getty Images.

Michael Loccisano
Taylor Swift arrives to the 51st Annual GRAMMY Awards held at the Staples Center on February 8, 2009 in Los Angeles, California. Photo courtesy of Getty Images.

Lester Cohen
Taylor Swift attends "American Woman: Fashioning A National Identity" Costume Institute Gala on May 3, 2010 at The Metropolitan Museum of Art in New York City. Photo courtesy of Getty Images.

Lars Niki
Taylor Swift arrives at the 2010 American Music Awards held at Nokia Theatre L.A. Live on November 21, 2010 in Los Angeles, California. Photo courtesy of Getty Images.

Jon Kopaloff
Taylor Swift arrives at the 2011 Billboard Music Awards at the MGM Grand Garden Arena May 22, 2011 in Las Vegas, Nevada. Photo courtesy of Getty Images.

Isaac Brekken
Taylor Swift arrives at The 54th Annual GRAMMY Awards at Staples Center on February 12, 2012 in Los Angeles, California. Photo courtesy of Getty Images.

Jeff Vespa
Taylor Swift arrives at 2012 MTV Video Awards at Staples Center on September 6, 2012 in Los Angeles, California. Photo courtesy of Getty Images.

Gregg DeGuire
Taylor Swift arrives at the 55th Annual GRAMMY Awards at Staples Center on February 10, 2013 in Los Angeles, California. Photo courtesy of Getty Images.

Jason Merritt
Taylor Swift arrives at the 2013 American Music Awards at Nokia Theatre L.A. Live on November 24, 2013 in Los Angeles, California. Photo courtesy of Getty Images.

Gregg DeGuire
Taylor Swift attends the annual Victoria's Secret fashion show at Earls Court on December 2, 2014 in London, England. Photo courtesy of Getty Images.

Pascal Le Segretain
Taylor Swift attends the 71st Annual Golden Globe Awards held at The Beverly Hilton Hotel on January 12, 2014 in Beverly Hills, California. Photo courtesy of Getty Images.

Jason Merritt
Taylor Swift attends the "Charles James: Beyond Fashion" Costume Institute Gala at the Metropolitan Museum of Art on May 5, 2014 in New York City. Photo courtesy of Getty Images.

Dimitrios Kambouris
Taylor Swift attends The 57th Annual GRAMMY Awards at the STAPLES Center on February 8, 2015 in Los Angeles, California. Photo courtesy of Getty Images.

Jason Merritt
Taylor Swift attends the Elle Style Awards 2015 at Sky Garden @ The Walkie Talkie Tower on February 24, 2015 in London, England. Photo courtesy of Getty Images.

Ian Gavan
Taylor Swift arrives at the 2015 iHeartRadio Music Awards at The Shrine Auditorium on March 29, 2015 in Los Angeles, California. Photo courtesy of Getty Images.

Jon Kopaloff
Taylor Swift attends the 2015 Billboard Music Awards at MGM Grand Garden Arena on May 17, 2015 in Las Vegas, Nevada. Photo courtesy of Getty Images.

C Flanigan
Taylor Swift attends The 58th GRAMMY Awards at Staples Center on February 15, 2016 in Los Angeles, California. Photo courtesy of Getty Images.

Kevin Mazur
Taylor Swift attends the 2016 Vanity Fair Oscar Party Hosted By Graydon Carter at the Wallis Annenberg Center for the Performing Arts on February 28, 2016 in Beverly Hills, California. Photo courtesy of Getty Images.

Pascal Le Segretain
Taylor Swift attends "Manus x Machina: Fashion In An Age Of Technology" Costume Institute Gala at Metropolitan Museum of Art on May 2, 2016 in New York City. Photo courtesy of Getty Images.

Kevin Mazur
Taylor Swift attends the 64th Annual BMI Pop Awards held at the Beverly Wilshire Four Seasons Hotel on May 10, 2016 in Beverly Hills, California. Photo courtesy of Getty Images.

Mark Davis
Taylor Swift attends the 2018 American Music Awards at Microsoft Theater on October 9, 2018 in Los Angeles, California. Photo courtesy of Getty Images.

Kevin Mazur
Taylor Swift attends the 2019 iHeartRadio Music Awards on March 14, 2019 in Los Angeles, California. Photo courtesy of Getty Images.

Frazer Harrison
Taylor Swift attends the 2019 Time 100 Gala at Frederick P. Rose Hall, Jazz at Lincoln Center on April 23, 2019 in New York City. Photo courtesy of Getty Images.

Jamie McCarthy
Taylor Swift attends the 2019 Billboard Music Awards at MGM Grand Garden Arena on May 1, 2019 in Las Vegas, Nevada. Photo courtesy of Getty Images.

Kevin Mazur
Taylor Swift attends FOX's Teen Choice Awards 2019 on August 11, 2019 in Hermosa Beach, California. Photo courtesy of Getty Images.

Rich Fury