Taylor Swift Debuts "Delicate" Music Video During iHeartRadio Awards
Watch the the old, goofy Taylor in the new clip, which premiered at the iHeartRadio awards.
---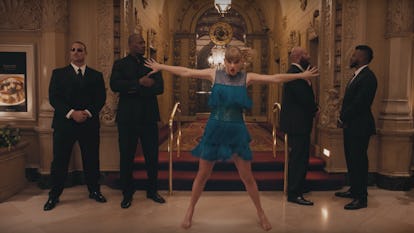 Taylor Swift/VEVO
Taylor Swift, it seems, has been picking up a thing or two from Maddie Ziegler.
The singer, who debuted her new music video for "Delicate" during the iHeartRadio Awards, surprised fans on Sunday with a video filled not with subtle snake references or robots, but with classic goofy dancing Swift—Swift whose moves haven't been seen like this since "Shake It Off". A Swift who finally managed to evade crippling fame and media attention by becoming invisible and using her newfound superpower to dance it out—complete with splits atop a car and impassioned moves that mirror those of Maddie Ziegler's from Sia's 2014 "Chandelier" music video.
The music video drop was the most fans have seen lately from the singer who has been busy prepping for her Reputation world tour. The singer popped up on social media last week to quickly and casually announce the video's release. She took to Instagram and Twitter with a short clip in which she unfolds a handwritten piece of paper sharing the date of release, offering no other hints to fans about the theme of the video. Until, that is, the singer emerged hand-in-hand with boyfriend Joe Alwyn in an incredibly rare public outing—a Malibu hike no less. Fans immediately speculated that their sudden PDA appearance was an effort to promote the song, especially considering Alywn was clad in "dark jeans and Nikes," an outfit taken straight from Swift's quotable lyrics.
Nonetheless, fans were thrilled that the music video embraced a different, more relatable side of Swift after a series of videos from the album featuring CGI and Blade Runner-esque storylines. Prior to the video's release, Swifties even took to social media to beg Swift's longtime music video collaborator, Joseph Kahn, to keep the futuristic themes far from the concept of "Delicate." (He later told E! News the video would be "unexpected.") It seems he wasn't lying, considering Swift eschewed (most of) the special effects for a simple blue dress (note the recurring theme of Swift and her blue dresses), a red lip (also a classic Tay beauty move) to enjoy her life away from the spotlight, dancing barefoot on the subway, in the rain, and through the Millennium Biltmore Hotel in Los Angeles.
See the video below:
Related: How Does Taylor Swift Solve a Problem Like Her Squad?