Why Taylor Swift Talking About Her Eating Disorder Actually Matters
In Miss Americana, she's putting shame to rest.
---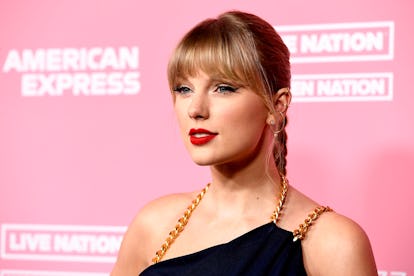 Frazer Harrison/Getty Images
The very premise of Miss Americana, which premiered on Thursday night at the Sundance Film Festival, sounds like an oxymoron; could a revealing documentary about Taylor Swift possibly exist? It depends who you ask, but suffice it to say the film, which was directed by Lana Wilson, isn't exactly earth-shattering. For the most part, Swift tackles topics that aren't just expected, but almost obligatory: There's her stance on politics, her support of the LGBTQ+ community, her legal battle with DJ David Mueller, and her decade-long feud with Kanye West.
Surprisingly, though, Swift gets into one subject that she definitely didn't have to mention, let alone open up about: her struggles with an eating disorder.
"I think I've never really wanted to talk about that before," Swift told Variety in an "exclusive" interview about the documentary's big reveal. "I didn't know if I was going to feel comfortable with talking about body image and talking about the stuff I've gone through in terms of how unhealthy that's been for me—my relationship with food and all that over the years." Swift is still "pretty uncomfortable talking about it now," she added, "but in the context of every other thing that I was doing or not doing in my life, I think it makes sense [to be in the film]."
For Swifties, the news might come as less of a shock. Over the past year, Swift has twice alluded to her struggles with her body image, starting with reflecting on her 30th birthday in a story for Elle. "I learned to stop hating every ounce of fat on my body," she wrote. "I worked hard to retrain my brain that a little extra weight means curves, shinier hair, and more energy. I think a lot of us push the boundaries of dieting, but taking it too far can be really dangerous. There is no quick fix. I work on accepting my body every day."
"I now can really recognize and diagnose toxic messages being sent to me by society, by culture about my body," Swift said when she returned to the topic at the end of 2019. "I need to feel healthy in my life, and I need to take pleasure in food, and I need to not use my body as an exercise of control when I feel out of control in my life."
But the documentary marks the first time that Swift got explicit about having an illness. "I remember how, when I was 18, that was the first time I was on the cover of a magazine," Swift says in the film. "And the headline was like 'Pregnant at 18?' And it was because I had worn something that made my lower stomach look not flat. So I just registered that as a punishment." In the years that followed, Swift recalled, "I'd walk into a photo shoot and be in the dressing room and somebody who worked at a magazine would say, 'Oh, wow, this is so amazing that you can fit into the sample sizes. Usually we have to make alterations to the dresses, but we can take them right off the runway and put them on you!' And I looked at that as a pat on the head."
"You register that enough times, and you just start to accommodate everything towards praise and punishment, including your own body," Swift continued. Clarifying that "it's only happened a few times, and I'm not in any way proud of it," Swift said that those types of encounters and media coverage "[will] just trigger me to just starve a little bit—just stop eating."
Swift is just part of a welcome wave of celebrities who've started to open up about their mental health. Kendall Jenner, for one, has become increasingly candid about her struggles with anxiety, and Billie Eilish has repeatedly spoken up about her depression. (Eilish was in Friday morning's headlines right alongside Swift, having most recently discussed her past contemplation of suicide.)
Still, Swift's move is especially significant—and not just because her outsized platform stands to strengthen her impact. It's always a bold, vulnerable decision to open up about one's mental health. But discussing eating disorders—which have the highest mortality rate of any mental illness—is particularly fraught. Unlike anxiety or depression, the illness carries overwhelmingly visual connotations. For celebrities in particular, that opens them up to mass scrutiny. (Google searches for "Taylor Swift skinny" have no doubt skyrocketed since this morning, along with comments along the lines of those that triggered Swift in the first place.)
At the same time, to start a dialogue around eating disorders is to risk triggering people who have them. Anorexia nervosa in particular often breeds a strange sense of competition, making it damaging for a person (or the media) to cite specific numbers, whether calories or weight.
Swift did share her past and present sizes, but that's not to point fingers. Significantly, she was also the first to admit that she might not be the best person to attempt to tackle such a tricky subject. "I'm not as articulate as I should be about this topic because there are so many people who could talk about it in a better way," she told Variety. "All I know is my own experience. And my relationship with food was exactly the same psychology that I applied to everything else in my life: If I was given a pat on the head, I registered that as good. If I was given a punishment, I registered that as bad."
Swift appears not to have addressed whether she ever received treatment, nor where she's at with her recovery. But she did say that she is "actually really happy" these days, and "doesn't care so much now" about comments on her weight. At least since her 1989 tour, she's in a better place. "I thought that I was supposed to feel like I was going to pass out at the end of a show, or in the middle of it," she said. "Now I realize, no, if you eat food, have energy, get stronger, you can do all these shows and not feel [enervated]."
For those who aren't booking stadium tours, Swift's reference to Brené Brown's Netflix special on shame might prove a bit more useful. "She was saying something like, 'It's ridiculous to say I don't care what anyone thinks about me, because that's not possible," Swift recalled. "But you can decide whose opinions matter more."
Related: Taylor Swift Uses Leonardo DiCaprio As an Example to Explain Sexism in "The Man"