Taylor Swift Fans, You Deserve Better Than "The Taylor Swift Experience"
Among the Swifties at the "Taylor Swift Experience" exhibition in New York.
---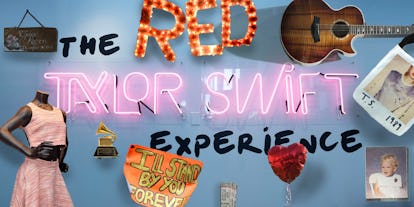 Collage by Biel Parklee.
Down a cobblestoned street in lower Manhattan, practically right beneath a giant Christmas tree, lies a vulnerable, sleepy newborn tucked away safely indoors from the winter. It's a baby picture inside a glass case—a grainy reprint of one, to be entirely truthful—but for some observers who've come to pay it homage, it might as well be the nativity in real life. The baby picture, and the teeny hooded gown displayed next to it, belongs to Taylor Swift, circa 1989.
In fact, almost everything at "The Taylor Swift Experience," an exhibition that originated at the Grammy Museum in Los Angeles in 2014 and just landed at the South Street Seaport museum in New York, comes "courtesy of Taylor Swift," as the placards read. This includes: a variety of Swift's elongated outfits (her fans will no doubt tell you that she's 5'10"), from a hardy leather one-piece from the "Bad Blood" video to a ruffled, Michael Jackson-esque ensemble she wore for a performance where "clowns, flames, and dancers descend[ed] from the ceiling"; looseleaf sheets scribbled with lyrics to songs like "22" (it might thrill and dismay a true fan in equal measure to discover that the line "let's break the old rules/while we're still 22" did not make the final version); a banjo she'd scrawled all over with Sharpie ("Someday I'll be big enough so you can't hit me," a lyric from her song "Mean"); a leather saddle from her early horse-riding days; assorted props from her assorted world tours, like an enormous analog camera; and…
… "Oh my gosh, oh my gosh, the piano!"
Meet Zoe, a 13-year-old Swiftie from New Jersey who is in town for the day with her twin sister, Jessica, and their grandparents. Following a "violin show," they managed to squeeze in a trip to "The Experience," which is causing Zoe, who is wearing white Keds and an "I <3 T.S." tee, to actually lose her mind. At the moment, she is confronting actual evidence from the 1989 world tour—an international blitzkrieg that hit no less than 83 cities in 2015, but which Zoe, much to her own dismay, missed. Blame the vacations her parents forced her to go on.
"I felt really bad," she says of missing out. And yet! Here was the metallic piano that looks half-Hot Wheels, half-Guy Fieri, which Swift had played all those shows on. Zoe looks transported. Zoe also knows that this encounter was an inevitability.
"I kind of just obsessively stalk her, so I kind of know everything that happens with her," she says in between increasingly short breaths.
As a self-described obsessive stalker, Zoe had already seen most of the video interviews with Swift, which were announced by very unconvincing Swift "handwriting" throughout the exhibition, "like five times before." Not that that it dampened her enthusiasm.
"I have this magazine. And that one. And that one," she says, sprinting up to the exhibition's second level via a stairwell papered bottom-to-top with blow-ups of Swift's Time, InStyle, and GQ covers. Trailing in her relentless wake, I arrive on the second floor to find it completely empty, much like the first floor. For an exhibition that sells $9 advance tickets in half-hour slots, this was surprising. It was like going to the first midnight screening of Rogue One and finding, well, one Star Wars geek present.
Free to roam, Zoe makes a beeline for the light-up dance floor in front of a towering boombox. She sings along to "Red" before heading into the "studio" with Taylor: a dark room behind a smudged glass door where Swift encourages fans to essentially do karaoke, producing their own rendition of "We Are Never Ever Getting Back Together." When she plays it back, Zoe's teenage shrillness is rendered surprisingly, unsettlingly deep. (Later, on my own, I go inside and attempt to throw down my own version. When the playback of my voice booms out unexpectedly in the enclosed chamber, the experience—sorry, "The Experience"—is akin to drowning. "Never ever ever" again.)
But the pained expression Swift wears in the studio's instructional video, the broken machines that purport to let you remix "Mean," the altogether lifeless nature of the glass cases—none of it really mattered to Zoe. I find her standing in front of a picture of Swift, rapt, as if she were standing in front of the actual Swift. "Look, there's a big thing with her face on it! That's her! Oh my gosh! This is amazing!"
"These people are so smart and wonderful and kind," Swift drones on in yet another video. (This the one that follows the one that is just a mashup of all of her Grammy acceptance speeches.) But she is right about her fans. They've stood by her, Swift continues, even through all the "false rumors." A few lifeless, lackluster glass cases, grainy reproductions, and pricey woven tapestries for sale, then, could hardly make them forfeit their devotion. But couldn't 2016's highest-earning celebrity stand to offer just a bit more?
See W's most popular videos: