Taylor Swift Deepens Her Ties to Cottagecore With a Gift for Katy Perry's Baby
Two months after releasing her purely cottagecore album folklore, Swift sends an embroidered blanket to Katy Perry's newborn baby, Daisy.
---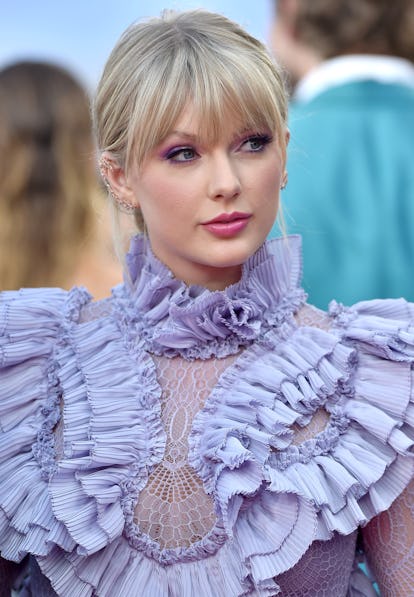 Axelle/Bauer-Griffin/Getty Images
There is one thing most people, whether fans of Taylor Swift or not, can agree on when it comes to the singer: she does try.
And in her latest attempt at trying—trying to extend an olive branch, trying to bury (one of) the feuds that has trailed her for years, trying to embroider—Swift has gifted a personalized blanket to Katy Perry and Orlando Bloom's newborn daughter, Daisy Dove Bloom. Perry posted a photograph of the pink, satin piece, which looked to be about the size of a pillowcase and was hand-embroidered by Swift herself. In one corner, there are three yellow stars sewn into the fabric; in another, "2020" in blue; in yet another, "Baby Bloom" appears in shaky spacing with a little flower underneath.
Is this project giving you "new quarantine hobby"? Perhaps, but Swift is known to dabble in all kinds of crafts—she famously took on baking years before the coronavirus pandemic hit, and she relishes her reputation as a hermetic cat lady who loves to snuggle up on the couch with a mug of hot cocoa. And with the release of her latest album folklore, Swift pushed this narrative even further—solidifying her commitment to the cottagecore aesthetic, a trend that started on Tumblr but recently found prominence among the Gen-Z set on TikTok. Songs like cardigan, exile, (which features Bon Iver, another banner cottagecore spokesperson), and august ooze cottagecore, with soft melodies and acoustic guitar that call to mind the idyllic countryside and getting lost in the forest.
The blanket (or "blankie," as Perry referred to it in her caption on Instagram), falls right in line with Swift's newfound cottagecore aesthetic. For her part, Perry is clearly very into the blankie heard 'round the world: she wrote that she hopes "it's one [Daisy] drags around for years till it becomes an unrecognizable shred that she keeps in her pocket as a teenager."