Taylor Swift's Albums Race up iTunes Charts After Endorsing Democrats
Turns out that getting political is good for business after all.
---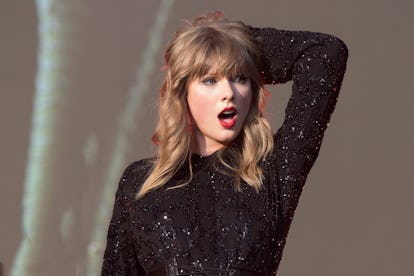 Jo Hale/Getty Images
Taylor Swift may have finally gotten political, but her public savvy remains intact. Breaking a long-standing policy of staying out of politics, on Sunday night the country and pop star endorsed two Democrats in Senate and House races in Tennessee, where she's registered to vote, via Instagram post. She also seemingly timed her announcement to coincide with the final days in which voters in many states can register to vote in the midterms, and urged her followers to visit Vote.org to register themselves.
Many also pointed out, though, that the announcement came just a day after she ended the final American leg of her Reputation Stadium Tour. That means she wouldn't have to worry about concert boycotts, protests, or conservatives deciding to performatively burn their T-Swift tickets and posting videos on social media (conservatives really, truly do love to post videos of themselves burning things when they're upset). It's very easy to view Swift's timing with cynicism. The great work of the Reputation album cycle is, for all intents and purposes, done.
Yet it seems that Swift didn't have to worry too much about any possible right-wing blowback. In the day since her Instagram post, multiple albums from her catalog are once again burning back up the iTunes American album sales chart.
According to iTunesCharts.com, a site that keeps a record of chart performances, Swift's most recent record, Reputation, sat at number 32 on Saturday. That's not bad for a record that's been out almost a year, but the news cycle has propelled it back into the top 10. As of this writing, the album is number seven on the charts. It's the highest the album has climbed on the chart since July.
Likewise, Swift's 2014 album, 1989, wasn't even on the charts on Saturday, and hadn't been since briefly reappearing back in August. Now, the record is back in the top 100 and sitting in 94th place. Meanwhile, her breakthrough 2008 album, Fearless, has also popped back up into the charts at number 166. They say no press is bad press, and having her name so prominently in the news today likely isn't hurting album sales.
But there might be something else going on. While Swift may have risked losing some fans who support President Donald Trump and his enablers in the current GOP-controlled Congress, she seems to have gained some new ones on the left. It also seems that some who were put off by Swift's political silence, and who responded by in turn being publicly silent about their fandom, are now ready to enjoy her music publicly again.
The iTunes charts, unlike the Billboard charts, are a reflection of of-the-moment sales, rather than weekly cumulative sales, but the bump bodes well for a post–political silence Swift.
Besides, it's not like coming out against Trump has really hurt any other pop star's career. Adele urged American fans not to vote for him, and she's doing fine. Beyoncé supported Hillary Clinton, and Trump attempted to shade her for it, but it didn't cause so much as a hiccup in her career. Eminem has released multiple Trump disses, and that didn't keep him from his ninth Billboard number one and a few record-breaking moments for his latest album, Kamikaze. Swift's career will likely be just fine.
Besides, it's not like we should be surprised that Taylor Swift supports Democrats after all that. She's close friends with Lena Dunham, and an active and admitted Tumblr lurker. Did we expect anything else?
Related: Reintroducing Joe Alwyn, Hollywood's Next Great Leading Man