Taylor Swift's New Songs Keep Getting Compared to Old Hipster Hits
What's next, an Interpol interpolation?
---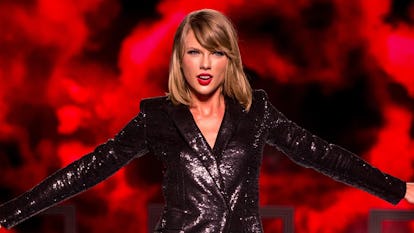 Christopher Polk/Getty Images
Is Taylor Swift going through a delayed hipster phase? Has she spent her time away from the spotlight listening to mixtapes made by a friend who used to DJ at a college radio station? Has she been reading Pitchfork?
The singer has released just two songs from her Reputation era so far—"Look What You Made Me Do?" and "…Ready For It?"—and each, at least to certain circles, bear some uncanny similarities to well-known hipster hits of yore. Yet, unlike the interpolation of Right Said Fred's "I'm Too Sexy" in "LWYMMD," there's no official credit. Yet, the likenesses aren't lost on reviewers, or the internet.
After the release of "LWYMMD," Twitter instantly caught on to the similarities between the song and electroclash artist Peach's 2003 track "Operate." Released as the first single off her album Fatherf–er, the song found a wider audience when it was included on the soundtrack of Mean Girls. The song played during the movie's Halloween party scene that featured Regina George, which some fans thought was a sly reference to Katy Perry's infamous "watch out for the Regina George in sheep's clothing" alleged subtweet. Yet, unlike some other fan theories connected to the song and video, Swift didn't confirm this via Tumblr like.
Still, several outlets wrote as if the sample was indeed intentional and, in fact, a sample. Yet, Peaches, who has sole songwriting and production credit on "Operate," is not officially credited on Swift's song.
Now, after the release of "…Ready For It?" Twitter is also picking up on the similarities between that song and indie rock band Sleigh Bell's 2010 song "Kids." Indeed, in a review, Billboard refers to a "a beat borrowed from Sleigh Bells' 'Kids,'" and, yet, no official credit for the two-piece band.
If you're curious, YouTube users have done some simple audio editing of playing Swift's songs over the two possible inspiration points.
They're not direct samples (the beats of Swift's songs are decidedly cleaner and toned-down), but the similarities are there.
While both Sleigh Bells and Peaches may not be mainstream acts who enjoy pop radio access, neither is exactly obscure. Peaches has collaborated with everyone from Daft Punk to Christina Aguilera and has had music played in TV commercials for the likes of The Gap. Sleigh Bells songs were once so overused in trailers, Buzzfeed once asked, "Why Is Every Movie Trailer Set To A Sleigh Bells Song?" In fact, one of the trailer to feature the song "Kids" happened to be Adbuction, which starred Swift's ex-boyfriend Taylor Lautner (remember those times?).
The band has also been previously sampled by the likes of M.I.A., Iggy Azalea, and Childish Gambino. The band also recently settled a lawsuit alleging that the Demi Lovato track "Stars" sampled the band without authorization.
The tone on the internet right now seems to be confusion. Some people think these are official samples, others think it's just coincidence, and most Swift fans probably hear the words Peaches and Sleigh Bells and assume the discussion is about fruits and holiday decorations.
Whatever the case may be, it's not a leap to assume Swift is in a rebellious mood (did you see the video?) and may be finding harder and (sort of) underground influences. In fact, it's not like Taylor is the only pop star finding possible inspiration in the college racks. Beyoncé has sampled Animal Collective, Aguilera has worked with Ladytron, and Rihanna made a version of a Tame Impala song. Now we're just curious about what other possible influences or samples Swift may have on the rest of Reputation. We're eagerly anticipating something like Swift's Interpol interpolation or a Joanna Newsom duet.
Related: Taylor Swift's "Look What You Made Me Do" Video: Homage or Ripoff?
See What's Trending in W Video: