Taylor Swift's Reputation Is Finally Streaming on Spotify
Spotify hold-outs, it's your lucky day.
---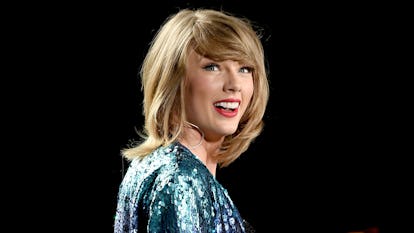 Dimitrios Kambouris/Getty Images
Taylor Swift's latest album, Reputation, officially dropped almost one month ago, and while fans have been "…Ready For It" since "Look What You Made Me Do" was released this summer, they were faced with the choice of purchasing the album or holding out for it to hit their favorite streaming sites—until now. Today all 15 tracks are finally available on subscriptions services like Spotify for thrifty folks.
Swift has had a rocky relationship with streaming services in the past. Back in 2015, she pulled her catalog from Spotify and then from Apple Music. In an open letter about her decision to keep 1989 off the latter service, she explained, "I'm sure you are aware that Apple Music will be offering a free 3 month trial to anyone who signs up for the service. I'm not sure you know that Apple Music will not be paying writers, producers, or artists for those three months. I find it to be shocking, disappointing, and completely unlike this historically progressive and generous company." Taylor and Apple eventually made up, with Swift even appearing in a memorable ad for Apple Music. And her music found its way back to Spotify—on the exact same day Witness, the latest album from purported nemesis Katy Perry was released.
Though some casual Swifties might have been waiting for the songs to hit the web, plenty of fans were more than happy to shell out some cash for the singer's sixth album. Within a week of its release, Reputation had already sold 1.28 million copies, with experts predicting it could be the best-selling album this year.
Singles off the album are also performing impressively on the charts, with "…Ready for It" currently sitting at number 12 on the Billboard pop charts, and "End Game" and "Look What You Made Me Do" still solidly in the top 40. Swift's newest artistic output is also getting good reviews overall by critics who were initially skeptical of Reputation after the initial singles were released.
While Swift's spot on the top of the charts and her new real estate in the streaming world are absolute facts, there are still plenty of questions surrounding her latest album. Specifically, exactly which of Swift's many rivals and frenemies she might be subtly calling out on her new songs. Some fan detectives have suggested "I Did Something Bad" might be getting in digs toward Kim Kardashian and Kanye West, while "This Is Why We Can't Have Nice Things" seems like it could be about fellow pop star and longtime rival Katy Perry. Fans may never get straight answers about that suspected shade, but at least now they can stream new Taylor Swift songs as they create their list of suspects.
Related: Taylor Swift's Reputation Is Actually Two Albums: A Loving Hug For Her Swiftie Base, and Vengeance on Everyone Else
Taylor Swift Actually Never Wears Sneakers
Taylor Swift. Photo by Getty Images.
Taylor Swift. Photo by Getty Images.
Taylor Swift in Los Angeles this year. Photo by Getty Images.
Taylor Swift on her 2013 RED Tour in Los Angeles.
Taylor Swift on her 2013 RED Tour in Massachusetts. Photo by Getty Images.