Taylor Swift's Rumored Capitol Hill Visit Had Interns Overlooking Jane Fonda, Someone With an Actual Political Voice
"All the interns ignored Jane Fonda when she walked by" but Swift wasn't even in the building.
---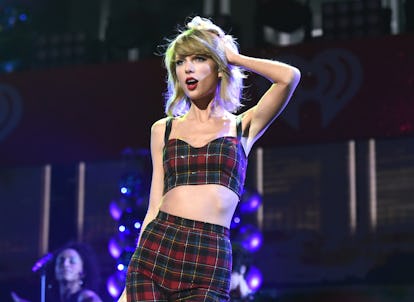 Jamie McCarthy/Getty Images for iHeartMedia
Taylor Swift caused a scene at Capitol Hill today and she wasn't even in the building. After Swift wrapped up playing two nights in Landover, Maryland on her Reputation tour, a rumor spread that the pop star, notorious for not taking a political stance, would be visiting Capitol Hill. If Swift was planning on visiting, that would be news in and of itself, considering she has been noticeably quiet ever since the 2016 presidential election, unlike her pop peers. Nonetheless, Capitol Hill interns stormed the building's hallways after receiving word that she was visiting.
"Very important news: Sources say Taylor Swift will be in Russell Senate office building at some point today for a meeting," read one tweet from a Capitol Hill reporter that quickly circulated. Another one suggested that reporters were also flocking to Swift's alleged presence.
As they were congregating, though, one well-known celebrity did indeed show up — and, at that, one who is famous in part due to her political voice: Jane Fonda. "Jane Fonda walked into the Russell building and none of the interns waiting for Taylor Swift blinked," read a tweet sent by one reporter in the building.
However, another reporter noted, "Actually, some of the interns tell me they did recognize Jane Fonda," a '70s anti-war icon who was once referred to as "the most politically outspoken star in Hollywood history." Either way, the distracted interns never actually ended up getting a glimpse of Swift, because she never visited Capitol Hill.
Swift's reps confirmed as much to Teen Vogue. Instead of sending a formal statement, they just shared two articles. The most recent one, from today, is a Fox News article about the rumored visit that stated, "multiple, high-level sources on both sides of Capitol Hill" said "there is no official expectation for Taylor Swift to appear at the Capitol complex Wednesday." The other article they linked to, by The Washington Post, brings Déjà vu of 2015 when an identical rumor circulated.
If Swift did have plans to become more politically involved, though, that would be welcomed by many, including her pop peer Ariana Grande. The high ponytailed-singer recently addressed her colleagues who've chosen to stay politically silent, saying, "There's a lot of noise when you say anything about anything. But if I'm not going to say it, what's the f–king point of being here?"