Gym Dandy
A new line of exercise equipment is designed to make the home gym the most stylish room in the house.
---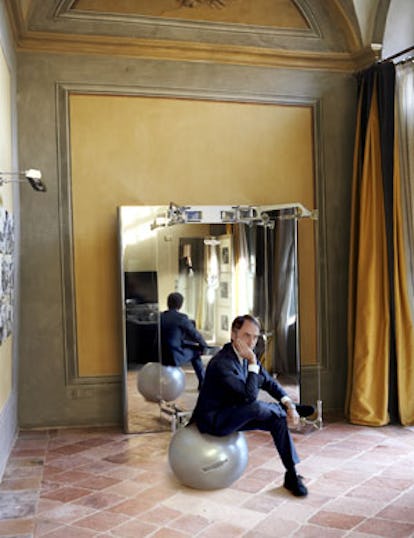 Domenico Dolce has one in gold, while Giorgio Armani's and Carla Bruni-Sarkozy's are mirrored. No, it's not a Mini Cooper or a Birkin bag. It's a new line of stylish gym equipment that is sure to give your Saarinen chair and Maarten Bass smoke chandelier some stiff competition.
The Wellness Collection, a group of 18 decidedly chic workout machines meant to blend in with the furniture, is the latest line—and the first made for at-home use—from Technogym, the 27-year-old Italian exercise equipment company whose products are stocked by most high-end hotels and gyms around the world. Designed by architect Antonio Citterio, the machines were created for those who insist that their washing machines and blow-dryers look as cool as their cars. With a view to bringing the gym inside the home, Technogym's founder, Nerio Alessandri, wants to make fitness as central to his client's living spaces as it is to their lives.
"Twenty years ago, gyms were for weight lifters and fad-based aerobic workouts," says Alessandri, 48, whose first U.S. Technogym Store and Studio opens in New York in June. "In the last five years, personalization has become more of a focus. Functionality is a must, but it's not enough."
Prices hover around the $10,000 mark for the bigger machines, and the star of the line is the Kinesis Personal. A pulleyed resistance apparatus, it comes in two models: Heritage, which is available in leather—cream, brown or black—or hammered gold, and the mirrored Vision.
Dressed in a custom-made Attolini suit, the handsome, fit Alessandri gamely demonstrates the Kinesis one recent spring afternoon at New York's Standard Hotel. With a twirl of his finger over an iPod-like dial set at eye level in the machine, he chooses the resistance level, grabs two pulleyed straps and steps into a deep lunge. "See how smooth it is?" he says, with no apparent concern for any damage his exertions might do to his fancy threads. "It's 360-degree movement, as if you were moving freely in nature." Shoppers, he notes, can "test-drive" the machines at the store with Technogym-certified trainers, who will make home visits postpurchase or can be channeled in live via the Internet-wired screen on the Run Personal treadmill. And home-design consultants will be available to help coordinate furnishings with gym needs.
New York fitness trainer David Kirsch, whose clients include Ellen Barkin, says that as long as budget isn't an issue and aesthetics are important, he would recommend Technogym to his clients. "I don't think they're ever going to challenge the Cybexes of the world," he says, "but like anything Italian, it's sleek and sexy."
Alessandri hopes the Wellness Collection will convert many a couch potato. "If you need to go to the basement to train on an ugly industrial-looking fitness machine, it becomes a punishment," he says. "If you don't get excited by what you do, you'll quit very soon."