Meet Tei Shi, the Indie Darling Adored by Grimes
Ahead of her debut album release, Tei Shi balances Coachella sets with opening for Grimes.
---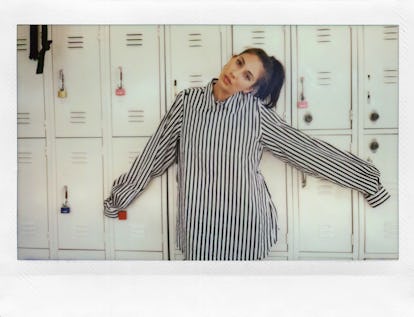 "I really didn't anticipate playing Coachella at all," said Tei Shi, the 26-year-old singer-songwriter-producer, who's been making waves in the indie world since the release of her debut EP, Verde, in 2013. And yet here she was, stepping off the Gobi stage at one of the world's most popular music festivals. "The opportunity came out of nowhere, and I thought, 'well of course I have to do it.' It's a benchmark that I didn't anticipate reaching this year."
Unfortunately, she had been sick in her hotel bed throughout much of the last weekend of Coachella, only getting up to make her set. The first weekend had been more enjoyable, however – despite some initial nerves.
"It felt very overwhelming for me," she said, in an oversized striped blouse and cowboy boots, her hair pulled back into a ponytail. "I had never been here before, and at first, I was a little bit like, 'oh, I kind of hate this.' There were so many people, and it was very intense. But then, the show went really well, and I ended up having a really good time – Coachella has treated me well."
Tei Shi has been dubbed an Argentinian, Brooklyn-based artist, but it's not quite that simple. She was born Valerie Teicher in Buenos Aires, Argentina, where her Colombian parents had been living until she was 2 years old. They then moved back to Colombia, where Teicher – the youngest of four – lived until the age of 8, when the family settled in Vancouver, Canada and where the singer would spend her more formative years.
"I was moving around a lot throughout my life," said Tei Shi, who spent time in Colombia again for a year at 15 years old. "And now I'm in New York, which is a mix of everything in one place."
She left Vancouver for Boston to study music at Berklee College of Music: "I went out on a whim, because I wanted to put myself in that environment, but I still wasn't totally comfortable with saying that I wanted to be an artist. It took that time to find the confidence in me."
It was at Berklee that she met friend and collaborator Luca Buccellati, who produces "a lot" of her music. "He was the first person that I showed my stuff to and who encouraged me," she said. "We connected on a personal level and musically, and he helped me come out of my shell, which gave me the confidence to pursue [music]."
After college, she moved to New York City and soon began to assemble the songs she had written in school.
"I recorded them properly and made the EP," she said. "Then, out of that, I got a really good response and kept getting opportunities and just growing."
She released her first single, "M&Ms" in the summer of 2013, followed by a video directed by Mac Boucher, a good friend of hers from Vancouver – and brother of Canadian music darling Grimes.
"He and I collaborated on my first music video, which was kind of a shit show, because neither of us had done anything like that before," she said of the experience. "Now, he's worked on a lot of other things, some of [Grimes'] music videos too. But I guess out of that, she heard my music. She's been super supportive of me from really early on."
In fact, between the two Coachella weekends, Tei Shi had opened for Grimes on consecutive nights in Oakland and Los Angeles.
"She has introduced me to her fan base and has been really awesome," said Tei Shi. "She's just amazing and a constant inspiration for me, so I feel really honored to be taken under her wing."
She'll be sharing the stage with Grimes again, when the two play in Washington, D.C. in early May. Tei Shi also has some festival dates lined up in June, but for now, the singer is concentrating on completing her anticipated debut record.
"It's in the production phase, finalizing things," she said. The writing was done in a combination of places including Montreal, where she spent two months last summer, as well as LA and NYC – where the Brooklynite will return, post-Coachella to finish working out of Buccellati's studio, as well as some rented spaces.
"It's hard to describe," she said of her sound. "It has a mix of different things. A lot of people call my music R&B, which I think is cool, but I think there's a lot of my music that isn't R&B at all. There's some electronic and pop influences, but there's shoegaze-y and rock inspirations too – it varies song to song. I would rather just play it for someone."
Fans will have to wait until later this year, when the record is presumed to be released – no date set yet.
"It's been a long time since I've put out something new," she said. "I'm excited to get the music out and reintroduce myself."
Watch W's most popular videos here:
Photos: Meet Tei Shi, the Indie Darling Adored by Grimes
Photo by Lexie Moreland. Produced by Biel Parklee.
Photo by Lexie Moreland. Produced by Biel Parklee.
Photo by Lexie Moreland. Produced by Biel Parklee.
Coachella 2016. Photo by Getty Images.
Coachella 2016. Photo by Getty Images.
South by Southwest 2015. Photo by Roger Kisby/Getty Images Portrait.
On concert for Gorilla vs Bear V in Dallas, 2015. Photo by Mike Brooks/DAL/Voice Media Group via Getty Images.
At Field Day Festival in London, 2015. Photo by Andrew Benge/WireImage.
At Field Day Festival in London, 2015. Photo by Andrew Benge/WireImage.