Telfar Hosted New York Fashion Week's Last Supper with Kelela, Venus X, and Dev Hynes
For his spring 2018 show, the designer and CFDA/Vogue Fashion Fund finalist Telfar Clemens hosted an intimate supper featuring friends and fashion elite.
---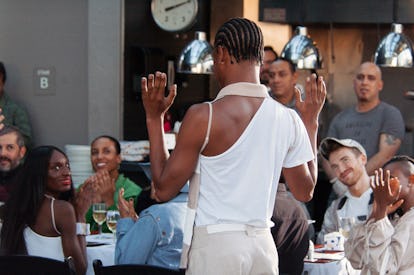 Courtesy of Rob Kulisek
"He's like a poet, and his work is just endlessly inspiring to me," gushed the artist Ryan Trecartin last night. He was talking about his friend, the fashion designer Telfar Clemens, who this year finds himself among the 10 finalists for the CFDA/Vogue Fashion Fund. He may not be a household name, but Clemens is by now a veteran of New York fashion, having started his eponymous line Telfar in 2005, when he was only 18 years old. In the years since, the Queens-based designer has consistently presented his vision, year after year, season after season—no small feat in the fast-paced world of New York fashion, especially considering Clemens has never had a family trust fund or high-powered corporate backers (two elements that buoy many a young New York designer).
Such perseverance seems to have finally paid off for Clemens, whose label, thanks to the CFDA nomination, is receiving increased attention from fashion press that may have previously found the work's ethos of accessibility—unisex American sportswear made from humble materials, but with unexpected twist and cuts—actually a little too inaccessible. For his spring 2018 collection, Clemens provided a recap on what he's been up to over the past 12 years, with a presentation of Telfar classics that was both intimate and cerebral.
On the rooftop terrace of the Hotel Americano in Chelsea, a small group of fashion industry power brokers sat down to dinner. The seating was arranged in a horseshoe, giving the occasion a dramatic Last Supper feeling. As the first course was being served—truffled chicken wings and duck confit poutine—a coterie of Telfar friends and "nodels" casually descended the stairs from the hotel's pool level, wine glass in hand, and proceeded to sit across the table from the editors, personally introducing themselves, one by one. It was an eclectic group of about 20 downtown New York art, music, and culture cognoscenti that included Kelela, Venus X, Joey Bada$$, Haley Wollens, Ian Isaiah, Total Freedom, Ana Kras, Dev Hynes, and Trecartin, all of them dressed head-to-toe Telfar. The scene felt less like a fashion show and more family gathering-meets-performance piece, a feeling only heightened by the solemn live cello performance of the musician Kelsey Lu. "I like fashion shows that are not runway shows," said Kras, a furniture designer and model. "It felt like a family birthday celebration in a way."
The looks in the collection, tellingly named "Family," borrowed heavily from previous Telfar seasons and included staples such as gray sweatshirts with integrated cap, logo-embroidered, detachable denim suits, one-shouldered tanks, and the backward polo. Appearances by celebrities and influencers have become the norm at fashion shows, and Telfar has his own (unpaid) following that includes SZA, Tinashe, and Solange, whom he dressed for her powerful performance at the Guggenheim last year. But the showing at dinner seemed more like a wholehearted sign of support by close friends, all of whom wear the brand's inconspicuous yet omnipresent Telfar logo like the badge of some underground tribe. (The interlocking T's and C's of the logo were even discreetly embroidered into the tablecloth.)
"He always smashes up boundaries and binaries, kind of turning the runway on its ear," said MoMA curator Stuart Comer of Clemens, while biting into a deluxe version of a White Castle slider (the fast food chain is the designer's longstanding partner; Telfar is even designing their new uniforms). "The whole presentation felt so natural, and so authentic," said the super-stylist Mel Ottenberg, who admitted to "gagging" over a sweater knitted entirely from over 40 yards of rolled-up t-shirt fabric.
"It was the chicest thing I've seen all week," he said, adding: "This was the perfect reaction to anyone lamenting the death of New York Fashion Week."
Meet the White Castle Employees Modeling Their New Unisex Uniforms by the Fashion Designer Telfar
Leslie, 20, Castle N°3: Bronx, New York. Uniform by Telfar for White Castle.

Courtesy of Jayson Keeling
Michael, 18, Castle N°32: Nanuet, New York. Uniform by Telfar for White Castle.

Courtesy of Jayson Keeling
Etta, at home in the Bronx, New York.

Courtesy of Jayson Keeling
Cisco and Chris, (Twins) 18, Castle N°16: Queens, New York. Uniforms by Telfar for White Castle.

Courtesy of Jayson Keeling
Jasiah, 19, Castle N°47: Bronx, New York. Uniform by Telfar for White Castle.

Courtesy of Jayson Keeling
Chris, 18, Castle N°16: Queens, New York. Uniform by Telfar for White Castle.

Courtesy of Jayson Keeling
Michael at home, Nanuet, New York. Uniform by Telfar for White Castle.

Courtesy of Jayson Keeling
Tatyana, 19, Castle N°16: Queens, New York. Uniform by Telfar for White Castle.

Courtesy of Jayson Keeling
Julian and Sariah, at home: Bronx, New York.

Courtesy of Jayson Keeling
Julian and Sariah, at home: Bronx, New York. Uniform by Telfar for White Castle.

Courtesy of Jayson Keeling
Leslie, 20, at Crotona Park in the Bronx, New York. Uniform by Telfar for White Castle.

Courtesy of Jayson Keeling
Orchid, 19, Castle N°16: Queens, New York. Uniform by Telfar for White Castle.

Courtesy of Jayson Keeling
Tatyana, 19, Castle N°16: Queens, New York. Uniform by Telfar for White Castle.

Courtesy of Jayson Keeling