Ten Cities Explores the Relationship Between Nightlife and Creativity
The new book from the German nonprofit Goethe-Institut offers an in-depth look at club culture in cities as diverse as Lagos, Naples, and Kiev.
---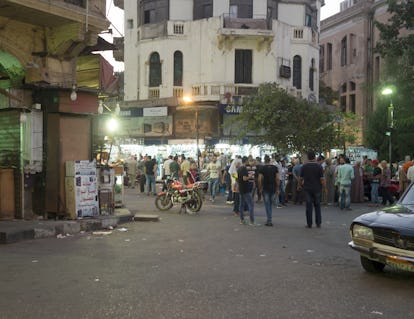 Andreas Langfeld.
At a time when none of us can congregate freely and without fear, absorbing a book about the influences of nightlife and club culture feels both deeply inspiring and more than a little bittersweet. As we are denied the experience of crowding into sweaty, packed spaces in close proximity to other bodies and loud music, Ten Cities (Spector Books) reads like a kind of fever dream. While the idea of nightclubs as factories of invention is certainly nothing new, that narrative often focuses on cities like New York, Chicago, Manchester, Detroit, or London. Ten Cities turns its gaze farther afield, charting the history of club culture in such far-flung locales as Nairobi, Cairo, Lagos, and Lisbon, beginning in 1960 and working up to the present.
Initiated as a project by the Goethe-Institut—a nonprofit German cultural association known for encouraging international exchange and relations—the book involves the work of three editors and 25 different authors, including social scientists, music journalists, club activists, musicologists, urbanists, and historians. "Club cultures create free spaces that can be laboratories for future societies," says Johannes Ebert, the General Secretary of Goethe-Institut. "They allow for experimentation with attitudes and ways of life, which slowly permeate into wider society and may even, at some point, determine the mainstream." The resulting read is one that not only gives a more political and historical perspective on the notion of clubbing, but also illustrates that every major city is in possession of its own unique scene and history, shining a particularly fascinating light on places where the history of nightlife was not documented, and passed down only via word of mouth or in the form of old flyers or dusty mixtapes.
While our Western perception of clubbing has been hijacked by behemoth superclubs, festival raves, and tacky, bottle-serviced EDM, Ten Cities reminds us that nightlife itself has more to do with a state of mind than with a specific location, neatly exploding the notion of what a "club" actually is. "Beneath this mainstream surface, club cultures, as hidden nocturnal cultures, are much more diverse, specific, and local than is suggested by the narrative of 'global' club culture—and they draw on a long history," explains writer Johannes Hossfeld. "The club can be any 'dingy, stuffy room' and 'musty hold,' or venues that are temporarily repurposed, like township shebeens, a pub, or a coffee bar (always with a jukebox), restaurants, cafés, school halls, barbershops, and, in Africa, above all, churches." As the photos in the book illustrate, clubs are often fleeting, ephemeral enterprises, taking place in back rooms or warehouses, on boats, in empty fields, under bridges, and on beaches. They are often moving targets kept in motion by politics, laws, curfews, and the mercurial fancies of young people.
Much of Ten Cities celebrates the short-lived, generally makeshift, and deeply influential nature of clubs that would often prove formative for a scene. Writer Danilo Capasso provides a kaleidoscopic view of the history of music venues in Naples, describing the advent of "Vesuwave" (Italian new wave, born in the shadow of Mount Vesuvius) and club spaces that existed in the "disused cisterns of the ancient Greek and Roman aqueduct." They were, as he describes them, "hidden spaces, rarely visible from the street and often hidden in courtyards where passing through a small door and down a flight of stairs you can access such hidden worlds." In Kiev, club culture would give way to roving parties on the banks of the Dnieper River, in forgotten industrial hangars, and in pre–Second World War tunnels—all a stone's throw away from the remains of the Chernobyl nuclear power plant. Elsewhere, a young Blixa Bargeld and Andrew Unruh—later known together as industrial act Einstürzende Neubauten—enter a space in Berlin described as, "A dark hole, maybe half a meter wide, hidden behind thick bushes. To get in you had to squeeze your way between concrete walls and then duck down because in the next room it wasn't possible for a full-grown adult to stand up straight. They cowered into a narrow chamber where the rumbling waxed and waned but never ceased—the sound of cars and trucks passing overhead." Naturally, they would later turn it into a recording space, lighting a candle to make sure there was actually enough oxygen to breathe. Whether making music or finding the space to enjoy it, necessity always becomes the mother of invention.
Micro-scenes give rise to musical movements that, in turn, come to define and reflect vast swaths of how partiers relate to one another around the world. In Luanda, Angolan music comes to be defined by the evolution and frantic energy of Kuduro. In Nigeria, Fela Kuti would not only become a global ambassador for Afrobeat, but would, as writer Mudi Yahaya describes it, come to be known as "an entertainer extraordinaire, a shaman (he was also called 'Abami Eda' [chief priest]), a politician (he floated a political party, and ran for President), and, to some, a subversive character." The sections of Ten Cities dedicated to African cities are some of the most compelling, largely because the music itself is so deeply influential to the evolution of house music and hip-hop. "Africa has enjoyed a contemporaneity that consists of a multitude of the most diverse and active club cultures for more than fifty years. African cultures have constantly added ideas, genres, and sounds into the global clubbing mainstream," write Hossfeld, Joyce Nyairo and Florian Sievers in one essay. "It could even be argued that many of the elemental components of contemporary clubbing were first practiced in Africa."
The most telling essays in the book are those regarding Johannesburg, a city in which racial strife and a history of extreme social inequity manifest themselves in every aspect of life. Writers Rangoato Hlasane and Sean O'Toole each examine the recorded history of music in South Africa and the ways in which Johannesburg's political history shaped how people could consume and share music, as well as the music they would ultimately make. "While South African writers, across a range of disciplines, are actively digging in the muck of history to write new stories about the country's racially divisive past, there is no definitive history of Johannesburg's nightclubs and dance venues, nor, for that matter, a defining study of the habits of this city's contradictory moods after dark," writes O'Toole. Contemporary music listeners will most likely associate Johannesburg with Kwaito, a variant of house music that incorporates uniquely African sounds and samples, but the essays in Ten Cities also illuminate the city's jazz-inflected past and illustrate how apartheid shaped the ways people could interact with music, ultimately preventing any kind of documentation.
"The manner in which Africans engage with music today remains a metaphor for dispossession and destruction," says Hlasane. "What Africans had to sacrifice in handing over their indigenous knowledge to pressing machines across the globe is directly linked to land theft and colonization. In engaging with the music of the people from c.1960 to now, a sense of place guides the reader through the Black music repertoire, in fragments and anecdotes delivered through cycles and repetition. Is it possible for the truest music to live on wax, plastic, magnetic tape, or computer chips, let alone in text?"
Ten Cities is a potent reminder that all club scenes, no matter how small or remote, are fueled by personalities. So many of those involved, from DJs to vocalists to promoters, manage to change the vibe and timbre of entire cities, while never quite getting their due. Ten Cities also celebrates the unsung heroes of nightlife, the weirdos who opened tiny record stores, dragged a pair of speakers to an empty warehouse, or simply played music loudly for an unsuspecting audience. While there is no shortage of books on nightlife and no drought of think-pieces on all the ways clubs have influenced what we listen to, how we dress, and how we express ourselves, Ten Cities provides the kind of anthropological deep-dive experience that most books on nightlife might never consider. While some of the book skews decidedly academic, at its heart, the collection speaks to the desire that human beings have always had to congregate, to create spaces of community where they can move their bodies to music.
"If we understand a nightclub as a place where people meet, socialize, and dance while listening to music, it becomes hard to define when and where this phenomenon may have started," writes contributor Vítor Balenciano. "Places according to this definition have practically existed since the beginning of human culture." That such spaces are also often deeply political, subversive, and creatively influential is not only not a surprise, but a given. The need to dance is ultimately one of our most primal urges, and Ten Cities makes the case that, regardless of geography or economy, people will always figure out a way. In the end, the atmosphere and community of any club is always intrinsically tied to liberation—the need to move, the very human desire to be free.
Related: At Berghain in Berlin, Art Now Occupies the Dance Floor