Tessa Ross: The Highbrow Hitmaker
Camera-shy Tessa Ross, of scrappy Film4, is the British film world's secret weapon.
---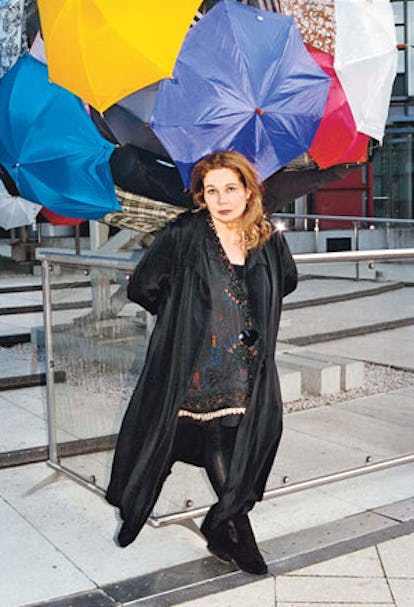 If it's true that you can gauge a person's power by the size of his or her office, then Tessa Ross wouldn't seem to be wielding much influence these days. Her workspace—a book-strewn cubicle in a row of several others at the London headquarters of Film4—is barely worthy of an entry-level Holly­wood D-girl. Yet Ross, the 48-year-old who runs the production company, is often described as the queen of the British movie industry. Last year Film4's projects, including Slumdog Millionaire, which Ross developed and executive produced, were up for 12 Academy Awards; her current slate includes Peter Jackson's The Lovely Bones.
More surprising than Ross's modest cubicle, perhaps, is her minuscule budget: Film4 (a division of the government-owned Channel 4) has just $13 million with which to put together eight films annually. As a result, Ross will sometimes nurture projects for years and then cofinance them with deep-pocketed studios, only to watch much of the profits (and the credit) go elsewhere. On Slumdog, Film4 earned back about $9 million—triple what it spent on the project, which isn't bad, until you consider that the film's worldwide gross was more than $370 million. Fox Searchlight got most of the rest. Ross insists she doesn't mind at all.
"My job is to make the films happen," says Ross, who demurely stayed in her seat at last year's Oscars while the other Slumdog producers rushed to the stage with director Danny Boyle (he thanked Ross in his acceptance speech). "Commercial success is not what I'm most aiming at."
A married mother of three who studied Chinese at Oxford and previously worked at the BBC, Ross is bright and chatty but endlessly self-effacing in that British don't-mind-me sort of way. She says she feels sorry for anyone reading a magazine profile of someone as dull as herself, and offsets any discussions of her hits with references to her flops. But although she enjoys nurturing talent and playing behind-the-scenes "mom" to filmmakers and writers, it's clear that she can get scrappy when necessary.
"Have I got balls of steel underneath? Yes," says Ross with a sly smile. "But what's brilliant is that I'm not usually fighting for me—I'm fighting for something else."
One current battle is to protect Film4's budget, which has been hit hard as Channel 4 suffers from a drop in TV advertising revenue. Ironically, Slumdog's success may have made Ross's job more difficult, increasing expectations that she'll churn out more hits. "The idea that [a film like Slumdog] is deliverable very often is a horrible pressure," she says. "I must say I feel it."
Ross's efforts are part of a larger struggle facing the British film world; despite several successes in the States, the industry remains hamstrung by limited public funds and a complex love-hate relationship with Hollywood. Ross notes that if a recent Film4 project such as Hunger, the critically acclaimed feature by artist Steve McQueen, had come out of France, it would have been a prime candidate for a foreign film Oscar, but as an English-language film it was competing against every major U.S. release. "When we make a film in English, Hollywood immediately judges it by its own standards," she says. Still, according to director Kevin Macdonald, who worked with Ross on The Last King of Scotland as well as the upcoming The Eagle of the Ninth, Ross is one of the few movie executives who value a filmmaker's point of view as much as the audience's or her own. "She's like an old-fashioned book editor," Macdonald says. "She's there to support the people she has decided are talented." That approach, he adds, takes more courage than you may think: "Film4 are always the first people in—buying the book, developing the script. They're the ones taking the risk."
For now, Ross's strategy is to continue developing a slate of mostly small, unique films that are, as she puts it, "not for the mainstream," but that in rare cases may become megahits. In addition to The Lovely Bones, she has upcoming projects by such prestigious Film4 stalwarts as Mike Leigh (Happy-Go-Lucky); she also greenlighted Nowhere Boy, the first feature by artist Sam Taylor-Wood, and Submarine, the debut from comedian Richard Ayoade.
"Great people come out of the strangest places, with the weirdest of backgrounds, to make movies," says Ross. "I know that the next great Oscar winner is probably not about slum kids in India, so the sensible thing is to be open to all possibilities."