Testing, testing: Green nail polishes
This season, no less than eight dark green polishes landed on our desks (see our November story) and the experimenting began right away. We tried the black, shimmery greens, like OPI's Here Today...Aragon Tomorrow and...
---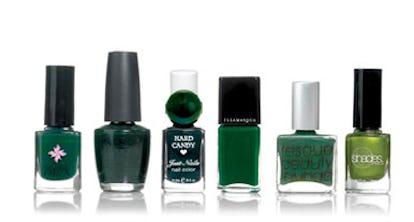 And, oh, the comments we got! "Is that green you're wearing?" nearly everyone asked. Personally, I've preferred keeping the green to the toes, but my colleague Jamie has been experimenting with emerald-hued manicures. Her favorite is Butter London's British Racing Green. "It's a deep emerald that's vibrant without being too bright, and it has a glossy sheen that's not glittery," she explains, adding, "I found some of the muddier greens to be a little dull for tastes."
My favorite, meanwhile, is Orbis Non Sufficit by Rescue Beauty Lounge, which I love exactly for that so-called "muddiness" (I would describe it as "muted"). Notes our fashion department colleague Kathy Lee, another fan of the Rescue, "Since it has that gray undertone, it's a good neutral." That is, if green can be considered a neutral.