Teyana Taylor Is a Real Sneakerhead, Loves Working Out in a Thong Bodysuit
The singer and dancer dishes on all things fitness.
---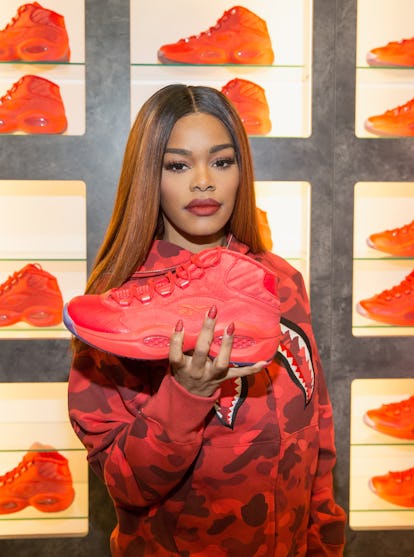 Getty Images
Ever since Kanye West's "Fade" music video premiered this summer at the 2016 VMA Awards, Teyana Taylor has been back in the spotlight. Last Friday, for example, she was at the original Jimmy Jazz shoe store location in Harlem, New York, to promote her newly released bright-red Reebok sneakers, which sold out within minutes online. Outside, a crowd of fans had been waiting in line for hours for her to sign a pair of their kicks, but inside the store, she hugged family and friends, who arrived in droves, as this was the same neighborhood where she grew up.
While her husband, the NBA star Iman Shumpert, was in Cleveland for a game, her daughter, Iman Tayla Shumpert Jr., sat in her stroller wearing a custom Baby Buddah Bug head wrap, which Taylor herself designed. Taylor's mother was there as well, not just as a babysitter but also as a social media manager, offering tweet drafts for approval. "HARLEMMMMMMMMMMMM!!!!!!!!! I'M HEREEEEEEEEEEEE!!!!!!" received Taylor's approval and even earned a visible thumbs-up.
She then sat down to chat about sneakers, fitness, and sharing clothes with her husband.
Do you remember the first pair of sneakers you bought? I was getting a lot of free shit at a very young age. But you know what's crazy? My mom showed me this picture when I was five or six-years-old. I was wearing a black biker jacket, black Ray Bans, a black turtleneck, black leggings, and I had on black Reebok 5411's. I was too cool for school. Now, we're here and I have my own Reebok shoe.
How many pairs of shoes do you have now? I don't even count anymore. Real sneakerheads don't count.
Do you have a whole room full of them? Exactly, yeah.
What's your fitness routine like? I've read that you just dance. Yeah, I just dance. I'm working on a dance workout fitness DVD, which I'm super excited about.
What music do you listen to when you dance? "Every Little Step" by Bobby Brown. I've always loved that song, but recently that's just been by go-to — even when I'm cooking. [Starts snapping her fingers.] I can't sleep at night, I toss and turn / Listening for the telephone. It's such a good vibe!
And what do you wear when you dance? I'm a big fan of the workout gear from the '80s and '90s. I like to wear thong bodysuits with tights underneath and leg warmers. I go full-out.
Obviously you and your husband can't share shoes, but do you ever share clothes? Yeah, we share clothes. We have this thing we call a 'package deal.' Now, a majority of the stuff we share, but there's just some shit that we both have to have. You can't share it, so we buy two.
How was fashion week? Man, fashion week was lit. That was my first time being at fashion week.
Should there be more sneakers at fashion week? Nah, that's what we have sneaker stores for. Fashion week is for thinking outside the box.