Teyana Taylor Talks Pregnancy, Wellness, and Her Collab With MAC
The multi-hyphenate singer, actor, director, dancer and choreographer discusses her childhood obsession with Lipglass and meditating while pregnant.
---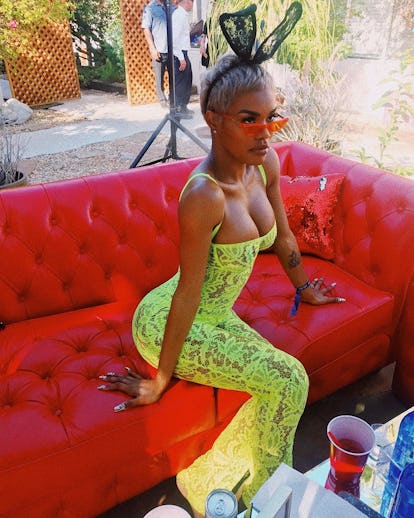 @teyanataylor
Teyana Taylor has spent the better half of 2020 working on projects that fill out the multi-hyphenate's already bulky résumé. Pre-quarantine, the singer-songwriter/dancer-choreographer/actor-director starred in the music documentary Assembly Required: Teyana Taylor's House of Petunia. On Juneteenth, she released her third studio album, simply titled The Album. Not to mention serious change in her personal life—she stunned fans with a baby bump reveal at the end of the video for her Wake Up Love track.
She's expecting her second child with husband, NBA player Iman Shumpert in September. Erykah Badu, who makes an appearance on her latest album, will be the doula. "I'ma have [Badu] just sing her verse from 'Lowkey' to me to calm my nerves," declared Taylor on Nick Cannon's Power 106 morning show.
However, another addition to her family isn't the only thing the 29-year old songstress is birthing this year. MAC Cosmetics recently added Taylor to its cadre of cosmetic collaborations with trailblazing musicians, whose all-star roster includes Rihanna (pre-Fenty), Mariah Carey, Mary J. Blige, Nicki Minaj, Aaliyah and Selena Quintanilla, to name a few.
This isn't Taylor's first foray into the beauty industry. In early 2018, she was named the brand ambassador of the nail lacquer company OPI, and opened Junie Bee Nails, a '90s themed nail joint located in the heart of Harlem, where the manicurists were kitted out in uniforms by Dapper Dan. (Recently, the singer announced on the shop's Instagram account that she would be closing down the leased spot to hopefully buy a new establishment that she would outright own.)
Inspired by her love for classic '90s fashion, beauty, and music, Taylor worked alongside MAC Cosmetics to create her exclusive collection, which encapsulates the vibes of that decade.
Her love for the iconic beauty brand began when she was a teen in Harlem—she would often borrow MAC lippies from her mother's personal stash, and experimented with mixing the shades to create her own custom colors to match her moods.
Fittingly, lips have remained a focal point in her own collection with the makeup label. The lipsticks and lip glosses range from deep chocolates to pinky nudes and candy-apple reds, with contrasting and complementary lip pencils for a throwback Noughties look.
The House of Petunia Mineralize Skinfinish, a bronzy slow-baked finishing powder, completes the set.
Below, Taylor dishes on her wellness routine while being pregnant and why her latest cosmetic drop with MAC is fulfillment of a long-realized dream.
You've done a lot this year. You had your behind-the-scenes documentary; you dropped your latest song, video, and third album in June, not to mention your pregnancy. How are you balancing it all? What are you doing to help you decompress and unwind?
Honestly, I like to reset myself and just meditate. I've been very, very heavy on meditation. Re-centering and resetting myself helps me wind down into this stuff. There's so much happening—especially during pregnancy and having so many different things going on—that's my way to balance myself.
How often do you meditate? Do you do it in the morning or the evening?
Oh, baby, I do it every single day. I do one during the day, and then there's one that I use to put all of us to sleep before bed time. There are a lot of different guided meditation [apps], where you can choose what it is that your heart seeks for the day. So whether it is that you want to focus, you want to relax, or you want gratitude, or just simply bedtime, it will give you the different options—which is the reason why I love it. You can meditate as many times a day as you want. There is not really a set time you have to do it.
Do you have a mantra that you like to use?
Yes, I do. I have a few of them.
Are they personal? Do you want to reveal what one of them is?
Yeah, I'll keep that quiet.
Besides meditating, what has your wellness routine been like while you've been in quarantine? Has it changed?
Honestly, yes. I mean, every pregnancy is different. I actually wasn't sick at all with [my daughter] Junie. But with this new baby, I'm extremely sick, extremely tired. They do say the babies that give you the toughest pregnancy come out the calmest. Usually, the babies that are the most turnt up in your stomach are going to be the most calm when born; and the ones that are most calm in your belly are the ones that come out turnt up. Junie was pretty calm in my belly and, baby, she is all over the place! But either way, I love it. I love kids—all types of kids—so I'm excited.
I'm definitely eating a lot healthier. I'm a junk food girl. But I've been drinking a lot more water, and getting really heavy on vitamins. Just anything to keep me up and going, honestly. Because one thing about pregnancy, you really can't control it. Every pregnancy is different. That pregnancy tiredness, sickness—it's a lot. And like I said, because it's my second child, this is a complete 180 for me. So it's not even something that I prepare myself for. But every pregnancy, I try to be very, very, very healthy. But I still have time for my junk food, though.
Has your skincare routine changed at all since this pregnancy?
I don't really like to do a lot. Especially, since I'm pregnant, I have to be careful. You don't know what's in stuff, so you have to keep everything natural. Thankfully, I've always been into natural skincare. Before pregnancy, I've always been into making my own lotions, soaps, face washes and different things like that. And, I'm still doing that. But since I'm pregnant, it's kind of slowed down. I'm not concocting as much as I used to—but I used to concoct a lot of stuff. I just keep it a little bit more simple now, and everything is natural—you know, shea butter, coconut oil, black soap.
I've also been putting collagen in my beverages—whether it's my tea, cold beverage or water—it doesn't matter. It's really good for keeping your skin glowing and elastic. It's definitely something new that I've been using. I have one that I like using a lot, but it's always sold out. Honestly, [you can use] any type of collagen as long as it's Type I or Type III; it doesn't really matter what brand it is.
Let's talk about your collaboration with MAC.
I have always been a fan of MAC. To have an opportunity like this was the ultimate fan girl moment, since I've been wearing MAC since I was 15 years old. When I first met with the MAC team, everyone was so excited—that definitely meant a lot to me. From working on the lip colors and packaging, the whole collaboration was an amazing experience.
You mentioned that you've been using the brand since you were 15. What is your fondest memory of the brand? What were your favorite products to use back then?
My favorite product, especially at that young age, was the MAC Lipglass. My mom used to keep them in her purse and I used to take them all the time. They were always so perfect. But that was at the age when I didn't really know much about lip stuff yet; and, of course, wasn't old enough to be able to wear it. As I got older, the lip liners became a favorite for me. Because if you want more definition of your lips, you can put the lip liner on, blend it out and just throw on your clear Lipglass over it, and it still looks beautiful. Those were my two favorite things—my quick go-tos.
Did you have a favorite Lipglass color back then? Or, was it just the clear?
It was the classic, clear Lipglass in the little squeeze tube. It's so versatile. You could use it for dewy highlights. You could throw it on your cheeks. Or, if you like a wet eye look, you can put it on your eyelids as well. It's definitely something that I like to use in many different areas. There have been times where I've been out and at the last minute somebody's like, oh, come over here. And I'm like, oh my god, I have no makeup on! I pick up that Lipglass—put some on my lips, my eyes—honey, I'm a whole 'nother person.
What was the inspiration behind your collection with MAC?
My inspiration was, of course, the '90s, but I also wanted the collection to be simple while being very powerful. Being a strong Black woman and knowing the features we carry and the skin tones we have, I feel like less is more and I wanted to put the power in the lip. Black women in the '90s represented beauty by keeping the power in the lip—and that's something that definitely inspired this collection for me.
What are some of your favorite products from the collection?
Honestly, my favorite is everything. Because I can customize it all to my liking every single day. All of it is mixable. I can mix and match. It's not one set thing where it's like, if I wear this lipstick I can't match it with that gloss.But if I have to pick just one, it would be the Mineralize Skinfinish. It is perfect because it's something you can wear with or without makeup. You can throw it on for a super simple, natural look. A little trick I love to do is to mix the Mineralize Skinfinish with my favorite moisturizer or vitamin E oil, and it instantly gives off a dewy look to the skin. If you want to have a matte finish, you can just apply it straight with a brush.
Who were some of your beauty heroes in the '90s?
I would have to say all of the brown beauties from that era. Nia Long. Aaliyah. Aaliyah always had great makeup choices. She was giving a girl eyebrows and lips for a long, long time. I always loved Nia's natural faces and her brown lip tone. And, of course, Grace Jones is one of my biggest faves. Naomi Campbell. Really, honestly, everybody was kind of all on the same boat as far as keeping the power in the lips, and knowing that less is more.
Currently, what's your favorite look to rock?
A nice, natural look makes me feel super empowered because I feel like I am embracing my strong features and my skin tone, which makes me feel very powerful. It reminds me of my mom and all the women who I look up to. Seeing them embrace their natural looks and strong features and still feel beautiful has been the most powerful to me.
The MAC x Teyana Taylor collection will launch July 14th at maccosmetics.com and macys.com.