Fit to Be Thai
After cleansing and detoxing her way around the globe, spa junkie Sandra Ballentine finally finds wellness Nirvana—in the Far East.
---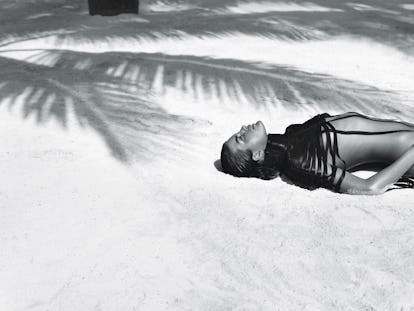 If I had a dollar for every time I've heard the word "detox," ____I'd be able to afford my own raw chef, a bespoke infrared sauna, and a year's supply of organic young-coconut water. Seriously, you can't turn around in cardio-box class without bumping into someone raving about a new cleanse, fast, or "reboot." But not all regimens are created equal, as I recently discovered on a trip to the mother of all wellness retreats: Kamalaya, on the island of Koh Samui, Thailand. My experience there was so special—profound, even—that (and this probably goes against some sacred journalist's code) I almost didn't share it with you.
I'd been hearing about Kamalaya from my glamorous and irritatingly well-balanced friend Caroline Legrand, a busy London-based interior designer who kicks off each new year with the resort's comprehensive detox program. "It isn't about starving yourself but about feeding your body and soul," she had told me, and she was right. The hotel is in a beautiful setting, brimming with tropical flora and fauna, attentive staff, sublime food, and a coterie of next-level energy healers, nutritionists, naturopaths, massage therapists, lifestyle coaches, yoga teachers, fitness instructors, Chinese-medicine doctors, and Ayurvedic specialists—all there to help ease you into healthier, happier habits. What more could a Nirvana-seeking sojourner ask for?
Well, proximity, for one thing. I arrived at the resort dazed, confused, and completely ravenous after more than 36 hours of travel (New York–Hong Kong–Koh Samui). Waiting for me at reception was my designer friend (and habitual cleansing cohort) Eva Karayiannis, who had been savvy enough to break up her trip from London with a stay at the Siam, a stylish new hotel in Bangkok. Another friend was due in imminently on her private jet. (Clearly, I had miles to go in the transportation department.) We sipped iced lemongrass tea and mopped our foreheads with chilled towels, taking in the polyphonic din of night birds, geckos, and frogs in the surrounding jungle.
After a quick tour of our villa and the hotel's palm-fringed crescent beach, we wandered up to Soma, one of the resort's open-air restaurants, for our first taste of Kamalaya's deliciously guilt-free cuisine. I had a sweet-tart green juice, a bowl of Thai-herb-laced glass-noodle soup, and an Energy Salad (baby lettuces with dried garlic, ginger, avocado, wakame, goji berries, Asian pear, and millet), while Eva had tom kha pak (a coconut milk and veggie soup), grilled fish, and a glass of wine. For dessert, we drank fresh coconut water from the shell, greedily scraping out every trace of the meat with our spoons.
Kamalaya, which celebrates its 10th anniversary this year, is the brainchild of Karina and John Stewart, who met at a meditation retreat in the Himalayas in 1982 and married in 1993. A synthesis of his spiritual background (he's a former yogi monk) and her integral-health -expertise (she's a nutritionist and a master of acupuncture and Oriental medicine), the resort's programs are informed by Eastern and Western healing modalities. Carved into a hillside and centered around a cave where Buddhist monks used to meditate, the property has staggering sea and sunset views—even from the colon-hydrotherapy rooms—and attracts a sophisticated, international crowd, from social and fashion types (not too long ago, a certain famous designer came to stay following his well-publicized fall from grace) to corporate honchos. "Our strength is our soft touch," Karina says. "We empower people; we don't force them. Everyone has the opportunity to run with the health program as much or as little as they want."
Food is a serious part of the proceedings, and chef Edmond Kwan makes vegan fare taste almost decadent. There are exotic salads, soups, and juice concoctions, as well as yummy Thai- and Indian-inspired curries and stir-frys. "Our approach is more scientific, the opposite of counting calories," Karina explains. "The aim is to increase cellular metabolism, minimize toxic intake, reduce inflammation, and improve digestion and organ functions." Treatments like Taoist abdominal massage, colonics, herbal supplements, and lymphatic drainage work in tandem with the diet.
The place seems to have something for everyone, including special programs like Comprehensive Detox, Ideal Weight, Embracing Change, Stress and Burnout, Sleep Enhancement, and Optimal Fitness. You can also create a custom itinerary, weaving as many (or as few) therapy sessions, activities, and fitness classes into your schedule as you like. Some people (like me) cram in loads of coaching and energy work, while others prefer to just do yoga or hang out by the pool.
Caroline had given me a short list of her favorite practitioners and modalities, with one mandate: "You must see Dr. Song Qinggeng. He's a human scanning machine, and there is nothing he can't see or treat." She also suggested I do chakra meditation with Rajesh, the resort's meditation and life-enhancement mentor, and try some release therapy and past-life regression with Wayne Walker, a spiritual healer.
It sounded a bit out-there to me, but I took her advice and booked the three wise men. Dr. Song peered at my tongue, listened to my pulse, and basically looked right through me before announcing that my yang was completely overpowering my yin and that my hormones were out of whack. He said I needed more sleep and that I should start meditating. Walker and Rajesh both went deep into my psyche, with results too personal to reveal. Suffice it to say that after several days of being tended to by healers (and massaged and cosseted by one incredible therapist after -another), I felt physically lighter, spiritually more connected, and more mentally centered. I became mindful enough to recognize how scattered I'd been.
Usually, I can't wait to retox after detoxing, but not this time. I would have willingly stayed at Kamalaya for another month. "It's incredible how everyone looks so much healthier," Eva said as we were packing to go. "Our skin looks better; we all seem more relaxed." I thought about my final session with Dr. Song. I had asked him why he chooses to work at Kamalaya, when he could be anywhere else. "I've been here for nine years," he said. "I go away, but inevitably I miss it. Something always draws me back." I know just what he means.