Thandie Newton On Why She's Drawn to Tough Roles
Ahead of HBO's sci-fi series Westworld, the English actress opens up about an early traumatic audition.
---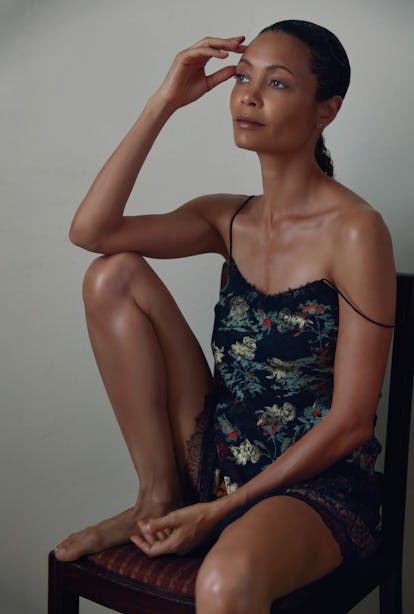 Photography by Mona Kuhn Styled by Patrick Mackie
Thandie Newton first made an impression playing the title role in Jonathan Demme's 1998 adaptation of Toni Morrison's Beloved, surprising critics unfamiliar with the then young actress' fierce inner strength in channeling the difficult part.
The 43-year-old English actress has ticked off all manner of genre over the years, gracing everything from big-budget action films (Mission: Impossible II, Demme's underrated The Truth About Charlie) to lighthearted romps by the likes of Guy Ritchie and Oliver Stone.
But, repeatedly, she has returned to the tough subject matter of her first major leading role, taking on projects like Crash and For Colored Girls that deal with race and violence against women. Her interest may have something to do with an incident at an audition in the beginning of her career, which she recounted in an interview.
"A director, on a callback, had a camera shooting up my skirt and asked me to touch my tits and think about the guy making love to me in the scene. I thought, 'Ok, this is a little weird,' but there was a female casting director in the room and I'd done weird stuff before so I did it," she recalled, without naming the filmmaker.
Years later, at a film festival, a producer told her drunkenly, "'Oh, Thandie, I've seen you recently!' And he lurched away looking really shocked that he'd said that." Her husband approached the man for some clarification. "It turns out that the director was showing that audition tape to his friends after poker games at his house. And they would all get off on it," Newton said.
The episode taught her a lesson. "I was so so naïve when I started out and I realize now that we have to prepare our kids— I've got two beautiful daughters, one is 16 one is 11. So many people in our business, they don't want to be the ones to say something that's a bum out because then they become associated with a bum out and nobody wants to read about so-and-so because they're always blabbering on about a bum out," she said. "But one person will read this and it will stop them getting sexually abused by a director. That's the person I'm interested in."
Given her advocacy work, Newton's latest role is something of a surprise. Like many actors seeking more ambitious work in Hollywood, she now comes to television, playing the madam Maeve Millay in HBO's sci-fi series Westworld, which premieres in the fall.
So, how does she square away her devotion to female empowerment with playing a madam in the series? "Exactly! If you know me at all, it's like, 'What the hell is that all about?'" Newton said. "But that question is precisely what got me hooked. The show is really looking at things that stick in your craw. It poses these existential questions. It's really fascinating. It's like being in a game of Dungeons & Dragons except set in the Wild Wild West."