Thanksgiving Hasn't Happened Yet, But Victoria's Secret Models Are Already Looking Ahead to the Holidays
Martha Hunt and Jourdan Dunn join actor Jack Huston and Federico Fellini collaborator Dante Ferretti at a party feting the Tod's holiday window displays at the Italian brand's Upper East Side flagship.
---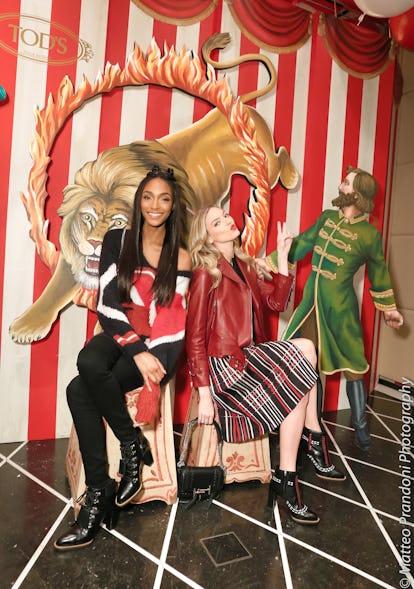 Matteo Prandoni/BFA.com
When Dante Ferretti, the legendary Italian production designer and frequent collaborator of director Federico Fellini, was a child, he fell in love with the circus. It came to Macerata, the small central Italian town where he grew up, for a week each year, usually around Christmastime.
Ferretti first saw il circo with his family — but it whet a taste he couldn't satiate, and while his family just went once, he proceeded to return every day. So when Tod's chief executive Diego Della Valle asked Ferretti to design a holiday-themed window display for the Italian leatherwear brand's Upper East Side flagship earlier this year, Ferretti immediately knew where to turn for inspiration.
The resulting display, an illuminated circus in red and white carnival stripes with cut-out acrobats doing somersaults and trapeze tricks, has a Fellini-esque playfulness, no doubt due in part to Ferretti and Fellini's frequent collaborations. They also shared a love of the circus, Ferretti explained at the party celebrating the windows' unveiling Thursday night — though he gently but sternly pointed out they never worked on any circus scenes together.
A clutch of society girls and boys dropped into Tod's to fete the new window displays, including Victoria's Secret models Jourdan Dunn and Martha Hunt, actors Jack Huston and Naomi Watts, and girls-about-town like DJ Leigh Lezark. Men in red and black ringmaster coattails flanked the entryway; inside, wait staff balanced trays piled high with boxes of popcorn, delicate glasses of champagne and blood orange cocktails, and carousels with tiny hamburger sliders. Though Thanksgiving was just around the corner, so too was the Victoria's Secret Fashion Show, so Hunt was already looking ahead to Christmas, her first break in a while.
Inside the Tod's Holiday Party with Jourdan Dunn, Martha Hunt, and Naomi Watts
Jourdan Dunn and Martha Hunt at the party celebrating the Tod's holiday window installations in New York, New York, November 2016.

Matteo Prandoni/BFA.com
Jack Huston, Jourdan Dunn

Matteo Prandoni/BFA.com
Richard Cadan www.richardcadan.c
Leigh Lezark, Geordon Nicol

Matteo Prandoni/BFA.com
Richard Cadan www.richardcadan.c
"We get really drunk and play fun games," she said, describing her family's holiday traditions back home in North Carolina, where she'd return for Christmas before jetting off to a cabin in Montana for New Year's Eve. "My dad always puts a lot of alcohol in my eggnog, so that's fun."
Fellow VS alum Jourdan Dunn won't be walking the show in Paris this year, but she was still eagerly anticipating the holiday season. She wistfully remembered slumber parties with her brothers, watching Home Alone on Christmas Eve before waking up early to unwrap presents. (Since she had a son, Riley, now 6, the tables have been turned — he's the one to rouse her at some absurd hour on Christmas morning.) And Dunn, like Ferretti, who was heading to Miami for Christmas, would be escaping to warmer shores — hitting the beach in Barbados.
"I've actually convinced my mum, who is such a homebody, to get out of her comfy house," Dunn said, already looking festive in gold-rimmed eyes and an oversized mohair sweater. "I actually can't believe I pulled it off."