Beyond The It Jacket: The Arrivals Finds Its Groove
As fashion moves towards direct to consumer, the timing couldn't be better for Jeff Johnson and Kal Vepuri's outerwear label.
---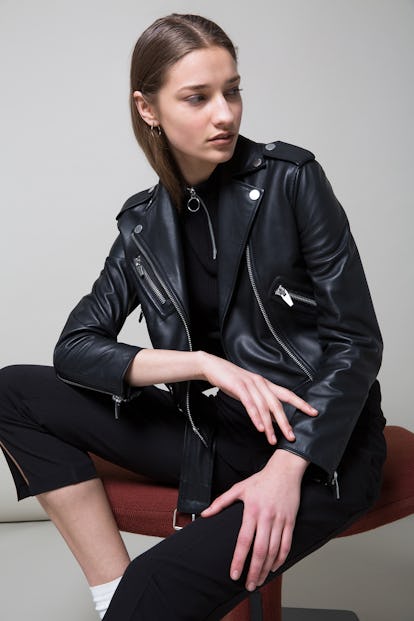 It's been 18 months since online outerwear label The Arrivals launched with five styles for women and four for men. Shortly after, the downtown New York-based brand's knockout leather moto jacket was all over Instagram and street-style blogs, proving to be an hit with editors and style influencers. The black lamb hide leather jacket, which looks far more luxe than its $685 price tag, still remains the brand's number one best-seller, but in the past year-and-a-half, founders Jeff Johnson, 33, and Kal Vepuri, 34, have honed in on developing new signatures for the brand, like a popular parka and a shearling jacket.
Today, they unveiled their most ambitious slate yet, an assortment of 12 new styles for spring.
"We really started with this clear goal of creating high quality outerwear essentials at a fair price," said Johnson, who worked as an architect before he ventured into fashion as the brand's creative director. (Vepuri is an angel investor and serial entrepreneur who has also invested in brands like Reformation, Harry's, Warby Parker, and Sweetgreen.)
"We are working with the same factories that Rag & Bone, A.P.C.," Johnson continued. "And sourcing our leathers from the same tannery, so the quality we are producing is on par with any contemporary brand that has brick-and-mortar but we don't have to compete with the markup and the overhead."
The Arrivals' online-only model is coincidentally in sync with a moment in fashion that seems to be moving towards direct to consumer, as brands like Burberry and Tom Ford have recently announced.
But it helps too that their choice of materials and accessible price points has resonated with New Yorkers who seek to be fashionable while staying budget conscious. It's a trait that has allowed them to buck depressed outerwear sales over an unseasonably warm winter.
"Fall 2015 was a big validation for us," Johnson said. "In terms of sales, we actually sold out of virtually all our styles in the first month, which was fantastic. It proved to us that a high attention to detail and carefully edited collection is exactly what our customers wanted."
Now, more than ever, they are focused on key outerwear archetypes. "Things people actually need that are highly functional that kind of have some element of nostalgia," Johnson said. For spring, that means lightweight, minimal pieces, like "the Arne" aero bomber in ice blue and black, inspired by 1960s space exploration.
"Spring and summer are interesting for an outerwear label because the weather is so bipolar," Johnson said. "It's all about making these pieces that are very light and transitional and the bomber and 'the Vader' moto jacket we made for women definitely hit those marks." Especially given the bomber's current popularity among both men and women, it could be their next all-star item.
The designers are also focused on rolling out a series of pop-up store experiences in the next year. "While we consider our website to be the flagship, seeing the textures in person is something you can't replicate on a website no matter how beautiful it is," Johnson said. "Brick-and-mortar is definitely on the horizon."
Photos: Beyond The It Jacket: The Arrivals Finds Its Groove
The Arrivals founders Jeff Johnson and Kal Vepuri