The Best Serums to Take You Into Winter
Top dermatologists give a rundown on serums, plus a list of the most effective and seriously hydrating products to aid dry skin this season.
---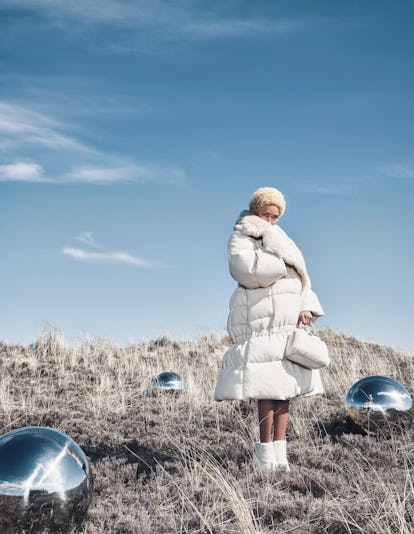 Emma Summerton, styled by Edward Enninful.
Colder weather is known to spur several skin issues—December comes; cue a dry and dull-looking face. This shift in temperatures prompts the need for extra defense for your skin. A thicker moisturizer is a must—but don't let serums become an afterthought. While serums are an excellent booster for your routine, they should also be refreshed with changing seasons. "Serums are great in the winter since they are an easy and effective way to layer skin actives before moisturizers and SPF," says Marnie Nussbaum, MD, a New York City-based dermatologist. "They are light enough to sink directly into the pores after cleansing and able to penetrate deeply into the skin to work their magic."
Now that it's time to boost your skincare routine with a serum know that there are a few components that make an effective serum (it should always address hydration to counter that dull winter complexion). Serums containing hyaluronic acid are best for obtaining hydrating benefits while also minimizing the appearance of fine lines and wrinkles. Joshua Zeichner, MD, Director of Cosmetic and Clinical Research at Mount Sinai Hospital in New York City, recommends layering a serum under your other skincare products first. "I usually recommend applying antioxidants and skin-protecting serums in the morning under your sunscreen," he says. These give your skin an extra layer of protection from UV light exposure by neutralizing free radical damage.
For dullness, Dr. Nussbaum suggests a serum that includes vitamin C. "Serums containing vitamin C are great at brightening a dull complexion and preventing free radical damage from environmental stressors," she explains. You can also reach for a serum that offers exfoliating effects to repair the skin's overall look. "Serums may also contain mild alpha-hydroxy acids, such as glycolic or lactic acid that help gently exfoliate the dead skin cells that build up during cold winter months," Dr. Nussbaum says.
If you also think that a serum should have a thicker consistency in the winter, think again. Serums aren't like moisturizers because there is no need to swap them based on the texture. According to Dr. Nussbaum, serums generally work best when lighter in texture—since they have a higher degree of penetration, which means more efficacy. This also makes it easier to layer with your other skincare products. To restore your winter skin to its glowing glory, the top dermatologists we interviewed compiled a list of effective and seriously hydrating serums for winter.
Dr. Barbara Sturm Hyaluronic Serum
This serum is full of potent hyaluronic molecules that keep the skin hydrated around the clock. The serum penetrates deep into the skin's layers and leaves it with a radiant and healthy appearance.
Why It Works: "It's an amazing, hydrating serum since it contains both long and short-chain hyaluronic acid to plump the skin and keep it supple in the winter," Dr. Nussbaum says.
Victoria Beckham by Augustinus Bader Cell Rejuvenating Power Serum
The Cell Rejuvenating Power Serum yields a potent approach to skincare. It targets existing skin damage and strengthens the skin's moisture barrier. The serum's technology also combats the effects of blue light damage and environmental pollutants. After applying, you will notice your skin looks healthy and smooth.
Why It Works: If you struggle annually with winter skin woes, you'll want a serum that multitasks. You will find biopeptides that strengthen the skin's immunity, niacinamide to increase luminosity, and yeast ferment complex, which hydrates the skin.
Origins GinZing Into The Glow Brightening Serum
The Into The Glow Serum boasts a powerful combination of green coffee seed, vitamin C, and hyaluronic acid. It's a great addition to your winter arsenal to fight the signs of dull skin.
Why It Works: The green coffee seed and vitamin C supports cell turnover, which reveals revived skin. The serum also hydrates the skin by giving it a hyaluronic acid dose, locking in plumpness and hydration.
Clarins Double Serum
Clarins Double Serum includes 21 plant extracts that protect, nurture, and hydrate the skin. A little goes a long way when applying, thanks to the fast-absorbing formula.
Why It Works: "The ingredients in this serum have anti-inflammatory and antioxidant properties. It helps provide brightening and skin-strengthening benefits and is gentle enough to use in the winter," Dr. Zeichner explains.
Drunk Elephant T.L.C. Framboos Glycolic Resurfacing Night Serum
An ultra-effective night serum to resurface skin cells that appear dull. Formulated with glycolic, tartaric, lactic, citric, and salicylic acids, this serum gently exfoliates without stripping the skin of hydration.
Why It Works: "This night serum is a workhorse because it contains both AHAs and BHAs to remove dead skin cells gently, clear pores, tighten the skin, and minimize fine lines," Dr. Nussbaum explains.
Clè de Peau Beauté The Serum
Treat dehydrated winter skin with this lightweight yet powerful serum. It contains luxurious ingredients, including platinum golden silk extract, which protects the skin against stressors and hyaluronic acid to ensure optimal skin hydration.
Why It Works: Thanks to harsh conditions in the winter, your skin needs more attention than usual. This serum strengthens the skin by offering a self-spreading formulation that helps the serum absorb deeply.
Tata Harper Resurfacing Serum
Keeping your skin looking refreshed and glowing shouldn't be a chore during the long winter months. Thankfully, this serum comes to the rescue. Containing seven AHAs and BHA, the formula works to clear dead skin cells to reveal a healthy glow.
Why It Works: Since the formula contains a combination of AHAs and BHAs, your skin will reap the benefits of a radiant look even under the harshest of conditions.
SkinCeuticals CE Ferulic Acid
The vitamin C in this serum will give your skin a boost this winter. Not only will the serum leave your skin with a subtle glow, but it also increases firmness.
Why It Works: "My go-to serum for many of my patients is SkinCeuticals CE Ferulic acid. It contains a highly effective form of vitamin C, developed at Duke University, which repairs and protects against free radical damage, brightens complexions, and improves fine lines and laxity," Dr. Nussbaum explains.
Related: Does a Clean Beauty Formulation Really Make a Difference in Skincare?