The Black List's 10 Most Intriguing Sounding Un-Produced Scripts By Women Writers
The Black List is the most influential list of unmade scripts in Hollywood.
---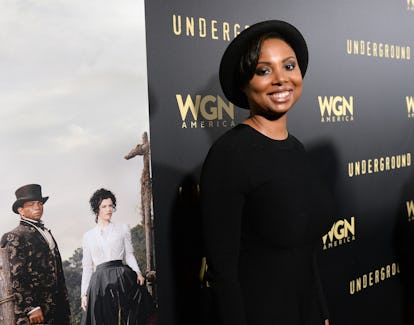 Gustavo Caballero
Last year The Post was second on the annual Black List, the famed ranking of Hollywood's best unproduced scripts. Today, it was nominated for six Golden Globes. While the speed of that turnaround may be unusual, Black List scripts being turned into prestige pictures is not. So, amid all of the behind-the-scenes malevolence by men that's been brought to public attention this year, it is somewhat refreshing that this influential list with behind-the-scenes types features so many films written by women, centered on female characters, and quite frequently both.
While this year's number one script is about an ex-Nazi who decides to kill his old Nazi friend (eh?), second place went to Mario Correa's Let Her Speak. It tells the tale of Texas State Senator Wendy Davis's 24-hour filibuster to save abortion rights in Texas. If you've heard of it already, it's because Sandra Bullock is already attached to star. Third place went to Christy Hall's Daddio, a film about "a passenger and her cab driver reminisc[ing] about their relationships on the way from the airport to her apartment in New York." Surely, the nuance there is in the script itself, and not the log line.
Linger a little bit further down the list and you'll find all sort of films that you wish were made yesterday. Here, a quick look of the 10 most interesting-sounding female-written scripts on the list.
Anna Klassen's When Lightning Strikes
"The true story of 25-year-old Joanne Rowling as she weathers first loves, unexpected pregnancies, lost jobs, and depression on her journey to create Harry Potter."
Yes, it's a JK Rowling origin story. We've told the story of the little boy under the stares across multiple mediums now, so why not tell the tale of the woman who created him? For better or worse, the film doesn't seem to cover her Twitter power user era.
Sarah Jane Inwards's Jellyfish Summer
"A young black girl's family in 1960s Mississippi decides to harbor two human-looking refugees who have mysteriously fallen from the sky."
Honestly, Hollywood hasn't produced a good human-harbors-alien movie since E.T.
Jade Bartlett's Mad, Bad, And Dangerous to Know
"Based on the book trilogy Mad, Bad and Dangerous to Know by Chloe J. Esposito. An underdog identical twin accidentally kills her too-perfect sister only to discover murder suits her as she becomes compulsively embroiled in the life of a mafia assassin."
This is the first on the list about killer women, but who says men should get all the antihero fun?
Allie Hagan's When In Doubt, Seduce
"The true story of the early relationship between Elaine May and Mike Nichols."
If anything, people should be reminded that one of the greatest live comedy acts of all time (who both went on to be power filmmakers in their own right) were a male-female pair.
Heather Quinn's Moxie
"To combat crime in near-future Los Angeles, the FBI creates supercops based on specific genetic sequences. To their shock, their best candidate is a vulgar stripper named Moxie."
This sound absolutely insane, and we are here for it.
Darby Kealey's Liberation
"The true story of Nancy Wake, the most decorated servicewoman in World War II, who led resistance fighters in a series of dangerous missions in Nazi-occupied France."
There's more than a few scripts that concern Nazis on the list (Hollywood, why?), but the true story of a woman who fought them? Sure.
Ryan Jennifer Jones' ON
"In a slightly futuristic, hyper-efficient Manhattan, a newly single book editor purchases a customizable sex android to assuage her broken heart. When her toy's closed feedback loop starts to alter her personality, she must reevaluate the merits of a perfectly compatible partner."
This sounds like the Black Mirror version of Sex and the City's "rabbit" episode, and we mean that in a good way.
Hayley Schore and Roshan Sethi's Call Jane
"In 1960 Chicago, before Roe V. Wade, a pregnant woman becomes a member of an underground group of women who provide abortions in a safe environment."
Films that grapple with the realities of abortion are rare, and we definitely need more.
Misha Green's The Mother
"A female assassin comes out of hiding to protect the pre-teen daughter she gave up years before."
This script from the creator of WGN's Underground was originally just called Mother, but, well, you know, then that happened.
Amanda Idoko's Breaking News in Yuba County
"After catching her husband in bed with a hooker, which causes him to die of a heart attack, Sue Bottom buries the body and takes advantage of the local celebrity status that comes from having a missing husband."
This sounds like a full-length Dixie Chicks music video, and more movies should sound like that.
Related: The 2018 Golden Globes List of Director Nominees Includes Zero Women
"I will not be silent": Hollywood's biggest names pledge to speak up: