The Chainsmokers Would Really Like You to Know They Listen to Beach House
Not in the backseat of their Rover, though.
---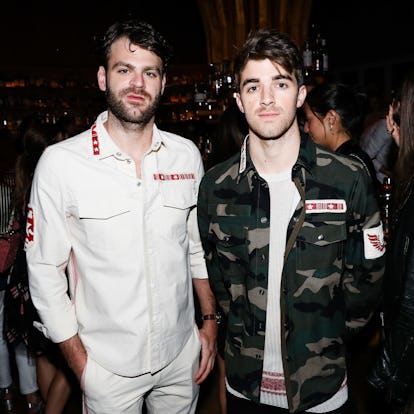 Neil Rasmus/BFA.com
Listen closely, guys, the Chainsmokers have something to tell you: They listen to Beach House. They're really, really into Beach House, the critic- and college radio–adored dream pop band. They're so into Beach House, they named their newest song "Beach House" just to show you how much they like listening to Beach House. A sample lyric: "Listening to Beach House, taking my time." It's true.
Okay, the song isn't really about Beach House—that's the exact extent of the references to the band in the song. The title, and that one line. As the DJ duo tweeted upon the release of the song Friday, "We tried to get back to our roots on this with that classic OG Chainsmoker feel." At the same time, "we were listening to a lot of beach house," they added. So it's both vintage Chainsmokers, but it's also Beach House. (Per Spin, "that classic OG Chainsmoker feel" involves "feeling horny and needy" in a way that "sounds sort of unfinished.")
Of course, many a songwriter has professed their love for a band whose name is synonymous with a kind of indie-rock cred in the past. Think, for example, of Katy Perry's "The One That Got Away," which uses Radiohead to conjure a very specific 18-year-old nostalgia. The Chainsmokers shout out Blink-182 in "Closer," the song about making out "in the backseat of your Rover" that you've probably heard in the backseat of an Uber. But coming out pro-Beach House in a world post–Depression Cherry—and post–Teen Dream, really—is just a bit of a weird flex, one that doesn't really seem to be serving any greater narrative function in the song.
We'll be adding Beach House to the long list of things the Chainsmokers have ruined, including narrative filmmaking and many a promising young singer-songwriter. For their part, Beach House had no comment, per Pitchfork, which is perhaps the most devastating comment of all.
Related: Who Is Halsey Trying to Be?