The Contrarian New Yorker's Argument Against New Year's Eve
It's become the most hollow and commercial of all holidays, but here's why you should stop resisting and give in to the reverie.
---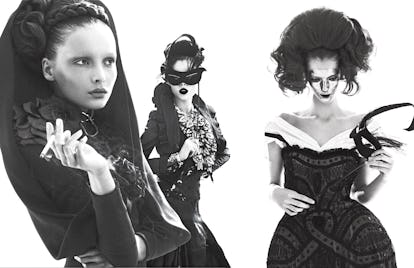 Photo by Mert Alas and Marcus Piggott, styled by Alex White. Hair by Luigi Murenu, makeup by Charlotte Tilbury, manicures by Pauline Boom.
New Year's Eve is strictly for amateurs.
As a charter member of that select group of New Yorkers who obsessively go out virtually every night of the year, I've always found that New Year's—when convention holds you simply have to go out and are somehow required to have a raucous good time—is a perennial pain and a dire waste of time. It exists for people who generally stay in and binge-watch TV shows to then suddenly hit the town and act festive in a weird celebration of the fact that we're all aging. It stinks.
Awful New Year's Eve memories from my childhood have always helped cement my discomfort with it. Every year, as the clock struck midnight, my mother didn't rejoice at the glory of new beginnings. A chronic worrier, she instead broke into tears of horror, remembering all the bad things that had happened in the previous year, like deaths, breakups, and indiscretions. In a Pavlovian fashion, this effectively made me dread the holiday and feel the "3-2-1" to be a ridiculous march towards doom. Nowadays, when midnight approaches, I lock myself in the nearest bathroom, unable to face the onslaught of drunken congratulations, messy kisses, and cheap sentiment. Thanks to ma and her depth of emotion, it's a sad moment, not a joyous one, and no amount of therapy can change that for me.
On top of that, New Year's Eve events reek of loud desperation, making for an uneasy romp that makes you wonder why you bothered, especially since it costs an arm and a leg to get there and back. But you have to go out, so I have, from a certain party in the '80s at The Palladium nightclub that I hosted with club kid turned author James St. James (It was so mirthless that we ended up frantically dancing on table-tops as the crowd of bridge-and-tunnel people stared in horror) to a sad house party that my friends and I snuck out of rather than let the hostess see that we'd only lasted five minutes.
In 2000, the millennium and the year of Y2K, I stood in Times Square to watch the ball drop and all I remember was that it was cold and crowded, and it confirmed the fact that I had become a tourist in my own town.
But then I started getting invited to another house party every year—an intimate West Village soiree hosted by photographer/makeup artist Harry King, who liked to flip through his portfolio and regale you with relatively benign stories of Faye Dunaway and Diana Ross. His guests included a colorful writer who claimed he'd had encounters with every celebrity you can think of (Elaine Stritch and the character actress Mariette Hartley were allegedly his cousins, and John Wayne's son was a trick), plus a former model who had done a cameo on The Love Boat and now was a rabid Republican. That an actual star from a bygone era–Annie Ross, the late Oliver Sacks, or Three's Company's Joyce DeWitt–would occasionally saunter into this bash added to its surreal quality and I was actually upset when I ceased to be on the guest list (I'd fallen out with the namedropper), sorry to lose the chance to have some wacky socializing on my dreaded night of nights.
This year, New Year's Eve takes on extra pathos because every moment of the countdown will be ushering in the bizarre administration of Donald Trump. I'll want to be in the bathroom…for four years. Still, even if I think New Year's Eve is a joke—much like Halloween has become a de rigueur bit of nonsense for adults desperately living the childhood they never had—you have to make something out of it or you've wasted an opportunity to be part of the human race.
So, for the last several years, friends and I have gotten together for a quiet dinner at a local restaurant—for example Bar 6, a cozy Moroccan-flavored eatery in the Village—and chat and schmooze and act like it's just a regular night. Then we go to Vogue writer Lynn Yaeger's Fifth Avenue apartment and gather on her couch, on folding chairs, and on the floor and watch Ryan Seacrest until we can't take another second of his blinding pearly whites.
Then we limp home, at least knowing that we tried to make something sincere and communal out of an event that's neither, despite appearances.
We don't use any confetti or noisemakers in the process, just those glittery eyeglasses ("2017") you can get at Jack's 99-cent store–because spending a buck is just right for this overblown mess of an occasion. So, on December 31, let's stop resisting the reverie. It's bigger than all of us, and besides, fighting it put me far from the bowl of potato chips in the living room.
Predicting The Fashion Trends of 2017
Wear Color – Because 2017 is about getting out of the comfort zone, and retiring black to the back of the closet. Leading the trend is Balenciaga's Demna Gvasalia, whose color-blocked looks (including spandex pants, encasing the shoe), will be a key moment for spring.

Photo by Getty Images.
Wear Pink, specifically – Despite what Pantone says, pink is the color for 2017. Celine offers a fresh caped dress in pepto-pink for spring, while Chanel, Chloe, Gucci, Loewe, and Valentino weren't far behind with their take on the true color of the season.
Shoulders – Baring them was very 2016, and a voluminous architectural shoulder and sleeve is the way to go for 2017. Look to Rodarte, Jacquemus, and Saint Laurent for ways to wear this new shape.

Photo by Getty Images.
Sport – Athlesiure may have defined this year, but sport will determine the next. Put away your loose yoga sweats and try a stronger, sexier take, a la Courreges

Photo by Getty Images.
Utilitarian – Khaki and cargo pants will reign again, yet it is a polished utilitarian look we'll see next year. Take a cue from Balenciaga, Bottega Veneta, Marni, and Stella McCartney.

Photo by Getty Images.
Stripes – Stripes are never out of style. For 2017, they'll either take the form of super-skinny pinstripes, or the exact opposite. Keep your eye out from these great wide-striped wide-legs from Derek Lam.

Image courtesy of designer.
Bows – As fashion becomes more romantic again (thanks to Alessandro Michele at Gucci), a number of brands are turning to their softer side. We'll wear big, sweet bows from Coach, Fenty x Puma, and Erdem.

Photo by Getty Images.
Shirting – is still everywhere. How many ways can you wear a button-down? For 2017, get on board with smart and sexy options from new New York label Monse.

Photo by Getty Images.
Kit Harington Gets No Attention With a Birthday Right After Christmas