The East
Director Zal Batmanglij takes us into the wilderness on his taut new thriller.
---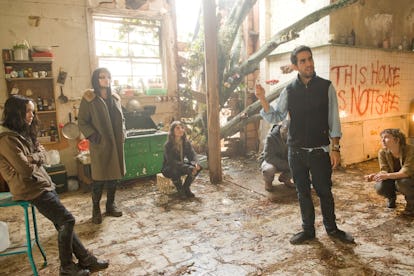 In the summer of 2009, Zal Batmanglij and Brit Marling were having trouble getting Sound of My Voice, the cult drama that would help make the young screenwriters darlings of the 2011 Sundance Film Festival, off the ground. Stymied by Hollywood, they hit the road, opting for a route rarely traveled by other recent Georgetown graduates. "We lived on anarchist farms, squatted in the inner city, and hopped rail cars," Batmanglij recalls. "We wanted to see how other young people were creating meaning from their lives."
Their tightly plotted new thriller The East, directed by Batmanglij and starring Marling as an operative at a powerful consulting firm who goes undercover to infiltrate a band of anti-corporate extremists, is heady with the idealism of life lived off the grid. Led by Benji (Alexander Skarsgård), a seductive enigma, and Izzy (Ellen Page), a feisty zealot, the group hides out in the remote wilderness in between their guerilla attacks targeting Big Oil and Big Pharma. (Much of the film was shot in Louisiana and the sets, as envisioned by the Beasts of the Southern Wild production designer Alex DiGerlando, possess an untamed beauty.) To win over the radicals, Sarah (Marling) dumpster-dives, fights off the police, and throws herself headlong into dangerous operations that double as litmus tests of group loyalty. Eventually, she begins to feel conflicted as she falls under the spell of this makeshift family of headstrong young idealists.
"What I'm drawn to most as a filmmaker are these tribes that are seen as 'fringe' cultures," Batmanglij explains. "We live in a society where many young people feel alienated, and these family constructs are an antidote to that." He doesn't mind that some critics might find the tone of the film to be politically earnest—there are parallels to the Occupy movement and the activist group Anonymous—but he prefers to think of his and his co-writer Marling's approach as a willingness to forsake postures of cool for a shot at capturing genuine feeling. "Brit and I aren't interested in irony," Batmanglij declares. "We'll leave that to other filmmakers of our generation. We're interested in that Tootsie roll-soft center of sincerity."
Me (center, in vest), Ellen Page (far left), Shiloh Fernandez (second from left) and the other actors playing members of The East in their hideout, which we described in the script as a "mansion reclaimed by the wild." It was originally supposed to be a rundown house in the woods, but we ended up shooting in a former "alternative lifestyle" nightclub in downtown Shreveport, LA, that our production designer Alex DiGerlando transformed into what you see here. He even added the tree.
Brit Marling (who plays Sarah) being trailed through the woods by cinematographer Roman Vas'yanov and his crew. Like me, Roman is young, but he surrounded himself with seasoned professionals. It was a terrific marriage, and we became very close over the course of the shoot.
Alex DiGerlando and I built this charred-out wall in some open attic space. He also designed and executed the wallpaper, and the contrast of the lace-trimmed hoodie Brit is wearing against the stylized wallpaper—with the ambience and texture added by the fog—made this one of my favorite shots.
This is from the first day of filming. The scene called for Ellen Page (who plays Izzy) to lie on the ground naked. Everyone was wondering how she was going to handle it. She came on set and dropped her robe and without a second thought lay on the freezing cold field. The bar was set pretty high after that. Here's Ellen, wrapped in blankets, and Brit taking a breather between takes.
I learned in film school that point-of-view makes all the difference. So even though this scene is to be Izzy's big showdown moment, we shot it from the perspective of Sarah (Brit, here with Alex Skarsgard as Benji). I wanted to make sure we also captured it from Sarah's privileged point-of-view.
Roman Vasyanov, Alex DiGerlando and I were driving around Shreveport when we passed by an abandoned, boarded up house. We went to explore the space and discovered this great cellar space. Alex brought in the fluorescent lights, the toilet Ellen is sitting on, the electronics and presto! We had The East House basement. We dug a hole in our main set, put a trap door above it, and added a couple steps. The actors went into the hole and appeared in this basement—even though the two spaces were a couple miles apart. Low-budget movie magic.