The Girl in the Spider's Web Trailer: Claire Foy Turns In the Queen's Tiaras for Leather to Play Lisbeth Salander
The actress has made about as complete a transformation as you can get after starring in Netflix's The Crown.
---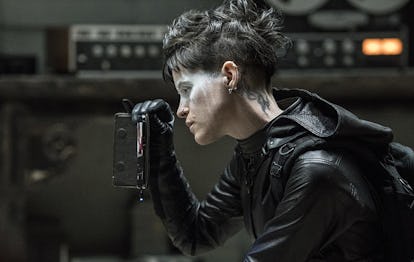 Courtesy of Columbia Pictures
Back in September, news broke that the actress Claire Foy would be trading in her role as Queen Elizabeth II in Netflix's The Crown for that of another force to be reckoned with that's about as disparate as you could imagine: Lisbeth Salander, the traumatized hacker who stars in the late Swedish writer Stieg Larsson's cult Millenium series, which kicked off with The Girl With the Dragon Tattoo. Still, it's only now as of Thursday morning, when the trailer for its latest adaptation, The Girl in the Spider's Web, was released, that the reality of Foy's full-on transformation has really sunk in.
Judging from the two-and-half-minute preview, the film, which is directed by Fede Álvarez and set for a November 9 release, certainly promises to be action-packed. It kicks off with Foy smoking beneath an oversize leather hood, which she then lowers to reveal a mostly shaved head, a handful of piercings, and a swath of eerie white face paint to hang a man—who turns out to be a violent CEO who beat up two prostitutes without any legal repercussions—upside down from his ceiling, then forcing him to transfer money to both women and his wife. (And, for good measure, subjecting him to her taser.)
Safe to say, it's about as far as Foy could get not only from following the Queen's etiquette—though Salander clearly has enough authority to make anyone kneel or curtsy for her at her command—but also adhering to her former onscreen wardrobe of tiaras, evening gloves, and boxy '60s ensembles. (The differences, of course, continue when it comes to, say, massive tattoos, as well as choices in accessories; Salander, for example, would clearly prefer a gun or a knife over a handbag any day.)
In the same way that playing Salander in David Fincher's 2011 American remake of The Girl With the Dragon Tattoo—and going as far as starving herself, piercing her eye and nipples, and shaving off her eyebrows to do so—transformed Rooney Mara from an up-and-comer to an A-lister, the role will no doubt shift perceptions of Foy, and put the conservative, even rather dowdy image she adopted to play the Queen in her past. What's more, it may bring a whole new type of audience to action films, given that members of the royal family, including the Queen herself, have reportedly followed Foy's trajectory in keeping up with the series. After all, she may be 92, but Queen Elizabeth II still isn't afraid of a little risk and adrenaline—at least when it comes to from stubbornly riding her horses sans helmet, even now that she's a nonagenarian.
Related: Helena Bonham Carter Will Officially Star in Seasons 3 and 4 of The Crown